5 reasons your home's exterior paint is looking tired, and what you can do to fix it
Say goodbye to tired and cracked paint — according to experts, these are the tips to follow to avoid exterior paint perils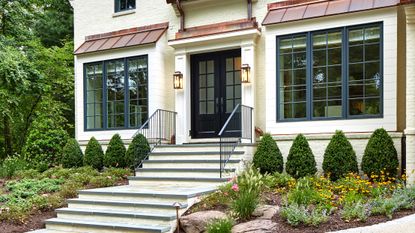 (Image credit: Stacy Zarin-Goldberg. Design: Richardson & Associates Landscape Architecture)
The Livingetc Newsletter
For style leaders and design lovers.
Thank you for signing up to LivingEtc. You will receive a verification email shortly.
There was a problem. Please refresh the page and try again.
A lick of paint can do wonders for most interior spaces. And the same can be said for the exterior of your home. But if your external paintwork is looking more tired than transformative, there could be a few reasons for it.
'The exterior of a house is exposed to the elements all year round, often experiencing extremes of temperatures and conditions, from hot summer sunshine through the winter cold and rain,' Helen Shaw, a color expert at Benjamin Moore tells us. 'This means it will require more TLC than other areas of the home. Paintwork will inevitably, over time, become dirty or start to wear. It is important to regularly maintain the outside of a property, especially when it starts to look tired.'
Tackling these problems will go a long way in reinstating your home's curb appeal - here's what's causing your paintwork woes, and how to rectify them.
5 reasons your exterior paint is looking tired
Of course, mastering the art of how to paint a wall will help increase the longevity of your paintwork. As will giving some serious thought to the best exterior paint ideas to help increase the curb appeal of your home. However, if your paintwork is still looking worse for wear, fear not.
Just like how the inside of our homes needs a touch-up every now and then, as is the case when it comes to the outside of our homes. So, to avoid falling foul of bad paintwork, take note of all the expert-suggested reasons why your exterior could be lacking and exactly what you can do about it.
1. Poor surface prep before applying product
This point probably comes as no surprise. But one of the main painting mistakes is insufficient surface preparation and poor application of the paint, BEHR's senior product manager, Ed Edrosa, tells us. 'We always encourage consumers to read the instructions carefully on the product label to understand the proper product usage and application,' Ed says
But what else can you do to achieve a perfectly painted front?
'A well-prepared surface will help the paint withstand environmental pressures and retain its appearance and adhesion over time,' Ed explains.
And Helen agrees. She says, 'Preparation is key. Start by cleaning the surfaces you are going to attend to and making sure they are dry. Check for areas which show signs of damage' And if you're thinking of painting over cracking — don't do it. 'It is important to remove any flakes from the surface before repainting,' Helen says. 'If cracking does not go down to the substrate, remove the loose or flaking paint with a scraper or wire brush, sand the area to feather the edges remembering to wipe down any dust after you have finished, then prime any bare spots, and repaint the surface,' she adds.
However, if cracking does go down to the substrate, Helen recommends removing as much of the existing paint as possible, sanding the surface and smoothing, priming, and repainting with a quality paint.
2. Poor paint application
We're all looking for that perfect paint finish. But one of the top reasons why your paint exterior could be lacking, could be down to how you've applied the paint.
'Another reason is that the top coat has been being applied too soon before the primer or the base coat has dried,' Nick Cryer, founder of Berkeley Place, tells us.
The solution? Once you've perfectly prepped your exterior, begin with the cutting in phase, carefully painting the edges of your home's front. Once you've finished this, it's time to work your way over the exterior of your home with your chosen color of paint.
Experts also suggest painting from the top down so you can spot any drip marks as you make your way down to the bottom, smoothing and painting over them as you go.
3. Direct sunlight exposure
While there's nothing better than seeing blue skies and bright sunshine, all those rays can cause a whole host of issues to your paintwork — and in more ways than one.
From visible cracks to uneven finishes and even causing the paint to fade. 'Direct UV ray sunlight is a common cause for exterior paint to fade,' Ed says. That's because direct rays can break down chemical bonds and fade the color in an object.'
Of course if you live in a sunny state, there's not much you can do when it comes to shielding your home from the sunlight.
But nowadays, some of the best exterior paint for doors and windows, and masonry, has specially formulated properties, helping to reflect heat and stand up to harsh temperatures.
4. Painting at the wrong temperature
Another cause of lacklustre exterior paint? 'When the paint is applied in the wrong weather, so when it's too hot or too cold or too damp, that can cause problems,' Nick says.
As we've seen, temperatures affect how long paint takes to dry. Generally speaking, in lower temperatures, your paint will take longer to dry completely. This means that your paint won't cure properly, which can lead to 'bubbles' on your walls. And, because your paint is more likely to stay wet for longer, it could attract dirt debris which gets picked up in the wind.
The quick fix? Well, as is the case when you're painting the inside of your walls, there is a correct temperature to paint outside in. It's also worth using great quality paint that can withstand temperatures.
Ed says, 'To combat environmental pressures, BEHR DYNASTY® Exterior Paint has early rain resistance as soon as 60 minutes after application and low temperature application letting you paint in temperatures as low as 35°F and up to 90°F.'
5. Using the wrong paint on surfaces
Nick says, 'More often than not, if elevations are South-facing we would advise people to avoid using dark colours on timber in particular as the timber moves anyway and the heat from the sun on that elevation causes exaggerated expansion and contraction cracking which causes paint to look fail much sooner than it should do.'
Instead, give some consideration to the paint idea you have in mind. Plus, don't just slap on any old paint to the exterior of your property. Instead, find out the exact material you intend to freshen up — no matter whether it's brickwork or wood.
For example, the best exterior paint for doors and windows can prolong your paint's lifespan. Meaning? You're less likely to have to revisit your home's exterior any time soon.
For style leaders and design lovers.
Becks is a freelance lifestyle writer who works across a number of Future's titles. This includes Real Homes, Top Ten Reviews, Tom's Guide, TechRadar and more. She started her career in print journalism at a local newspaper more than 8 years ago and has since then worked across digital and social media for food, fashion and fitness titles, along with home interior magazines. Her own interior style? She's big on creating mindful spaces in every corner of her home. If it doesn't spark joy or happiness, it has no place here. When she's not writing, she's reading and when she's not reading, she's writing.