Outdoor sofa vs bench – these are the 5 factors landscape designers use to decide which is best for a backyard
Is comfort your priority or are you looking for a clever space-saving solution? We look at what to consider before buying an outdoor bench or sofa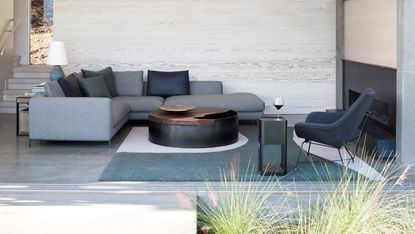 (Image credit: Adam Rouse. Design: Arterra Landscape Architects. )
Both staples of outdoor furniture, backyard benches and sofas both bring seating aplenty and give your garden that indoor/outdoor feel. But what is the optimum seating option - a sofa or a bench? Largely, it depends on your personal preference and what type of backyard you have.
'Both outdoor sofas and outdoor benches have their own advantages and disadvantages, and the choice between the two largely depends on personal preference, as well as the intended use and space available in your outdoor area,' says Emma Putrimas, vice president of project and design for Teak Warehouse.
An outdoor sofa typically consists of multiple seats with comfortable cushions and backrests and is often designed for lounging and relaxing. Outdoor sofas are typically larger than outdoor benches and can provide more seating capacity for larger groups. They are also versatile and can be configured in various ways to fit different outdoor spaces.
On the other hand, outdoor benches are often more practical and functional for outdoor dining and entertaining. They can accommodate more people than individual chairs and take up less space than a sofa, making them ideal for smaller patios or balconies. They are also more durable and easier to maintain than sofas, typically made of weather-resistant materials like wood, metal, or plastic.
Making your mind up about the best outdoor furniture option depends on various factors. We run through the main five considerations to settle the debate.
1. Think about the comfort factor
The first main consideration to assess is comfort. If you are designing a backyard that is shaping up to be an extension of your living area, you may want a specific seating area that people can use in the same way as a living room.
For this reason, a sofa might be your best bet for an outdoor space. The best outdoor sofa typically comes with cushioned seating, whereas a bench might not give the same levels of comfort and might be hard and cold to sit on.
'There's no doubt that a fully cushioned outdoor sofa can be a lot more comfortable and inviting than a bench,' explains NYC-based landscape designer, Amber Freda.
That being said, there is no reason why you can't make your bench more comfortable. Add cushions upholstered in outdoor-appropriate fabric, soft throws and seat cushions and your bench can evolve into something more comfortable.
'There are many benches available with backs and cushions as well, and the comfort level of the bench really depends on the material and style of the bench,' says Amber. This is only really an option if you have space to store your outdoor cushions away after use.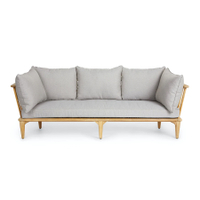 A solid wood base, rounded corners, and pretty spindled back makes for an outdoor sofa that is eye-catching but has substance. The plush, outdoor cushions are machine washable so perfect for all weather.
2. What's the more space-saving option?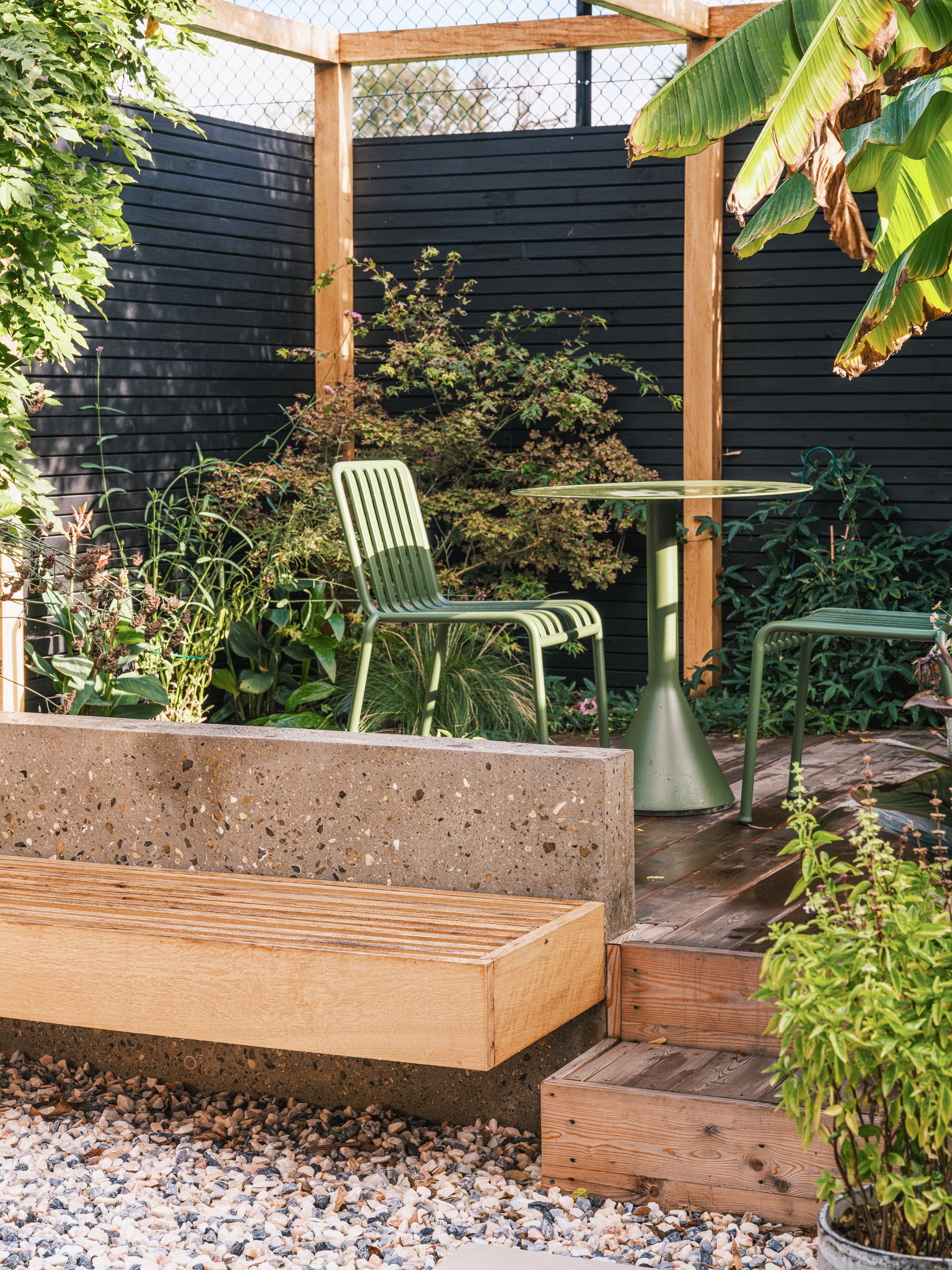 Secondly, is your backyard even large enough for an outdoor sofa, and if so, will it overwhelm the space? An outdoor sofa can be quite a large piece of furniture that can distract from the rest of your backyard, and a bench might be that perfect midway point that offers seating, but doesn't take up ample room.
For people looking to save space and are designing a small backyard, a bench does offer a slimmer profile, and can create a seating area out of the smallest space. 'In smaller townhouses' rear yards, we like to install outdoor benches along a brick outdoor wall, garden fencing or a hedge if possible,' says Christine Harper, designer and architect with Harper Design + Build.
3. Factor in storage
Benches also offer the possibility of having storage built into the seats, where a sofa has a stronger aesthetic role to play, so won't come with storage space. 'Benches with storage below the seats can be another space saver and a great way to optimize the space without having to purchase a bulky shed or storage container,' says Amber.
On the other hand, if you don't have an outdoor bench with under-seat storage, storage will become an issue for the pillows and seat cushions you might like to decorate the bench with. Be realistic that if you decide a bench with cushions works for you, you'll also need somewhere to store the soft furnishings when your bench is not being used in this way.
You can get some great backyard storage units, but these aren't a great option for small backyards as they can be typically quite bulky.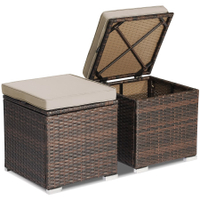 Rattan ottoman with storage, Walmart

Fade-resistant PE wicker and powder coated metal frame make these ottomans durable and sturdy enough for outdoor use. This versatile ottoman set serves as storage boxes too, perfect for storing those cushions.
4. Do you want the custom-made look?
A backyard bench might be the best option for you if you're looking to really give your backyard a personalized touch. 'Another possible advantage to a bench is that you can have it custom-made by a carpenter to fit the space exactly,' says Amber.
In this rooftop terrace design by New York architecture and design firm, Palette Architecture, the bench has been cleverly designed to perfectly integrate with the fencing, blending the two into one neat functional piece of furniture.
With outdoor sofas, the option of having it custom-made is less readily available. Looking at the best outdoor furniture brands, it's possible to combat this by purchasing modular sets and pieces that you can use to fit the space, but it doesn't quite compete with the fully custom-built bench option.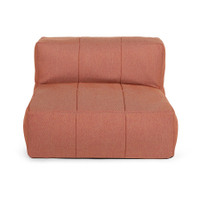 Corvos saffron armless modular chair, Article
If you like the sound of a custom-built look, going modular could also work for you. This modular outdoor chair from Article fits the bill as a super comfy outdoor chair and you can build it to fit any space. It's also on sale!
5. Consider what suits your climate
Ultimately, you need to really consider the climate you live in. If you are somewhere where you can guarantee year-round sun, perhaps an outdoor sofa is your best bet, but a bench will be the better option if your backyard sees more rain as you can bring your soft furnishings inside, meaning it's unlikely to get ruined by bad weather.
'Outdoor sofas should be kept to covered areas unless you enjoy checking the forecast on your phone and struggling with furniture covers on a regular basis,' says Bethany Adams of Bethany Adams Interiors.
'Though much less comfortable, an outdoor bench will be less of a headache to deal with. The backyard is meant to be relaxing, after all!'
Livingetc content editor and design expert
Oonagh is a content editor at Livingetc.com. Previously, she worked on a London property title, producing long-read interiors features, style pages and conducting interviews with a range of famous faces from the UK interiors scene, from Kit Kemp to Robert Kime. In doing so, she has developed a keen interest in London's historical architecture and the city's distinct tastemakers paving the way in the world of interiors.