I lost my TV remote – how can I control my TV now?
Don't panic, you needn't lose access to your favorite channels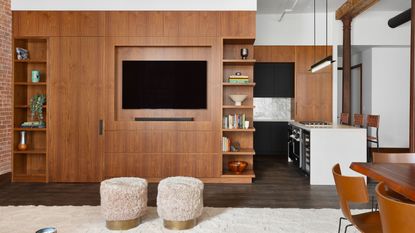 (Image credit: DDReps. Design: Kimberly Peck Architects)
The Livingetc Newsletter
For style leaders and design lovers.
Thank you for signing up to LivingEtc. You will receive a verification email shortly.
There was a problem. Please refresh the page and try again.
There's nothing quite as annoying as losing your TV remote. Decades ago, when remote controls were cutting edge, you would at least be able to use manual controls instead. But these have been virtually phased out on the best TV brands meaning you may be left unable to change the channel.
Don't worry — help is at hand. There are a few solutions depending on your TV set and how urgently you need to fix the problem. Here are your options.
Does your remote have a built-in tracker?
The first thing to do is to look up your TV model online. If it's reasonably new, there's a chance that the manufacturer will have foreseen this problem ahead of time and created a solution to help you find your missing remote.
Some televisions, including models from Sony and HiSense, come with remotes with built in trackers. So do some streaming stick remotes, such as Roku and the Alexa Voice Remote Pro for Fire TV.
1. Use a TV smartphone app
If your remote doesn't have a built-in tracker, then the next thing to check is to see whether your TV has a smartphone app to fill in instead.
If your television is reasonably modern, you may be surprised to find it can be controlled through your phone instead. Smart TVs from the likes of Samsung, Sony, LG, Panasonic, Viera and many others have iOS and Android apps designed for their TVs, and some third-party apps promise to control multiple models.
While it won't feel quite as tactile as a dedicated remote, it's worth a go if you believe your remote will turn up in time, and you're not quite ready to buy a replacement yet.
2. Buy a universal remote control
If you need a replacement quickly, a universal remote control may be the answer. As the name suggests, these are third-party remote controls that can control any number of devices from multiple manufacturers. They're widely available, and should be available from your local Best Buy or Walmart.
Some people find these preferable to the ones supplied by the manufacturer, because they aren't just limited to TVs and can control multiple devices from a single remote. So if you've got three or four remotes controlling your TV, sound system, cable box and games console, you might look at a smart all-in-one solution — like the SofaBaton X1.
3. Buy a replacement direct from the manufacturer
But if old habits die hard or you simply really like the design and feel of the remote that came with your TV, then you should be able to find a direct replacement.
Look up your TV model and then check in the usual places. You can contact the manufacturer directly, but you may be able to find a cheap replacement on Ebay, Amazon or any number of other internet stores.
4. Avoiding losing your TV remote in future
In the spirit of prevention being better than the cure, there are a couple of ways of making it less likely that you lose your TV remote in the first place.
The first is just by having a place where remotes live when not in use. These come in different shapes and sizes, from neat little storage boxes to fabric pouches that hang over the edge of your couch.
The second method is a technological solution. The best Bluetooth trackers like Chipolo, Tile, Apple AirTags and Samsung Galaxy SmartTags can be affixed to your remote control. If you can't find your remote, just open up the tracker's app and tap it — the tracker will make a loud noise, leading you straight to the MIA controller.
For style leaders and design lovers.
Freelance contributor Alan has been writing about tech for over a decade, covering phones, drones and everything in between. Previously Deputy Editor of tech site Alphr, his words are found all over the web and in the occasional magazine too. He often writes for T3 and Tom's Guide. When not weighing up the pros and cons of the latest smartwatch, you'll probably find him tackling his ever-growing games backlog. Or, more likely, playing Spelunky for the millionth time.