How to start a flower garden - the expert guide
Find out how to start a flower garden and you'll be rewarded with the dreamiest blooms all summer long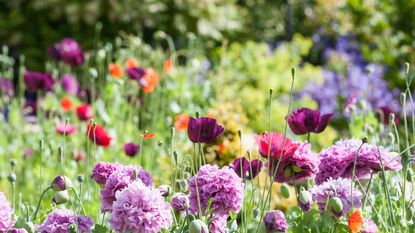 (Image credit: Getty Images)
Knowing how to start a flower garden means that if you dream of a magical outdoor space filled with colourful and fragrant blooms all summer long, you can make the dream a reality. It's easy with our expert guide.
Beautiful flowers lift the spirits and lighten the heart. Some cause you to catch your breath when you come across them, adding little flashes of brilliance that can't be beaten. Others play a quieter role, filling in the background detail with colour and texture rather like a chorus line supporting the stars of the show.
The best flower gardens are all about planning though. So find out the main things you need to know and our pick of the best flowers to grow, as well as our answers to the most commonly asked questions. And if you want to know more about flower bed ideas you're in the right place.
1. Decide on a flower theme
Whether the flower trends you go for center on traditional cottage flowers, exotic blooms or a wild flower garden there's no right or wrong when it comes to how to start a flower garden. There are, however, many factors to mull over when considering your options.
It's important to think about the height, shape and spread of flowers you like and visualise how they will work together, not just in summer, but throughout the rest of the year. Do your research, snap flowers you see out and about that you would like to include, and put together an inspo mood board to refer to.
'Look at the shapes of the flower heads, which create a sense of rhythm through the border,' says National Trust School of Gardening expert Rebecca Bevan. 'Choose a mix of forms, including spikes such as Salvia nemorosa and flat umbels like yarrow. Studying the details of flower shapes and how they are carried above or among neighbouring foliage can help you to create some wonderful plant associations.'
2. Familiarise yourself with the color wheel
Combining colors is a real skill, so the colour wheel can be a useful reference tool when it comes to how to plan a flower garden.
'Generally speaking, the pastel shades of the outer circle of the wheel go well together, while some bolder colours from the inner circle can clash,' says Rebecca Bevan. 'Contrast can be created by combining colours from opposite sides of the wheel, while harmony often comes from blending neighbouring colours.'
It can help to restrict the number of colours in your flower garden. Remember that bright colours tend to leap into the foreground while soft colours (blue, lavender, mauve, subdued pinks, apricot yellows) recede into the distance.
After years of pastels dominating colour trends, bright and bold flowers are in fashion right now. 'Don't be afraid of colour. Go for bold, vibrant shades, and make your garden as bright as you like,' says Sarah Squire of Squire's Garden Centres. 'As well as boosting your mood, brightly coloured plants are great for catching the eye. Use them as focal points in the garden. They are also good for attracting pollinators, as bright flowers are a magnet for bees and butterflies.'
3. Look for inspo close to home
Our fondest memories of flower gardens are often rooted in where we grew up or places we visited when younger that made an impression on us. These can be a rich source of inspiration when it comes to how to start a flower garden.
'I grew up in a beautiful place,' says Melissa Richardson of floral design studio JamJar Flowers. 'The garden was enclosed by soft rosy brick walls and literally filled with flowers that crowded out of the beds and onto the paths. Clematis, honeysuckle and roses climbed up and tumbled over the walls.
'The path to the front door was bordered by flower beds filled with masses of white 'Iceberg' roses that flowered until the first frost. There were blazing flower borders, with hollyhocks and delphiniums, irises, lupins, peonies and dahlias. In spring there were carpets of snowdrops followed by crocus, daffodils and delicate narcissi.
'Now, in my dreams, I return often to this magical garden.'
4. Decide on the feel for your flower garden
On his smallholding in Hampshire, landscape architect Pip Morrison, who is known for his dreamy planting and modern garden ideas, has created an idyllic spot.
'When I plan a garden, decisions on colour and detailed planting usually come last – like the soft furnishings in a house – once the overall structure has been decided,' he says. 'It's definitely a case though of last but not least and it's probably colour - whether full-on or restrained – that has the most immediate impact.
'I ask clients to suggest adjectives for the feel they want for their garden. This can help to form a unifying thread throughout the design, including in those later stages of planning the detailed planting when it's all too easy to fall back on favourite plants and colours.
'Using specific color ranges and styles of planting in different parts of a garden helps to reinforce the character of each area making for a much more varied experience.'
5. Choose annuals for a fast fix
Annuals bloom, produce seeds, and die all in one growing season. They add quick and easy long-blooming colour in the garden when you most need it, and are relatively inexpensive. So they can play a key role in how to start a flower garden.
Buy them from the garden centre or online for an instant flower garden makeover. Go for petunias, geraniums and pansies, which are all prolific flowers as long as you keep snipping off any faded blooms to keep new ones coming.
They will be hungry and thirsty as they put everything into producing flowers and keep blooming right through summer, so be prepared to water and feed them regularly if you want masses of flowers.
Or try 'direct sowing' the seeds in the ground right where you want them to grow. Good flower types to choose for this include zinnias, marigolds, nasturtiums and sweet peas - we have everything to you need to know about sunflowers care if this is the vibe you're after.
6. Add perennials to the mix
Perennials are reliable stalwarts of the flower garden as they are repeat performers. Basically a perennial is any plant that dies down at the end of summer and springs up again the following year. They are generally easy to look after as long as you cut back any faded stems at the end of the season.
Look for repeat flowering varieties like nepeta, lavender, rudbeckia, echinacea, hardy geraniums, shasta daisies and Erysimum 'Bowles's Mauve' to add colour and texture to your garden all summer long.
Perennials best suited to most flower gardens are hardy ones that can survive in the ground during cold, wet winters. But if your garden is sheltered and doesn't get waterlogged in winter you will be able to grow a wide variety of perennials.
7. Keep the flowers coming
It's easy to fill the summer garden with colour but when it comes to the rest of the seasons a little more planning is needed if you want things to look good year round.
'I have favourite seasons not plants,' says internationally acclaimed garden designer Arabella Lennox-Boyd. 'I like masses of snowdrops and hellebores to herald spring. Then in May things move on with tree peonies and old-fashioned roses, as well as herbaceous plants. In autumn it's all about the grasses, while in winter I like fragrant daphnes, sarcococca and winter honeysuckle.'
'Think in terms of successional flowering,' says Carien van Boxtel, who designed a garden at this year's RHS Hampton Court flower show. 'Use space as economically as possible, with one bed for multiple varieties. Once spring bulbs have finished flowering, replace them with plants grown from seed, like cosmos and sweet peas.'
Remember, when thinking about how to start a flower garden pick the right flowers for you and make sure they keep coming.
8. Choose new plants carefully
'I would recommend buying your plants and flowers in garden centres or nurseries as they will more likely be cared for and be less stressed to start with as they are handled by gardening professionals,' says lovethegarden.com gardening guru Kate Turner. 'If you prefer buying flowers online, choose a reputable source. They will have a higher stock turnover, so you know what you buy is unlikely to have been sitting around in a cold warehouse for ages.'
Check the leaves of the plant and avoid buying it if there are any holes, sticky leaves or if the leaves fall off if you gently shake it.
If you can, tip the plant out carefully from the pot and check the roots, if they go round and round then it's root bound and unlikely to thrive once you get it home.
If it's an outdoor plant but is sold inside then don't plant outside straight away, let the plant get used to being outside by taking it out during the day and bringing it in at night for a week or so.
9. What flowers to choose for a sunny garden
Stick to flowers that will be happy with the site you've chosen for your flower garden. If conditions are demanding, such as deep shade or heavy clay soil, your choices will be more limited but be sure there is always something that will work.
If you are blessed with a sunny garden, 'try Verbena bonariensis for graceful structure,' suggests Amelia Bouquet, who designed an award winning garden at this year's RHS Hampton Court flower show. 'Coreopsis adds punchy colour, while Phlox paniculata has gorgeous fragrant flowers.
'Floaty silk-petalled cosmos add an ethereal touch and erysimum bring masses of mauve spires to the mix. Meanwhile sweet peas are always perfect for a container.'
10. What flowers to choose for a shady garden
Many gardens have shady areas and some, particularly in urban areas where they are throw into shade by high walls, never see the sun. But you can turn this to your advantage as there are lots of plants that prefer these conditions.
A more common scenario tends to be dappled shade, which is a mix of sun and shade according to the time of day. Plants like foxgloves, heuchera and hardy geraniums thrive in these conditions.
'During summer, astilbe is another star of a shady flower garden with its plumes of feathery flowers and ferny foliage, while star-shaped astrantia blooms are perfect for creating lacy drifts,' says Amelia Bouquet. 'Alchemilla mollis is one of the prettiest foliage plants around.' It's also happy in a shady spot.
11. Feed your flowers
It's important to continue to take care of your flowers once you've got them home or planted them in the garden. Make sure they get a regular supply of essential nutrients to keep them as healthy as possible. No dig gardening is a good way to be sure you're planting them in great soil and feeding them correctly you can be sure your plants will be healthy and happy.
Plants need three main nutrients: nitrogen for leafy growth, phosphorous for healthy root development, and potassium for lots of flowers. Plants lacking in these key nutrients won't thrive.
To create a healthy garden, start with your soil. 'Add good organic matter or mulch every year to your garden beds,' says Kate Turner. 'Liquid feeds are good in summer. Use a feed high in potash to help promote lush blooms. You can buy it ready to use or as a concentrate that you dilute in a watering can. This usually needs to be done fortnightly although in peak season it may need to be once a week.'
12. Water your flowers regularly
Once your flowers are planted it's important not to forget about watering them, especially if the weather is hot. They will need a regular supply of water until they become fully established.
'When watering newly planted flowers it's important to make sure you don't just wet the surface, as this won't help the plant to fully establish,' says Hozelock's Sarah Dixon. 'I recommend giving plants a thorough watering low down to allow the water to sink through the soil and establish longer, fuller roots. This also means you don't have to water as regularly as the plant is more hydrated.'
Choose a hose attachment with a fine spray pattern as it won't disrupt and damage any precious new buds or leaves.
13. Pick flowers that bees love
The sight of bees drowsing over your flowers to gather nectar on a summer's day is surely one of the most feel good gardening moments around. There's been a trend in people searching for 'bee-friendly plants' this summer so when you're finding out how to start a flower garden what are the best things to grow?
The latest research has revealed the most Instagrammed bee flowers worldwide. 'Roses are at number one for the most Instagrammed bee-friendly flowers, with 28.5 million posts,' says Morris Hankinson of plant specialists Hopes Grove Nurseries. 'Their vibrant colour really attracts bees.'
Lavender is in second place, a big favourite with bees as they love purple flowers, which tend to have more nectar than other flowers. Purple flowers also give off more ultraviolet (UV) light, helping to guide insects to them, like landing strips, so that their pollen can be redistributed so that more flowers grow.
How do you start a flower garden step by step?
First work out what you want to grow in your new flower garden
Next decide on the best place to position your new flower garden
Check the flowers you've chosen will thrive in that particular spot
Create the perfect growing conditions by preparing and enriching the soil
Get planting your flowers
Care for your flowers by feeding and watering them regularly
Enjoy the results – don't forget to pick some for indoors!
How do you prepare the ground for a flower garden?
Choose the best place in the garden for the flowers you want to grow, remembering that most prefer a sunny position.
Soil preparation makes all the difference to how your flowers grow. You can improve the soil when creating a new border or emptying and replanting a section of an established one. Dig the soil over to at least one spade's depth, thoroughly removing all weeds as you go. Aim for the finest tilth possible to ease your flowers into garden life gently.
To improve the quality of the soil, add well-rotted manure or garden compost, forking it in as you go. Finish by raking the surface so it's level before planting.
When should you plant a flower garden?
Generally after all risk of frost has passed, so start in spring according to what's happening with the weather. Always check the individual instructions for each variety of flower that you're planting.
Give the plants a good soak in a bucket of water for half an hour before planting them to make sure they go into the ground with good moisture levels to get them off to a flying start.
It's a good idea to set out the plants in their pots on the soil and move them around first to get a sense of how they will look together as a planted scheme. Don't forget to factor in enough growing space for everything.
Position the taller plants first, followed by plants you are going to repeat for rhythm (generally in groups of three), then fill in the gaps with smaller plants. Once you have decided on a plan, plant the biggest varieties to the depth that they were in their pots. If any plants have roots showing on the surface these can be planted a little deeper. Use your hands to firm them in gently, then water well.
What flowers are good for beginners?
You can't beat growing a pack of flowers from seed if you're not sure how to start a flower garden. The instructions are spelled out step by step on the packet, it's so rewarding when your seedlings pop up, and if it does go wrong the outlay on a packet of seeds is negligible.
Start early in the season by creating a dedicated area for nurturing flower seeds indoors and then keep them coming throughout the growing season. Many can be planted straight into the ground once any risk of frost has passed.
'Choose annuals that are cut-and-come-again,' says plant expert Sarah Raven. 'You've only then invested in a few packets of seed and with long-cropping plants such as cosmos, zinnias and sweet peas you'll have an easy flower shop outside your door. The more you pick, the more they flower. It's an ever-filling cup, easy to do and hugely rewarding.'
Once you're up and running with sowing flower seeds you'll wonder why you've never done it before!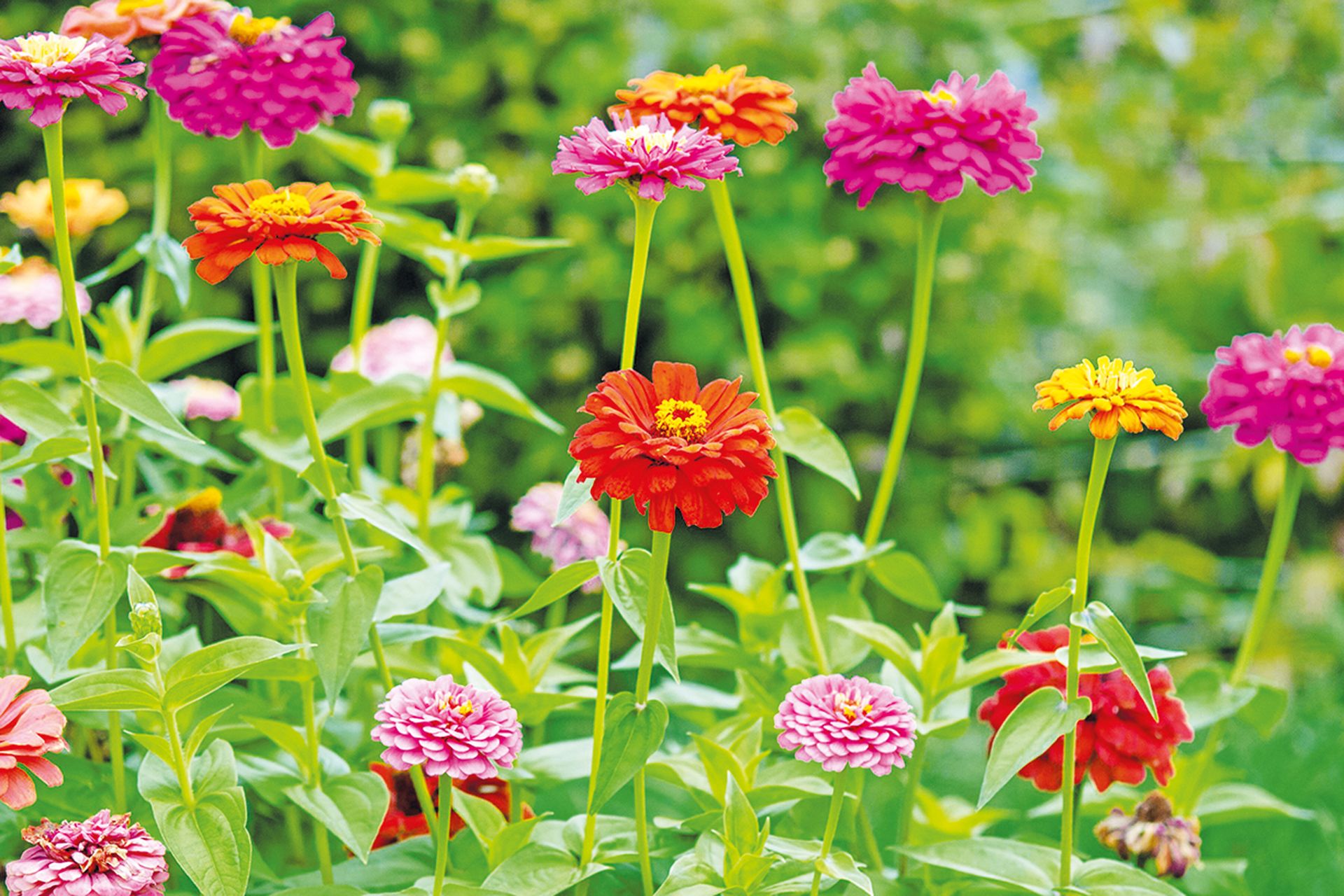 Lifestyle journalist Sarah Wilson has been writing about gardens since 2015. She's written for Gardeningetc.com, Livingetc, Homes & Gardens, Easy Gardens and Modern Gardens magazines. Her first job on glossy magazines was at Elle, during which time a visit to the legendary La Colombe d'Or in St-Paul-de-Vence led to an interest in all things gardening. Later as lifestyle editor at Country Homes & Interiors magazine the real pull was the run of captivating country gardens that were featured. Having studied introductory garden and landscape design as well as a course in floristry she is currently putting the skills learned to good use in her own garden where the dream is establishing a cutting garden.