How to make your driveway look more expensive - the expert style guide to elevating your home from the outset
Give your driveway the attention it deserves with these tips for making it more of a feature of your home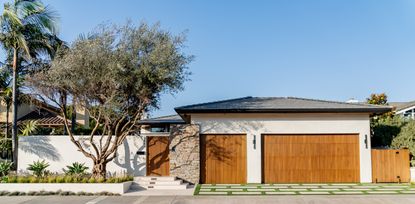 (Image credit: Brophy Interiors)
The Livingetc Newsletter
For style leaders and design lovers.
Thank you for signing up to LivingEtc. You will receive a verification email shortly.
There was a problem. Please refresh the page and try again.
We see driveways as a bit like entryways. Transitional areas of your home that we move through daily and are seen by anyone who visits. and yet, similar to entryways, driveways are often pretty low down the list when it comes to spaces we want to put time, money, and effort into. Possibly because we become a bit blind to them, pull up in the car, take a few steps to the doorway, you don't actually notice much about what your driveway is doing.
And yet driveways have so much potential to be beautiful and functional spaces, and we should be putting as much effort into how they look as we do our backyards. There's an opportunity to add greenery, install chic gates, put down stylish paving, and bring in lighting.
9 ways to make a driveway look more expensive
As creative director of Lucas, David Lucas says, 'Driveways and entrances are extremely important in residential projects. I think you should consider these spaces equal to any interior of a home, as it is the space that is the arrival point for guests. Whatever your design objectives are on the interior should manifest themselves in the design of the exterior of your home.'
We very much agree, so here are some simple ways you can upgrade your current driveway to make it look more expensive, more stylish, and more fitting for the beautiful home you have created that lies behind the front door...
1. Ditch traditional garage doors
The easiest way to make a driveway look more expensive? Switch out your garage door (if you have one). Garage doors can be such an eyesore and really bring down the whole look of your driveway, no matter what is going on elsewhere. You can do all the gorgeous planting, invest in a beautiful stone drive, but if the garage door is not up to scratch, that is what you will notice.
Garage doors have come a long way, and you can find some really gorgeous designs that are far from the steel up-and-over designs of the past.
'Front door and garage door choices are important to frontage design in terms of design and finish. Traditional homes can look wrong with a contemporary garage door and vice versa,' explains Elizabeth Assaf Designer and Co-Founder of Urban Front. 'A very contemporary choice of say a grey 7016 RAL garage door for a traditional home with white windows could reduce value. A very traditional doorwill totally mark down the value of a contemporary home.'
'If you can match the front and garage door, do – but if you can't then match the garage door to windows and the front door can be the 'wow' item on your frontage. I think it's easy to be careless with a garage door as it's easy to downgrade its importance but the reality is it takes up a large space on your frontage and therefore needs to be given its full due.'
2. Keep it simple
Simple and minimalist always looks more expensive, so take that approach when designing or updating your driveway. Pick a classic color palette – neutrals with a mix of greens is always a backyard color trend so a safe choice – and then add the interest in with differing shapes and textures. See how in this driveway the design and colors are super minimal, but the slat design of the garage door, the irregular layout of the paving, and the striking silhouettes of the very architectural plants all come together to create a driveway that has depth.
Henry Chapple-Cox design manager at Secret Gardens, who created this space, advises to 'Keep the color palette quite simple. Don't upstage the rest of the house or the front entry, but still provide an element of interest, whether it is in shape, tone, or texture.'
3. Soften a driveway with planting
Planting is an easy way to make your driveway look more expensive, and it softens the space too. No matter what size or style your driveway, adding greenery is a must in our opinion, after all this is an outdoor space, and can be so much more than a space to park your car – as this space by Wyer & Co. proves.
'Always include as much planting as you can fit on your driveway, as greenery always elevates even if you can't afford to do it all in one go – just do it gradually,' is Elizabeth's advice. 'Planting small plants that grow over a few years is also an alternative to spending on large plants up front. And when choosing plants for your driveway, go with those that are architecturally interesting or have noticeable features or shapes – an unusual cactus, a Japanese miniature maple, a yucca, a blossom tree, and architectural palm-like plants for example.'
4. Add grass between the paving
And if you can't sacrifice space for planting, be inspired by this driveway designed by Studio Lifestyle. You can squeeze in some greenery in between the paving stones of your driveway to break up all that solid stone. Permeable stone surfaces are a practical choice too, as well as looking more organic, as they are far better for drainage and can be a more affordable option too.
We think the nicest driveways are ones that look less... well like a driveway. And by ditching the sea of solid tarmac or concrete you create a far more natural entrance to your home. 'A driveway is typically the first thing you see when entering someone's home, so this should be impactful and have elements of well-thought-out design. It isn't just a landing for one's car but truly sets the tone for the rest of the home,' says Lexie Sokolow, designer at Studio Lifestyle.
5. Give your driveway surface an upgrade
Honestly, a jet wash can go a long way. So if your driveway is in need of some TLC, start there and give it a clean. It's the least expensive way to give your drive an upgrade. However, if your surface has really seen better days and is letting down the front of your home, maybe it is time to replace it.
There are affordable options too. Richard Unsworth landscape designer and founder of Garden Life says, 'Laying a beautiful stone paver on a driveway always improves the look of a space, but it's a significant investment. Sometimes a simpler and less expensive option is to recoat the surface with a stoneset permeable paving which comes in various colors that can match an exterior color scheme.' Graveling a driveway is another relatively cheap and easy upgrade, you can even do it yourself if you are up for the job.
6. Use lighting to frame the driveway
Driveway lighting can be more than a purely practical, super bright motion-sensor light that blinds your neighbors every time you come home. Update your lighting to something more thought out and you will see a huge difference to the front of your home. Think subtle and sleek, with multiple sources that light the driveway effectively but beautifully.
In terms of where to position landscape lighting and how much to include, 'the key with lighting driveways and exterior lighting in general, is not to over light,' says Luke Thomas, Design Director, John Cullen Lighting. 'In a drive, if it's dark, you tend to have the car headlights on, which help you navigate your way. The danger with too much light along a driveway is that it can look a bit like a runway.'
'It's effective to use lighting to define the edges by lighting soft planting, or nearby trees so there is a certain level of ambient light. The absence of direct light helps to guide you through the space and draws attention to more desirable features. Where lighting directly onto the driveway is necessary, this could be done using an in-ground LED light, a spike light, or a bollard style fitting.'
7. Create contrast between the front path and the driveway
'Driveways can be tricky,' says Hugh Main, director of Spirit Level. 'They are often at the front of your house, so should be considered as highly as the front path to your front door, but they need to be able to handle wear and tear.'
'Sometimes the pedestrian access to the front door is part of the driveway. When this is the case, it is important to guide guests to the front door, and not to the garage door. Threading a stepping stone detail through the driveway paving can add an interesting graphic to the entry court whilst informing guests where they will receive a warm welcome. Choosing complimentary materials, or by changing the format can be different ways this can be achieved.'
'Choosing a very dense material makes maintenance easier,' suggests Hugh. 'Porphyry or granite cobbles have been used for centuries. They handle wear, and also any spills. There is a slivered format called filetti. This is the original material shape of cobbles, used for centuries, and still the most beautiful.'
'If doing the whole driveway in a beautiful cobble becomes too expensive, consider doing some important sections of the driveway, such as the front boundary and near the front door in cobbles, and the rest in a textured concrete or gravel finish. If concrete is the best solution, work out ways to break up the surface, either with slivers of groundcovers, or even a gravel detail. This will also help with run-off.'
8. Disguise a driveway with edges and planting
We have talked a lot about how you can 'soften' a driveway but we really do think that's the key to making them look like more expensive, better-thought-out spaces. You really want to avoid that very functional, bare look. Of course, you still want your drive to be functional but you want it to be beautiful too, to feel like a garden as well as a place to park the car.
This design by Dangar Barin Smith is perfect. It's so natural and organic and that's because the driveway is almost disguised within the landscaping. Thanks to the walls edging the actual driveway and the soft planting that surrounds it, you barely notice the paving.
'It's not just the paving that brings the style points up; consider walling, and edging materials for the driveway,' says Viki Harris of Marshalls. 'Building edging or borders into a driveway design is a great way to complete a stylish look – try to choose materials in a complementary color or style to the main paving. Bordering a drive with low-maintenance plants and shrubbery brings more greenery to your space, and if you opt for scented varieties such as lavender, you'll be greeted with a nice aroma as you arrive home!'
9. Blend a driveway into the style of the house
You always want a driveway to compliment your home, you want it to seamlessly blend into the style and feel more like an extension of the space than have that clear line between the driveway and want lies beyond. No matter what size driveway you are dealing with, look to your home's frontage, your backyard, and the surroundings to inspire the design of your design and landscaping.
'When space is abundant, a driveway can transcend its conventional role and become an experiential pathway through a captivating garden or architectural structure. By seamlessly integrating the driveway's surface with the surrounding landscape or the design of the building itself, it can evolve into a versatile space that serves purposes beyond mere car transportation and storage,' explains Kathryn Robson, principal architect at Robson Rak.
'The project involved transforming and expanding an existing heritage home, which included a magnificent front garden and a driveway that gracefully navigates through two majestic Magnolia trees, offering visitors a captivating journey towards the house. The symmetrical alignment of the trees and the residence exudes an air of elegance, with the driveway serving as a defining feature that adds to its grandeur.'
For style leaders and design lovers.
Hebe is the Digital Editor of Livingetc; she has a background in lifestyle and interior journalism and a passion for renovating small spaces. You'll usually find her attempting DIY, whether it's spray painting her whole kitchen, don't try that at home, or ever changing the wallpaper in her hallway. Livingetc has been such a huge inspiration and has influenced Hebe's style since she moved into her first rental and finally had a small amount of control over the decor and now loves being able to help others make decisions when decorating their own homes. Last year she moved from renting to owning her first teeny tiny Edwardian flat in London with her whippet Willow (who yes she chose to match her interiors...) and is already on the lookout for her next project.