How to decorate to make your home feel happy by Yinka Ilori
Using paint and pattern to feel good is second nature to Yinka Ilori. Here's his advice for embracing that spirit yourself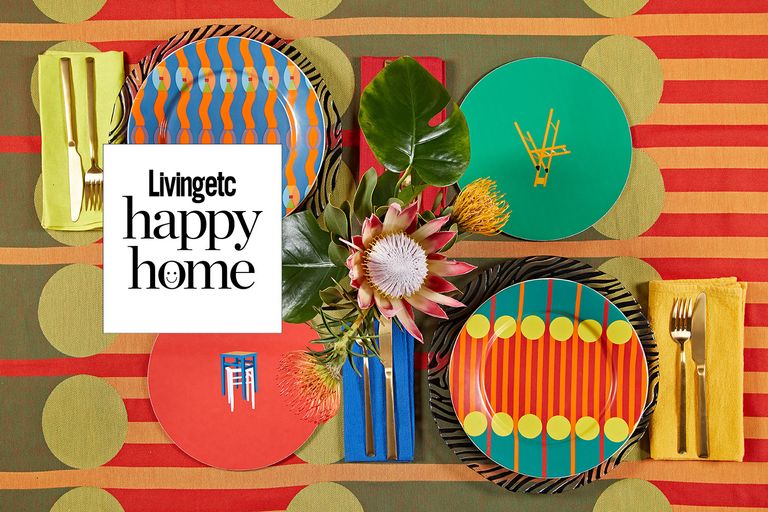 (Image credit: YInka Ilori)
'Home should be a place to really unwind and feel good in, somewhere that's joyful,' designer Yinka Ilori tells us. The designer is famed for his technicolor buildings and products, his happy approach to design, and for always being full of modern design ideas. 'I'm attracted to color and pattern because I know they give me this positive feeling.'
'The power of is color is that it can change your mood. I spend a lot of time bringing different shades and tones into my home to create moments of happiness and pleasure as I walk through my house – when I go into my kitchen, which has pink handmade tiles and green textiles, it instantly ups how I feel.'
Despite the bright palette he is famed for, it's not a rainbow hue that is currently caught Yinka's eye, but something a lot softer.
'Right now, my go-to color (which I'm trying to push on everyone) is pastel pink,' Yinka says. 'It reminds me of palettes that my family wore and that I saw a lot growing up. For me it symbolizes love and unity and is very much a celebratory color, it's warm and fun! I got heckled for wearing pink trousers while riding my bike the other day, but I like to flip color stereotypes. When you embrace the power of pink and what it does for your mental health, it's a magical color.'
Back to his trademark color riots, and Yinka is a fan of stripes and big motifs. '
'Pattern brings me a sense of joy and allows me to remember key moments or form new memories,' Yinka says. 'Pattern and color allow me to dream – yes, I'm at home in London but the way my house is decorated means I could be in Morocco, Ghana, Nigeria. It's escapism.'
HIs final advice for anyone choosing to decorate with pattern, is to not go too off piste.
'When bringing color and pattern into your home, think tones or shapes that make you remember a special moment or happy time,' he says. 'Pick a color that you feel that you can grow with, and be confident. A lot of people are scared of color and pattern in the home, but that's what makes you say 'wow' and feel good.'