'Don't overdo it!' These interior designers have a golden rule for how many pillows to dress a bed with
How many pillows should I have on my bed? We asked the experts for the lowdown on this common conundrum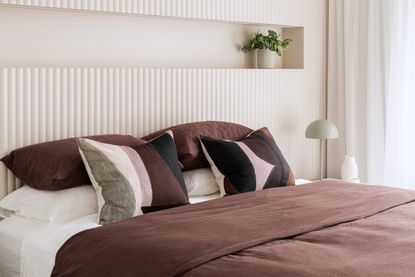 (Image credit: Ben Parry. Studio credit Budge Construction)
The Livingetc Newsletter
For style leaders and design lovers.
Thank you for signing up to LivingEtc. You will receive a verification email shortly.
There was a problem. Please refresh the page and try again.
How many pillows should you have on a bed? There is no right or wrong answer to this question; nor is there a specific number that is universally accepted by all designers as the magic number.
The number of pillows on the bed is a matter of personal preference, whether that's down to aesthetics or how many you want to actually sleep with, but there are a few things that designers do recommend. That is, the size of the pillows, how to mix and match them on the bed, and how many pillows would be ideal to sleep better.
If you've always been looking to get these questions answered then you're in luck. Take a look at all these modern bedroom ideas suggested by the best experts in the field, and get your bed to be the most perfect, relaxing oasis with the right amount of pillows.
How many pillows should you have on the bed?
The best examples of how to style a bed make the bed look more inviting, laying the grounds for the perfect, deep sleep.
Ideally, on an average bed, it is recommended to have 2 pillows, but a few sleep experts suggest that you only need one pillow for your head.
'My rule of thumb for bed pillows is: don't overdo it,' says Holly A Kopman, founder of Holly A Kopman Interior Design. 'I like two large decorative pillows or two large Euro pillows with one smaller pillow on a bed. I like to minimize the work that needs to be done, while still making a bed look inviting.'
'When it comes to pillows on the bed, I prefer to keep things simple to avoid the hassle of having to throw them on the floor each evening,' says Kashi Shikunova, director at Yam Studios. 'My recommendation is to use a bedspread that can be placed over the pillows you are using, as this will create a calm look. In addition, I suggest using a single long bolster-type pillow positioned along the base of the pillows. This creates a cool and simple look that not only adds aesthetic appeal but also saves time when getting into bed. By adopting this approach, you can achieve a nice and neat appearance without spending too much time arranging the pillows each night.'
What are the different types of pillows you can place on the bed ?
To start with, on a standard bed in a guest or master bedroom, you need, first, your sleeping pillows. No matter what your decor style is, the one pillow is essential for every bed. The standard size is 20 by 26 inches. Do add pillow protectors to safeguard your pillow and make it last longer. Then, to add a decorative touch to your pillow, bring in Euro pillows – these are called such because the big (26-by-26-inch) squares have their roots in Europe as sleeping pillows.
'I like x3 Euro on a king or two large king-size decorative pillows each with a smaller, bold lumbar pillow to add the wow factor,' says Holly.
The Euro seamlessly melds function and style, and provides back support when you're sitting up in bed reading. It also protects your headboard, creating a barrier between it and the natural oils from your face and body.
If your bed is big enough for another layer of pillows, then you can add in accent pillows, as these are all about fun. These can be the small, round pillows (that can be used to rest your elbows on), or the long bolsters. In terms of materials, the options are limitless: bold faux fur, raw silk, or shaggy.
How to create a 'bedscape'
'When incorporating several pillows, I recommend using square pillows as they create a striking contrast to the regular pillows,' says Kashi. 'Additionally, you can consider adding a long rectangular or cute round pillow in the center for a visually appealing focal point.'
In a luxury bedroom with a standard bed size, the largest rectangular ones usually go right at the back, followed by smaller squares, and then the smaller round ones, with finally, the longest bolsters adding the last layer. If you're interested in adding more organic shapes to the bed, consider a petal pillow – pillows with shapes of petals sewn onto them, creating an extremely plush and fun floral accessory. You can choose from pillows that look like hydrangea flowers for a glam feel, or rose-like petals for a soft, romantic feel.
The embellished pillows in a small square shape will allow you to be creative, adding a distinctive sparkle to the space. The flanged (a piece of fabric that extends beyond the seam) pillow is also a change from the standard knife-edge pillow, giving a more decorative flourish.
Is it better to sleep with one or two pillows?
If you're wondering how to get a good night's sleep, experts recommend using only one pillow below your head.
'Did you know that neck pain, stiff necks, and even persistent headaches could simply be the result of poor pillow support while in bed sleeping,' says Lisa Artis, deputy CEO, of The Sleep Charity. 'Your head weighs 4.5-5.5 kilos (10-12lbs), and your neck contains seven of the spine's 33 vertebrae, so a good pillow is essential. It should hold your head in the correct alignment – that is, in the same relation to your shoulders and spine as if you were standing upright with the correct posture. One that is too soft will allow the head to flop, curving the neck. One that is too hard will give you a crick in the neck. '
'Too many pillows will cause the spine to curve upwards and the skin to crease on the top of your neck,' says Lisa. 'Too low or thin a pillow will make the spine curve downwards and cause a crease on the underside of the neck. It is a matter of personal choice whether you prefer to achieve the correct head and neck support with one or more pillows – but they should be able to retain their shape and give you constant support throughout the night.'
'Because pillows affect your sleeping posture and lie next to your skin and your nostrils, it is a good idea to invest in quality pillows and replace them at least every two or three years for a healthy sleeping environment,' says Lisa. 'When they have lost their 'loft' (height) and become lumpy, discolored or misshapen they are ready for replacement.'
For style leaders and design lovers.
Aditi Sharma Maheshwari is an architecture and design journalist with over 10 years of experience. She's worked at some of the leading media houses in India such as Elle Decor, Houzz and Architectural Digest (Condé Nast). Till recently, she was a freelance writer for publications such as Architectural Digest US, House Beautiful, Stir World, Beautiful Homes India among others. In her spare time, she volunteers at animal shelters and other rescue organizations.