How many coats of primer do you need on new dry wall? Painting experts on the trick to a long-lasting finish
A new dry wall needs careful preparation before painting with your wall color of choice. Here's some advice from painting professionals on what you need to know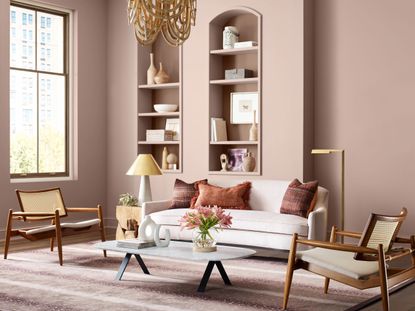 (Image credit: Sherwin Williams)
The Livingetc Newsletter
For style leaders and design lovers.
Thank you for signing up to LivingEtc. You will receive a verification email shortly.
There was a problem. Please refresh the page and try again.
Your primer coat is really important when painting new dry wall, as it preps the surface of the walls and ceiling to improve the paint's adhesion and coverage.
But how many coats of primer do you need to do? This question tends to have a different answer depending on who you ask. The number of coats of primer can vary from the type of wall to even the type of look or paint color you're choosing.
We asked top experts to help us out with this conundrum and they put this and many other primer-related paint questions to bed.
How many coats of primer do you need on drywall?
'On fresh drywall, one coat of primer is needed,' says Tila Lee, founder of Pretty In Paint School. 'Depending on what color your finished product will be, you may want to consider tinting it though also. If you are taking painted drywall from a dark color to a very light color (white), you may want to consider doing a coat or two of untinted primer on it first.'
'On the other hand, if you are taking painted drywall from a very light/white color to a dark color, you may want to consider doing a coat or two of tinted primer on it first,' says Tila. 'A good rule of thumb is to tint your primer with about half the tint of the color your walls are going. If you use the exact same amount of tint, they (the walls) run the risk of appearing darker than you want them to be, based on how the tint acts in the primer.'
'And finally, if you are taking already painted walls to a bright color such as red or yellow or blue, you will typically need a grey primer to help reduce the number of coats of your final product,' says Tila. 'Bright colors can be quite translucent and require a good base underneath to help enhance the depth and richness of their tone. Some lines even have red or yellow based products available to help with coverage for these tricky colors.'
Zinsser Bulls Eye 1-2-3 Plus Primer
Color: White
Price: $17
Consider this water-based primer that's simple to use and blocks stains and dries in just one hour.
Why is it important to apply primer?
You might be tempted to skip this step to save time and money, but not priming drywall is a false economy that will come back to bite you later.
'It is important to apply primer to new drywall so that the topcoat is not absorbed into the substrate, and you can see the accurate appearance of the topcoat color,' says David Sutter, president of Five Star Painting. 'Polyvinyl acetate, PVA, is the preferred primer for new drywall. Using the correct primer will save time and money since the primer is less expensive and controls the amount of topcoat needed to gain the results that are desired.'
Material: Foam
Price: $15
Choose this paint tray set that will last you a long time and several paint jobs.
How long should you wait between primer and first coat?
So when it comes to how to paint a wall correctly, we're on board with primer, but how much time will this step add to your decorating? 'You should wait one hour before any topcoat is applied, when the temperature is 75 degrees or slightly longer for cooler temperatures,' says David. 'Also, in nearly all cases, one coat of primer is all that is needed even while two coats of the topcoat are called for. Using more primer offers no real advantage to color rendition or color coverage, where two topcoats will ensure accurate color appearance. Also, PVA primer is far less expensive than the topcoats, thus saving you money.'
For style leaders and design lovers.
Aditi Sharma Maheshwari is an architecture and design journalist with over 10 years of experience. She's worked at some of the leading media houses in India such as Elle Decor, Houzz and Architectural Digest (Condé Nast). Till recently, she was a freelance writer for publications such as Architectural Digest US, House Beautiful, Stir World, Beautiful Homes India among others. In her spare time, she volunteers at animal shelters and other rescue organizations.