Home technology: The 'It' products, zeitgeist innovations and style-savvy ideas for 2021
What's hot in home technology for the year ahead and beyond...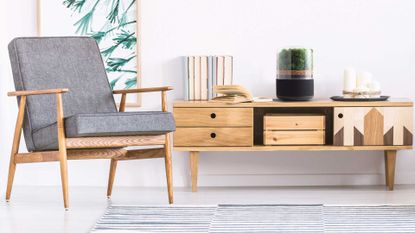 (Image credit: Brilv)
The Livingetc Newsletter
For style leaders and design lovers.
Thank you for signing up to LivingEtc. You will receive a verification email shortly.
There was a problem. Please refresh the page and try again.
Home technology is ubiquitous in all modern homes but it evolves so quickly and there's so much choice, it can sometimes be a challenge to know what to invest in and what to leave alone.
Few of us really want to faff around with our phones just to switch the lights or kettle on, (if you still use a kettle), but a doorbell that ensures you never miss a courier, or a fridge with intelligent air purifiers to keep food fresher for longer - hello!
The latest home technology spans every room from kitchen and bathroom to living room and home office, plus a host of activities from fitness and beauty routines to cleaning and watching TV (with cinema quality sound, of course).
Ultimately, good home technology should make life better and easier, not more complicated or stressful, so here's our round up of what's worth checking out.
ANTI-BAC CHARGING
While we're all now expert hand washers, how often have you thought about the bacteria build-up on your smartphone? This wireless charging bucket takes the faff out of cleaning your phone thanks to the inclusion of a built-in LED lamp that emits anti-bacterial UV-C light with ionizer technology that sanitises your phone as your battery tops up. It works with any Qi-certified smartphone up to 3.3" wide.
ALEXA, CLEAN MY HOUSE!
The most stylish robot vacuum on the market, and also the best-by-far at navigating around your home and picking up a huge amount of dust and pet hair.
The motor automatically adjusts across hard floors and carpets, it can be controlled using Alexa, Siri or Google Assistant voice control, the air filtration system cleans the atmosphere as it goes and, best of all, when the 0.4litre bin is full, it docks, recharges and empties its contents into a vacuum bag that has enough room for 30 full vacuum bins of dirt.
FLEXIBLE LIGHTING
The Alis, from Italian start-up Potemine, is a refreshingly new take on traditional lighting fixtures that combines the portability of a battery-powered torch with stylish interior- friendly looks of a wall, floor or table lamp.
In fact, it can be all three; can easily be moved around the house, charges simply on a wireless base and uses intuitive touch control to adjust brightness – plus you can control it with Alexa voice assistant.
TRANSPARENT TV
An astonishing piece of design, this 55" transparent OLED TV conceals all the ports and processors neatly in the base stand, leaving the 5.7mm thick screen completely clear when turned off, helping it to blend neatly into the background.
Aside from its clever disappearing trick, the Mi TV can display 1.07 billion colours with 150,000:1 contrast ratio, has a super fast 120Hz refresh rate for incredible colours and motion, plus Dolby Atmos support for the best in surround sound.
SMART SKINCARE
A pod system for skincare that dispenses the freshest possible face cream or skin wash at the touch of a button.
Each product is mixed with your choice of active ingredients to produce the ideal product for the way your skin is feeling each day. Each custom-blended formulation is then squirted out onto a spatula for easy application. There's also an app that can help prescribe the ideal blend according to your skin type.
SECOND-GEN SPEAKER
The latest upgrade to Google's collection of voice-controlled speakers has a discreet cloth- covered lozenge in either Chalk or Charcoal, with a casing made from 70% recycled plastic.
It can be used to stream music, either through voice commands or from an app, acts as a font of knowledge, secretary, weather person, newsreader or home control hub, being able to control compatible smart home products, such as your heating and lighting.
MOOD-BOOSTING LAMP
Lumie's latest therapy lamp has been designed to stimulate and calm you throughout the day, thanks to a range of modes including a realistic Day Mode with powerful 10,000 lux brightness, and a low-blue light that adds a little serenity to your evenings, while a soft backlight replicates the natural glow of dusk and dawn.
MY FIRST HI-FI
This battery powered interactive speaker for kids is a screen-free, easy-to-use box of fun that lets even very young children (up to age eight) choose what they want to listen to without them needing to be online.
Just slot their chosen plastic card – loads available include Roald Dahl, Paddington and Gruffalo stories, podcasts, games and songs – into the cute white box and away they go. It also has an app for parental control, it can stream content from your phone if you wish and you – or maybe grandparents – can also record your own stories onto a blank card for your child to enjoy.
NEVER MISS A COURIER
One of the best-looking video doorbells on the market, Netatmo's waterproof wired design will alert you to any visitors, offering up full HD video quality and good night vision direct to your smartphone.
You can talk to people if you're not there – or otherwise engaged – and clever 'people detection' differentiates between someone and the nosy neighbourhood cat, keeping false alarms to a minimum. Best of all, you get all these features with no additional subscription cost and video can be saved onto a built-in memory card.
CUSTOMISABLE SHOWERING
Thanks to the inclusion of a Wi-Fi module and fully- featured smartphone app, Roca's latest shower can be controlled wirelessly throughout the home.
Use the pre-heat option from under your duvet to warm the water automatically before you have a chance to get the chills, personalise settings for different family members, with favourite flow rates and temperatures (you can limit temperature for children to avoid scalding), and you can even set a duration if someone's guilty of spending hours in the shower.
STATEMENT COOLING
Clad in textured stainless steel, LG SIGNATURE's flagship fridge-freezer (A++, 569litres, 91cm wide) brings professional cooling and intelligent design features to your kitchen, with intelligent air filters that remove up to 99.9% of bacteria and door- in-door design with ingenious InstaView.
NATURALLY PURIFIED AIR
A simply brilliant new air purifier that uses natural materials to help filter your home's air and also looks like a space-aged terrarium. Instead of plastic filters it uses a combination of moss, coconut, carbon and silk to filter up to 36m2 per hour.
The designers have estimated that the filter is as powerful as having 3,043 houseplants, all without the need to water or prune, and when the filters do need to be replaced, they will compost down in a couple of months.
CINEMA QUALITY SOUND
The latest addition to Sonos' audio collection is a Dolby Atmos-enabled soundbar that will completely transform how your TV sounds, offering room- filling, surround sound without the need for dozens of separate speakers.
Measuring 8.7x114.2x 11.6cm, it's surprisingly slim, especially as it contains eight separate woofers and three tweeters all angled to fire sound forward, left/right and also up to the ceiling to create an all- encompassing effect, especially when watching fast-paced film.
PET TECH
A stylish pet bowl with a hugely practical secret; it has a built-in weigh scale (gram/lbs/oz/ml) and LCD display that makes it easy to measure out your pet's food.
The stainless-steel bowl is removable and there's a partner app that helps you keep track of your pet's feeding routines.
FUTURE FITNESS
This interactive fitness studio combines dance classes, Pilates, weight training, cardio workouts and yoga in a single wall-mounted unit. Designed by Yves Béhar, it's based around a mirrored 43-inch 4K UHD display with voice control, touchscreen, webcams and a library of fitness sessions.
It's available in two versions: Screen for face-to-face free weight and floor-style classes; and Full Studio, which transforms the mirror into a full home gym, with collapsible weight bench, retractable pulley arms for strength training, hidden free weights and even a ballet barre.
For style leaders and design lovers.
Shining a spotlight on the now and the next in home design and decor, Livingetc is the UK's best selling high end and contemporary home design magazine. As a brand, Livingetc showcases the world's very best homes, breaks and makes the trends, and has access to leading international designers for insight and ideas. It was first published in 1998, and is currently edited by Pip Rich.