The Green Homes Grant scheme - what to do now it's been axed
The Green Homes Grant scheme may have gone, but you can still build your sustainable dream home. Here's how.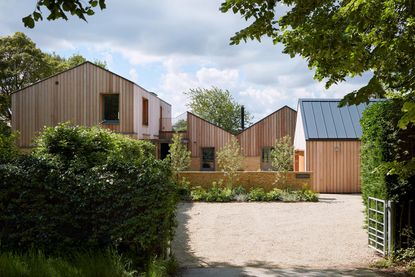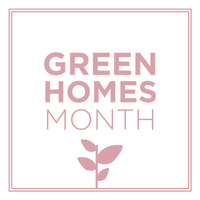 (Image credit: Charlie Luxton Design)
The Livingetc Newsletter
For style leaders and design lovers.
Thank you for signing up to LivingEtc. You will receive a verification email shortly.
There was a problem. Please refresh the page and try again.
The Green Homes Grant scheme galloped into view in September last year, the knight in shining eco-efficiency armour, promising up to £10,000 to homeowners to reduce their carbon footprint, aiding sustainable living by helping to pay for new heating systems and insulation. I thought I'd jump on board the trusty steed and install solar panels and replace the draughty single glaze sash windows with double, or even triple, glazed.
Not so it would seem… a few website searches later and after a frustrating series of 'pass the parcel' phone conversations with my local council I gave up. There seemed too many hoops to jump through... I wasn't the only one…86% of homeowners reported having a 'poor experience' with the application process, according to research by the Environmental Audit Committee (EAC). By the end of February, there were more than 123,000 applications for the grant, but only 28,000 vouchers had been issued and only 5,800 energy efficiency measures had been installed.
The eligibility criteria meant you could only qualify for the secondary measures, once you had installed primary measures. Frustrating and baffling as some of the secondary measures were cheap, straightforward fixes.
These are all moot points now the scheme has been axed. So how can we now upgrade our homes with energy efficient measures to cut emissions and save money on energy bills? Local Authorities now have the funding from the Green Homes Grant and will use this to install energy efficient measures in low income households, but if you don't qualify for this, here are some tips to make your home more sustainable and energy efficient.
Start with an energy audit of your home
David Hilton, expert in renewables and energy efficiency, recommends "checking with your Local Authority for any incentives and also carry out an energy audit of your home; this will show you where you're losing energy and where you can save energy." An energy audit will look at your home in its entirety: the windows, walls, loft space and identify areas where you might have insulation gaps or where air leaks. Common areas where you might lose heat are through your windows, letter box, gaps around your front door, chimneys and gable end walls. You could try to do this yourself with some online guides, or a professional audit should also show how much you would save on energy bills if you were to retrofit energy saving measures.
Shop around for recommended tradesman
The Green Homes Grant stipulated that you could only use Trustmark tradesmen and according to the EAC report 75% found it difficult to find a registered contractor. Whereas, now you're free to use any installer, you can shop around for tradesman. Look for any work in your area and ask your neighbours what they thought of the work and ask to see the work they've done. Recommendations from word of mouth are often the best and most reassuring.
If you're looking to have low-carbon technologies installed, look for installers who are accredited by the Micro Generation Certification Scheme (MCS). "Anyone who is selling renewables has to be part of this scheme, think of it like the Gas Safe Register equivalent but for renewables," says Hilton.
The Renewable Heat Incentive (RHI)
If you want to install renewable heating technology all is not lost, you can still apply for the Government's Renewable Heat Incentive (RHI) until 31 March 2022. This pays the homeowner of an eligible renewable heating system a quarterly cash payment over seven years.
This sounds appealing…so what heating systems qualify for the Renewable Heat Incentive (RHI)?
Insulation, insulation, insulation…
Heating the UK's draughty homes makes up about 14% of the country's carbon emissions, according to the Committee on Climate Change. So now we're heating our homes with renewable technologies how do we ensure that we don't lose that heat and add to the country's carbon emissions? "Insulation, insulation, insulation and then ventilation," according to Charlie Luxton, Architectural Designer and TV presenter.
Charlie knows one person who benefited from the Good Homes Grant to insulate his loft. Whereas now you can shop around for insulation products and tradesman. Or you can even install yourself? You can insulate below floors, your lofts, the gable walls.
Piers Taylor, Architect and TV presenter also advocates insulation as the first step towards a sustainable home and has added two layers of interior insulation to the existing two layers of insulation at his home outside Bath. The depth of which is shown in the thickness of the window reveal in the image below, which is now deep enough to sit on. And with a view like that…I know where I'd sit with a cup of tea. The interior wall is clad in plywood. "We used plywood cladding because it uses less carbon than plaster," says Taylor.
External wall insulation
In addition to the internal insulation, Taylor recently wrapped his home with exterior insulation and covered this with steel cladding.
What does Piers and the family think of their energy saving measures having spent their first winter at Moonshine since the extra insulation? "It's amazing! We were walking around in our t-shirts! In other winters all our heating was provided from the wood we chopped and stacked ourselves. It was really labour intensive; I'd have to coax the kids to help me with chopping and carting barrow loads of logs to keep the woodfired system going. This winter we used much less wood to heat our home, just using couple of logs morning and evening."
Create an airtight home
When Taylor extended his home 20 years ago, he says "people weren't talking about airtightness, now insulation and airtightness are the best things you can do. When we used to build you'd have lots of air bridges and junctions where heat could escape. Here at Moonshine we've effectively wrapped the building in an insulating duvet and added a continuous airtight membrane around the entire house."
Taylor recommends "replacing leaky sash windows with good quality double glazed windows. If you can make your home airtight, you can reduce your heating bills to just three months of the year."
Ventilation
Insulating your home and making it airtight not only makes it more energy efficient, but it can significantly decrease any natural ventilation. A home that's not ventilated won't be a healthy home; it can reduce the indoor air quality, trapping CO2 particulates and increase the risk of allergies, asthma, as well as the increasing the spread of colds and flu.
Knowing this means you can take steps to ventilate you home. To do this naturally or passively, you can simply open doors and windows to allow air to circulate, removing moisture, stale air and pollutants, replacing them with fresher air. However, this will lead to heat loss and thereby decrease the energy efficiency of your home.
Conservatory House in South Africa has an automated glass facade that opens up to allow natural ventilation. (Image Credit: Marsel Roothman)
So how to achieve a healthy air quality whilst ensuring your home stays energy efficient? You could install other renewable technologies, such as a mechanical ventilation with heat recovery (MVHR) system. Mechanical ventilation systems, also known as 'whole house ventilation' systems, usually enhance indoor air quality. Though MVHR can be difficult to retrofit given the ducting needed, so best to plan in if you're building a new home.
Glazing and passive solar gain
Positioning your home for solar gain and insulating your home to high levels are passive design techniques, formalised as part of the Passivhaus standard that originated in Germany in the 1990s.
Positioning windows for solar gain therefore isn't new but thinking about the size of your windows is also something to consider. Taylor recommends positioning "large windows on the south side to maximise solar gain and smaller windows on the north side to reduce heat loss. Even the best glazed window will never be as well insulated as a wall, typically a window is 10 times more insulated than a double-glazed window." Perhaps also then a good idea not to have too much glazing on the north side of your home? Piers thinks so and has boarded up some of his north facing windows at his home.
Retrofit energy efficient measures to existing housing
Arguably it is more sustainable to retrofit an existing building and make it energy efficient, then build a new home. According to Taylor, "80% of our carbon footprint is generated from the building itself and only 20% is generated from the power you use; no one has managed to build a zero-carbon building."
Retrofitting, whilst not incentivised, can be done to great effect. Charlie Luxton Design retrofitted energy saving measures into this tired bungalow and reused as much of the existing structure as possible.
Insulation was added internally and externally; the existing block walls were wrapped in insulation and new timber and stone cladding put on top. Visually Lamorna looks like a new home and is now energy efficient with triple glazed windows, highly insulated pitched roofs and insulated floors, solar panels on the garage provide power and ground source heat pumps heat the home and provides hot water.
Retrofitting energy saving measures to listed homes
For Charlie's Grade 2 listed cottage in the Cotswolds, he achieved an 80% reduction in CO2 with a range of measures; insultation, new double glazing and secondary glazing, a wood pellet boiler, solar thermal installation to provide hot water instead of using electricity, new low energy light bulbs along with rainwater harvesting from a local spring. Showing that retrofitting even on listed buildings is not only possible, but powerful in the reduction of the carbon output.
Energy for lighting accounts for about 10% of your electricity bill, so the move to replace the inefficient bulbs with low energy light bulbs is another sound decision. The walls and floors of the cottage were insulated using breathable wood fibre and lime internal wall insulation.
Can you save money with some DIY?
What green measures could you do yourself? David Hilton thinks most people could turn their hand to "installing loft insulation and repairing and insulating between floor-boards." And perhaps you can save some money using smart tech?
Embrace smart tech
Imagine being away from home and being able to check the temperature of every room and make adjustments. This is all possible with smart tech.
Thinking about it, does every room in your home need to be the same temperature? For optimum sleeping conditions bedrooms should be cool and perhaps you might need more heat to warm a big open plan living space?
So how can you achieve this? Hilton has motorised valves on all his radiators to adjust the heating in every room with an app and Taylor uses the ProTouch app to control his heating remotely using the WiFi thermostat; he can see what the temperatures is his home and make any adjustments from his phone.
What next?
The Green Homes Grant scheme put renewables and insulation on the map but, having been scrapped after just six months, fell short of delivering the energy saving targets and employment opportunities it set out to create. "There's a large opinion in the industry that the Government should have put the some of the money towards removing the VAT on insulation, so anyone insulating their homes would be incentivised to save up to 20% VAT," says Hilton.
Luxton agrees and thinks "there should be less tax on insulation and renewable technologies. The biggest oversight is the disproportionate amounts of energy and the huge carbon output it takes to build a new house, yet this is VAT exempt and there are few incentives now for sustainable improvements to an existing home." Luxton shuns the carbon emission generating 'knock down and build new approach' wherever possible. Instead, helping clients create their dream sustainable homes with retrofitting works that are design-led and beautiful, as shown at Lamorna, where the works also came out cost neutral.
"Retrofitting and reusing existing buildings is the most sustainable thing we can do," agrees Taylor. So, what are you waiting for? With 29 million homes in the UK and many in need of improvements to their energy-efficiency, you know where to start: "insulate, insulate, insulate."
For style leaders and design lovers.
Jo is a serial property renovator, relishing the challenge of taking a tired, lack-lustre property and realising its potential. Growing up under the wing of a property renovator father, Jo's first experience of DIY was with her Fisher Price toolkit as a four year old. Now with many property projects under her belt Jo has learnt how to renovate on a budget with careful project management and well considered spatial and interior design. Jo is a regular presenter for the Homebuilding & Renovating Show, contributor to the magazine and founding partner of Mae House Design