Dill plant care – our editor's guide to growing perfect and flavorful fronds
Dill plant care is pretty straightforward, and this foolproof guide will create you a kitchen garden with ease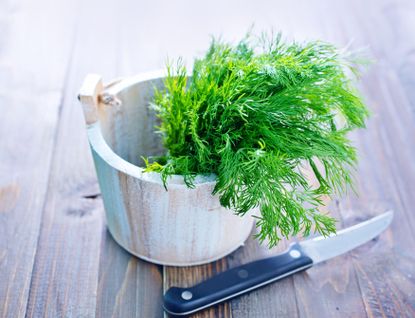 (Image credit: Alamy)
The Livingetc Newsletter
For style leaders and design lovers.
Thank you for signing up to LivingEtc. You will receive a verification email shortly.
There was a problem. Please refresh the page and try again.
Dill plant care is not too tricky, and even those without a green thumb should be able to manage it. All it takes is a few seeds, a little soil and some patience, and you'll have this fresh herb available to you all summer long.
Dill has been having a bit of a moment in the zeitgeist. Recipe writer of the moment Alison Roman uses it in many of her internet-breaking dishes, while it has the same delicate, whimsical shape beloved of the indoor trees in pots used by Brigette Romanek. Only much smaller, of course. But like her trees, dill plants add a gentle beauty, their thin fronds creating a blowsy yet architectural shape, a note of beauty in a kitchen garden by a window.
When I wrote my first book, The Herb and Flower Cookbook, dill was one of the first herbs I grew. Yes, it's easy to buy from the grocery store, but it's also almost as easy to grow. And nothing is more satisfying than having your own crop to cook from.
Dill plant care - the foolproof guide to growing from seed
1. Plant your seeds in soil
Firstly, fill a small plant pot nearly to the top with soil - it need be as big or as small as whatever you have to hand.
Sprinkle the dill seeds liberally over the surface of the soil, then cover them with about a quarter of an inch of soil more. Press down on the top, to ensure the seeds are really coming into contact with the soil. Water well, and place the pot on a sunny window ledge.
This is best done in late Spring or early to mid Summer.
2. Water reguarly
While you're waiting for seeds to grow, water the pot every other day. As seeds begin to sprout, water the pot every day. The evening is best, after a long day of being in the sunshine it cools them off, plus the lack of heat stops the water evaporating and allows it to soak in.
3. Separate the seedlings
Once the seeds have sprouted, you should be getting a good crop of plentiful dill plants that look a lot like cress. Carefully, using the end of a spoon handle, dig out strongest seedlings, making sure not to damage their roots.
Plant these seedlings in larger pots so as to give them more space - they need about four inches all around them to grow.
4. Begin to harvest
About six weeks after you plant your seeds, they ought to be ready to harvest. Snip off the best looking fronds, at the stalk, being careful to always leave some fronds behind at the base of the stalk, to encourage new growth.
In order to make sure dill plants don't bolt, you need to chop them back regularly. They grow back quickly, but if you're keen to keep in dill all summer long then plant a fresh batch of seedlings every month or so.
What is the best way to use dill?
Dill is such a flavorful herb - it tastes soft and sweet, similar to caraway. It can be eaten raw on salads or cooked in sauces, and goes particularly well with lemon, cucumber and fish.
My favorite dill recipe, that I wrote for my cookbook, is for dill and cucumber gin. Simply slice a cucumber into ribbons, slice off some dill fronds and leave it to steep in grocery store gin for at least a couple of hours. Server with tonic or bitter lemon over ice - it's super easy, and super refreshing.
Can you freeze dill?
Yes, you can freeze dill really easily. Place the stalks and on a plate and pop them into a freezer for an hour or so to harden them up. Take them out, chop them up and put them in an airtight container. They can then stay frozen for a couple of months - ideal for if your dill plant care has been so good you've had a glut.
Freezing the dill on a plate first stops the stalks from sticking together too much when you're trying to take a bit out to use.
You don't need to defrost the dill before you use it - it comes up to room temperature and thaws almost as soon as you mix it into what you're cooking. It's not recommended to use frozen dill on a salad - it won't harm you, it just doesn't look as nice.
For style leaders and design lovers.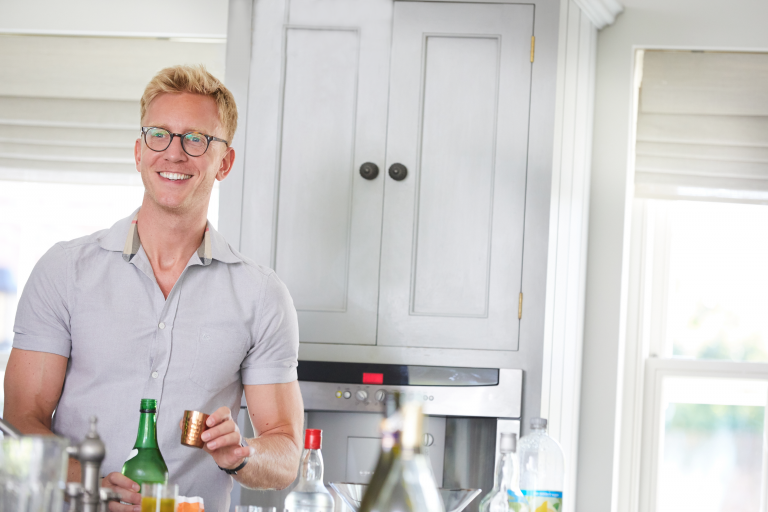 The editor of Livingetc, Pip Rich (formerly Pip McCormac) is a lifestyle journalist of almost 20 years experience working for some of the UK's biggest titles. As well as holding staff positions at Sunday Times Style, Red and Grazia he has written for the Guardian, The Telegraph, The Times and ES Magazine. The host of Livingetc's podcast Home Truths, Pip has also published three books - his most recent, A New Leaf, was released in December 2021 and is about the homes of architects who have filled their spaces with houseplants. He has recently moved out of London - and a home that ELLE Decoration called one of the ten best small spaces in the world - to start a new renovation project in Somerset.