5 color schemes that designers say bring instant joy to a room – and they're surprisingly sophisticated, too
Want to make your home a more uplifting space? These palettes are guaranteed to do so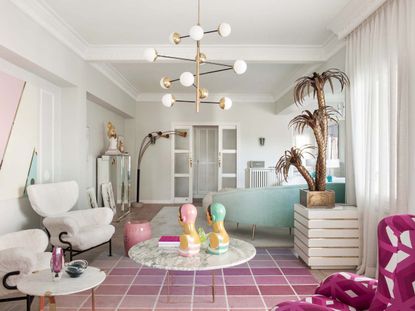 (Image credit: Patricia Bustos de la Torre)
The Livingetc Newsletter
For style leaders and design lovers.
Thank you for signing up to LivingEtc. You will receive a verification email shortly.
There was a problem. Please refresh the page and try again.
It's well-known that colors have a big impact on our moods. While certain colors help you relax and decompress, others fill you up with energy and ambition. This is why it's important to know what type of vibe you want in your home, and how to choose the corresponding colors or schemes for it.
If you want a joyful home, that inherently induces happiness and a sense of peace and safety, then these bedroom, study, or living room color ideas, suggested by interior designers, are a good place to start.
You might imagine the colors for a joyful home are all bright and vibrant yellows, but these interior designers have advised a subtler approach to making your home a happy one - check out their ideas below.
Colors that add instant joy to a home
Largely it is important to understand that colors are also a personal preference; this means that while we do tend to generalize tones and schemes as 'soothing' or 'beautiful' those may not be perceived the same by every single person. A grey living room, for instance, will feel instantly relaxing for someone but for another, it might feel cold and severe.
'While color psychology speaks in generalities about the human response to color, personal predilections and preferences will and should always prevail,' says Amy Krane, architectural color consultant and founder of Amy Krane Color. 'There are colors which are acknowledged to be considered cheerful but if they dwell outside of the comfort zone of the person in question they won't have this desired effect.'
'The two colors most associated with cheerfulness, joy, and extroversion are yellow and orange. While blue, for instance, is the most universally beloved color, yellow and orange can be polarizing,' Amy adds. 'Lots of people have them on their list of no nos. So any color can make a person happy if they adore that color. It can be pink, blue, green, any color or scheme at all.'
1. jewel tones
For many, jewel tones are colors that create drama and high energy. And while that may be true in some cases, as these colors are derived from the hues of precious gemstones like rubies, emeralds, sapphires, amethyst, and more, these hues also have a calming, anchoring feeling. Think of how you feel when you enter a high-end restaurant or a hotel. How do the jewel-tone palette, the glittering fixtures and more make you feel? There's a sense of excitement and joy that these colors can give a person.
'Jewel tones have long been associated with royalty and richness; these are colors of pride and happiness,' says Sarah Barnard, founder of Sarah Barnard Design. 'Tones such as purple, royal blue, and gold add richness and depth to a space, and also create an enveloping feeling, like a hug. In a room full of jewel tones, there is a feeling of rest, recovery, and relaxation.'
A great way to create a more toned-down jewel tone scheme is by using saturated hues in their softer incarnations and color-drenching the room with it. As opposed to popular belief, painting ceilings and walls the same color, and choosing the same tones on furniture does not overwhelm the space. It helps the color become more like a neutral, and its impact becomes softer and much easier on the eyes. Consider this strong blue hue for your home and complement it with woodwork and interesting joinery to make the space feel royal and sophisticated.
2. Pastels
Pastel living rooms, bedrooms, kitchens, and more show how this versatile pale palette can be fun, joyful, and refreshing, without feeling too saccharine, immature, and frivolous. These tones infuse a room with softness while adding a hint of color. Think of soothing lavender, dusty pink, or refreshing mint green. These colors have an inherent sweet and whimsical feel to them and can add elegance and timeless sophistication to the home.
'The combination of blue and pink may seem banal, but I wanted to make these colors more complex and deep, along with making them feel cheerful,' says interior designer Tim Veresnovsky. 'Thanks to the deeper-versions of pastel shades, the interior turned out to be more rooted yet happy, as I intended it.'
'The softness of pastel colors makes them very versatile and livable,' says Amy. 'Consider mixing mid-toned and darker colors with pastels as they make for lovely combinations.'
Another great way to make these soft, chalky colors work is by balancing them with cool whites, moody blacks, greys, and other neutral tones. Organic materials such as wood work particularly well in a pastel room, as these will make the scheme feel fresh, grown-up, and chic, rather than childish.
3. Tonal color schemes
Essentially, a tonal scheme is the idea of decorating with different shades of the same color, made up of one main hue with various tints and tones of that color added around the space. A single shade enveloping you can instantly relax your mind, make you peaceful and bring a smile to your face. That's because these rooms have clean visuals, where tones flow effortlessly into each other, and the color story is a wonderful rendition of a single shade, presented across surfaces.
Tonal schemes in deeper colors tend to work better in rooms where you want to make an impact or create a special vibe. 'We designed the interior such that the neutral floors and walls are punctuated with moments of joyful vivid color,' says Julie Harris, studio director at Ab Rogers Design. 'Believing in tonal color's relaxing psychological power, we used this deep, soothing tone to suit the functions and activities the room hosts, and to add a slice of happiness to the dwellers every time they entered the room.'
Want to add an instantly joyful paint hue to your small space? Think of this luscious tone, perfect for an accent wall. It's easy to apply, low in odor, and even easy to wash.
4. Deeper shades
The advantage of dark color schemes is that they immediately make a room feel intimate and cozy. These colors have a cocooning feeling to them, perfect for gathering people for deep conversations and even 'me time'. These are especially suited to those who love hardwoods or modern designs, as grounding dark tones, complemented with natural materials can look downright regal. And in terms of creating a mood – who wouldn't be happy spending time in a space that makes them feel well-rested, relaxed, and at peace?
'Red is an invigorating and passionate tone; a lovely color to choose when you're designing with dark tones,' says Jennifer J. Morris, interior designer and founder of JMorris Design. 'You can choose the lighter version of this tone to give your home a spring and summer feel. But if you want a more grounding feeling, choose rust and drench the walls with it.'
5. Complementary colors
Colors that sit opposite each other on the color wheel are considered complementary tones. Think of red and green, blue and yellow, pink and green. Diametrically opposing tones can add drama to a space and when paired well, can create a timeless interior.
Complementary colors also create the best clash and are great for color-blocking walls. A room that is full of myriad, bright hues is inherently energetic, fun, and exciting to be in, as the hues stimulate the mind and fill the dweller with energy, enthusiasm, and curiosity.
'The color palette of this room was designed by using the collaging technique,' says Daria Zinovatnaya, product designer at ZINOVATNAYA. 'I love to work with contrast color and geometry and combine them as the effect is pleasing, fun, and invigorating.'
6. Monochromatic palettes
A monochromatic color scheme is all about choosing one hue and making it the be-all and end-all of the room. Every surface is drenched in that tone, and even fabrics and finishes are in tints and shades of the primary hue. Far from being predictable or boring, monochromatic color schemes can be anything from soothing to exciting. It depends on the color you choose.
For a more joyful scheme, it is advisable to consider colors that spark a feeling of excitement, and adventure or simply remind you of happier times. Lighter tones like cool blues, pinks, or greens can do that for you. 'A color that can create a state of active calm is green – but not too dark,' says Jude Stewart, a color specialist, design writer, and author. 'If you consider a color you love, dial it down from its loudest shade and use it as a singular tone across spaces.'
'Though a small minority of folks find blue to be melancholic and some don't like green they are the two colors most closely associated with calmness,' says Amy. 'To be more specific, we're talking about cool blue-greens as warmer yellow greens can be energizing. Neutrals like greys, beiges, whites, and creams can also create a calm environment as will more monochromatic color schemes. The more you add variety the more excitement you add to the color palette and the mood of the room.'
For style leaders and design lovers.
Aditi Sharma Maheshwari is an architecture and design journalist with over 10 years of experience. She's worked at some of the leading media houses in India such as Elle Decor, Houzz and Architectural Digest (Condé Nast). Till recently, she was a freelance writer for publications such as Architectural Digest US, House Beautiful, Stir World, Beautiful Homes India among others. In her spare time, she volunteers at animal shelters and other rescue organizations.