5 shrubs to plant now to fill your garden with winter berries – add pops of color with these go-to varieties
Winter berries bring a vibrant splash of color to your garden during the coldest months. Add a sprinkle of frost and things will really start to look magical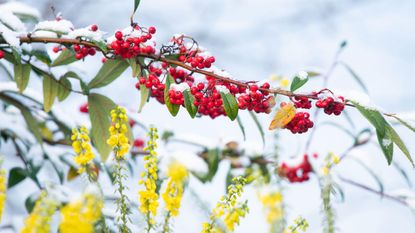 (Image credit: Kay Roxby/Alamy Stock Photo)
The best shrubs with winter berries add pops of joyful color to the garden when it's most needed. As the days get shorter a show of lustrous berries will add standout factor to your garden, as well as your porch or patio if you plant them up in winter-themed containers.
Choose plants that will bear clusters of traditional red or orange berries, or if you prefer opt for a more unusual color like dark purple, vibrant pink or soft yellow for a modern touch. Another plus is that shrubs with winter berries often tend to be evergreen too, and the dark green leaves form the perfect backdrop to show off bright and bold berries.
Plant shrubs with berries in your front yard where you'll see them everyday or choose a spot in a modern garden where you can view them from indoors. Choose varieties that can be planted in containers to group around entrances. Add some to slightly more secluded parts of the garden too for birds and other wildlife to feast on undisturbed, as berries are a crucial element in the winter wildlife garden.
Now find out which shrubs to plant now for winter berries and seasonal interest that will last right through the coldest months.
1. Scarlet Firethorn
Hardiness: USDA 6-9
Height: 6-12 feet
Spread: 6-12 feet
Botanical name: Pyracantha coccinea
With its eye-catching displays of lustrous berries, Scarlet Firethorn is a great pyracantha variety for training against a garden wall or fence, or growing as a hedge. There's a bonus in that its prickly leaves act as a burglar deterrent too. Look out for cultivars like 'Apache' and 'Tiny Tim'.
The brilliantly colored berries come in clusters of scarlet in fall. Other varieties of Firethorn have orange or yellow berries. As well as being a lovely specimen plant with its dark green leaves and masses of small white flowers in summer, it's a good choice for wildlife gardening. Birds will feast on the berries, which provide a good supply of food for them throughout the colder months.
This easy-care shrub thrives in most soils and situations, and you can even grow it in a container, but position it away from doorways, gates, and entryways due to its prickly nature. It really is one of the best shrubs to plant now for winter berries.
2. Beautyberry
Hardiness: USDA 5-8
Height: 4-6 feet
Spread: 4-6 feet
Botanical name: Callicarpa bodinieri
Now for something a little different. Beautyberry puts on an unusual show of color in winter. The clusters of jewel-like berries in iridescent pinky-purple tones can be seen long after the chartreuse-colored leaves have fallen.
'If you're looking to add a unique touch to your winter garden, consider beautyberry,' says Ward Dilmore, founder and CEO at Petrus Landscaping. 'The vibrant violet berries are a less common sight, making it a real conversation piece for visitors delighted by the surprising beauty these berries bring to the winter landscape.'
It looks great planted in groups in a sunny border, but is also a great shrub for containers, if you give it a good-sized pot to grow in. This shrub isn't fussy and does well in sun or partial shade, thriving in most soil types. The berries are important foods for many species of birds, particularly the Northern Bobwhite.
Purple-berried 'Profusion' is a widely available variety of callicarpa, while 'Leucocarpa' has creamy ivory berries if you prefer something that looks a little more subtle. Meanwhile American beautyberry is a native woodland plant in the warmer areas of the southeastern states.
3. Skimmia japonica reevesiana
Hardiness: USDA 6-9
Height: 2 feet
Spread: 2-3 feet
If space is tight in your yard or you're choosing for a balcony or terrace garden, choose an ornamental skimmia. This neat and compact evergreen doesn't take up a lot of room. It can play the starring role in winter containers, adding structure and interest throughout the season with its lovely berries.
Skimmia plants are generally either male or female, so you need to grow both to get berries. Alternatively Reeve's skimmia is a self-pollinating variety that gets plenty of brilliant red berries without the need for two plants.
Decorate your courtyard or condo balcony with containers filled with Reeve's skimmia. Alternatively use this shade-tolerant shrub to underplant ornamental specimen trees. They will also add a luxe look to flowerbeds and borders. Plant several at intervals to tie your landscape design together.
All skimmia needs is well-drained soil with plenty of organic matter. It's one of the best low-maintenance plants too, especially as there's no need to prune it.
4. Dwarf Burford holly
Hardiness: USDA 7-9
Height: 3-4 feet
Spread: 3-4 feet
Botanical name: Ilex cornuta
'The Dwarf Burford Holly is definitely my favorite holly shrub,' says Alex Kantor, owner of Perfect Plants Nursery. 'It's a charming evergreen that adds a touch of elegance to any landscape. This compact holly variety is ideal for small gardens.'
This variety of holly produces great quantities of small, bright red berries during the winter months, providing a vibrant pop of color against the dark green foliage. They are retained right through winter too. These berries are also a favorite among birds and wildlife.
The dense, rounded form is adorned with glossy, dark green leaves that are small in size, creating a lush and polished appearance. 'The leaves of this holly are another reason why it's number one in my eyes,' says Alex. 'The leaves are more tear-drop shaped and only have one sharp point as opposed to multiple ones.'
With its slow-to-moderate growth rate and tolerance to pruning, the Dwarf Burford Holly is an excellent choice for formal or informal hedging, or as an accent plant in mixed borders. Its hardiness and adaptability make it a versatile and attractive addition to any garden or landscape design, so be sure to add it to your list of shrubs to plant now for winter berries.
5. Cotoneaster
Hardiness: USDA 4-10
Height: 5-7 feet
Spread: 5-7 feet
Cotoneaster is one of the best shrubs to add brilliant fall color to your garden. The berries come in red, orange and yellow, and there is even a variety called 'Pink Champagne' that is lightly tinged with pink. There are both evergreen and deciduous cultivars, and a mix of upright or prostrate habits, as well as those with graceful arching branches.
The yellow varieties are more unusual. 'Fructuluteo' is a vigorous cotoneaster with a spreading habit and abundant clusters of creamy-yellow berries. The berries stay on the shrub from fall right through winter, providing a long season of interest. The more unusual pale-yellow berries of 'Rothschildianus' are lovely, but it grows tall so you will need to keep your eye on it.
Cotoneaster are an ideal choice for smaller gardens as they can be trained against a wall to show off the clusters of white spring flowers, spectacular fall foliage and beautiful berries. They are undemanding, thrive in any soil or conditions, and don't need pruning unless you want to control the size.
Put cotoneaster at the top of your list for low-maintenance shrubs to plant now for winter berries.
6. American Cranberrybush
Hardiness: USDA 2-7
Height: 8-12 feet
Spread: 8-12 feet
Botanical name: Viburnum opulus americanum
The lovely American Cranberrybush offers ornamental interest and a variety of color to your landscape as a specimen plant throughout the seasons. It has a spreading habit and dense foliage, which means it's ideal for use as a screening plant if you live in the city.
This easy-to-grow shrub has prolific snowy-white spring flowers, and lustrous fall foliage in shades varying from yellow to red-purple that is rather like maple leaves. It also has clusters of bright red berries from September through February.
The berries are a real draw for birds, particularly as they tend to cling to the bush throughout the winter months. 'These native shrubs not only enhance the beauty of our gardens but also provide essential food sources for birds and other animals during the winter months,' says Barbi Gardiner, founder of outdoorapothecary.com. 'By committing to planting native shrubs, we can support the local ecosystem while still enjoying the seasonal splendor they offer.'
The Livingetc newsletter is your shortcut to the now and the next in home design. Subscribe today to receive a stunning free 200-page book of the best homes from around the world.
Lifestyle journalist Sarah Wilson has been writing about flowers, plants, and garden design and trends since 2015. Having already studied introductory garden and landscape design as well as a course in floristry she is currently adding to her list of qualifications with an RHS Level 2 course in the Principles of Plant Growth and Development. In addition to livingetc.com, she's also written for homesandgardens.com, gardeningetc.com, Modern Gardens and Country Homes & Interiors magazines.