The 10 best bare root fruit trees to get into your backyard now for a bumper harvest next year
Fruit trees look very ornamental in your backyard plus they give you that self-sufficiency feelgood factor when you harvest buckets of ripe organic produce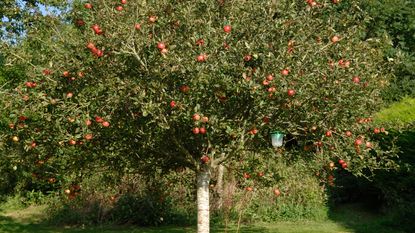 (Image credit: Nigel Cattlin/Alamy Stock Photo)
If you think you don't have space to grow a fruit tree it's time to think again. Now you can get a great choice of easy and reliable small and dwarf varieties of fruit trees in bare root form that stay compact and take up very little room in your backyard if space is an issue.
You can even grow fruit trees in a container on your patio. Big pots are essential for this and it's important to keep fruit trees well fed and well watered all summer. You can also grow trees flat in a fan shape against a wall, known as an 'espalier', which is another great use of space and makes an ornamental feature too.
Bare root fruit trees are a great way to start experimenting with a mini-orchard in your backyard, especially as they are economical to buy. Planting and caring for bare root trees depends very much on your local climate, where you plant the tree in your yard and how much sun it gets. Generally the best time to plant bare root fruit trees is from November to March. The main thing to remember is to choose a sunny sheltered spot.
Ready to get going? We've chosen 10 of the best bare root fruit trees to plant now in your modern garden for a bumper crop next year. With so many different varieties of fruit tree available, we've also suggested some of our favorite cultivars to help you narrow your choice down.
1. 'Little Miss Figgy' fig
With their abundance of leafy foliage, a fig tree makes a striking addition to your outdoor space. They are well-suited to container planting too if your yard is small. They're fast growing trees and quick to bear fruit, if you select a more developed, early-fruiting variety such as 'Little Miss Figgy', you can have fruit in the first year.
'Little Miss Figgy' is an excellent ornamental and fruit-bearing landscape plant for anyone looking to squeeze a fruit tree into small outdoor space. With a dwarf compact habit, it is smaller (grows 4–8 feet high) and more cold hardy (USDA Zones 7a-10b) than comparable figs, yet bears large and prolific fruits in spring and fall.
'Figs are often sold potted, grown on their own roots, but you can find grafted and bare-root specimens, which may further speed up fruit production,' says gardening expert Fern Berg, founder of Tree Vitalize. 'Other great fig varieties to choose from include 'Black Mission' and 'Brown Turkey' which can also crop twice a year. Or for those in cooler climates the cold-hardy 'Celeste' or 'Chicago Hardy' are good options.'
These cultivars are all self-fertile, which means you will get fruit with just one plant, although Fern points out that adding a pollinating partner will boost the size of your crop. Figs produce best when planted in full sun and well-draining soil.
2. 'Everbearing' mulberry
'The mulberry is another fast-growing fruit tree that you can expect bumper crops from within 2-3 years and the 'Everbearing' offers a great chance of fruit in the first year,' says Fern Berg. 'This variety produces berries intermittently during the growing season (early summer through fall) that are perfect for eating straight from the tree. You will just need to beat the birds to them.'
'Everbearing' is also one of the more compact mulberry trees you can grow, reaching up to 15 feet in height once mature, making it more manageable for small gardens. The attractive, bright green leaves will offer some color and shade during the growing season and then drop away, letting sunlight into your home and yard during winter. It grows well in zones 6-10.
For the best fruit production, Fern suggests planting your mulberry in a warm sunny spot in well-draining soil, and pruning it during the winter months to maintain the tree's compact shape. You can also plant your mulberry in a container but be warned, the juicy red or black berries may stain your patio.
3. 'Honeycrisp' apple
This popular apple tree is an ideal size for an urban or suburban garden, and can be kept small with pruning. Developed by the team at the University of Minnesota, the 'Honeycrisp' variety is grown widely around the world and its well-balanced sweet-tart taste and crisp, juicy texture are loved by all.
'Hold this tree to any size with annual summer pruning,' say the experts at Nature Hills online plant nursery. 'We recommend that home gardeners maintain their trees to below 10 feet with 7 to 8 feet being the ideal height. This assures easy maintenance and harvesting.'
You can grow 'Honeycrisp' apple trees, available from Fast Growing Trees, whether you live in a cold or hot region, as it does well in zones 4-9. It performs beautifully in climates with higher summer humidity, and handles extreme cold well too.
Plant it in well-drained soil, in full sun for optimal growth, and plant another variety close by to help pollination if you want the best possible yield.
4. 'Bartlett' pear
The 'Bartlett' pear tree is a classic choice for small yards. If you choose the dwarf variety it only grows to 15ft high, with a spread of 10ft. Producing large, yellow pears with a sweet flavor, this variety has a longer and more plentiful harvest season than many other pear trees, fruiting from late July through September in zones 5-7.
'Bartlett' pear trees are easy to grow and maintain, requiring less pruning than other varieties, so it's a great choice if you want to grow your own fruit but don't have much gardening experience. The 'Bartlett' has ornamental qualities too, as the showy white blossoms in early spring and vivid yellow leaves in fall add a lovely touch to your landscape.
To fruit successfully 'Bartlett' requires cross-pollination from other cultivars in the same pollination group like Comice or Anjou, which should be planted nearby.
5. 'Morris' plum
The rugged Morris plum tree grows clusters of beautiful dark red glossy plums in abundance in just a few years, and is a great choice for warm zones 5-8. Some simple summer pruning and trimming will help it give the heaviest crop, but you don't need to give it much attention to get top results. Plant it with a suitable pollinator like 'Burbank' or 'Bruce', as it won't get fruit on its own.
This variety reaches a mature width of 12-15 feet and a mature height of 12-15 feet, making it suitable for small backyards. It's a fast-growing tree that's tolerant of a dry climate, and disease resistant too. Plant it in full sun in well-drained soil, and be rewarded with a bumper crop year after year.
6. 'Montmorency Pie' cherry
We had to include the Montmorency as it's the most popular cherry tree in the US. This variety produces a high volume of sweet and tangy cherries, and is loaded with beautiful white blossom in spring, adding ornamental interest to your landscape.
It's cold hardy in zones 4-7 and self-pollinating, although a pollinating partner can improve the amount of cherries you get. It also comes in dwarf and semi-dwarf (12-15 feet) sizes if space is at a premium in your backyard.
Montmorency Pie cherry trees, available from the Abor Day Foundation, do best in full sun with room to grow, so can be a great front yard tree. These trees can thrive in soil that is not very fertile as long as it's well drained. They can tolerate some drought, but it's a good idea to water it regularly at least for the first growing season until it's well established.
7. 'Elberta' peach
The selection of peach varieties is immense so we're focusing on another all-time American favorite. 'Elberta' peach trees are among the most prolific around, as well as being a beautiful ornamental addition in the garden with their pink and purple spring flowers.
This variety thrives in USDA zones 5-9, so is best avoided if you live in a hot or cold area. You will also need plenty of space to grow the standard 'Elberta' peach tree, which can reach heights of up to 24 feet, but the good news is there's a dwarf variety too that grows no taller than 10 feet.
For 'Elberta' peach growing, you'll need to plant the tree in a sunny location that gets at least six hours of direct sun a day. The soil should be sandy and well-drained.
These trees are self-fertile, which means that they do not require a second tree for pollination. However, they may produce more fruit if you do plant a second tree. The most important thing to remember is that 'Elberta' peaches need irrigation. These trees are not drought tolerant and will require regular watering.
8. American Persimmon
Persimmon trees add a wonderful accent note to your tree landscaping. The generous foliage makes them a good shade tree for your patio, while the ornamental bark and fall color in glowing yellow and reddish tones, plus of course the bright orange fruit, ensures long seasonal interest.
The ornamental native (or American) common persimmon tree (Diospyros virginiana) is an adaptable variety that bears delicious edible fruit to enjoy that will also be relished by both pollinators and many birds including hummingbirds, waxwings and mockingbirds, who flock to the attractive white blooms in late spring.
Persimmon trees are available from Amazon, and are hardy in zones 4-9. You will need to plant several to ensure pollination or alternatively choose one of the self-fruitful Asian varieties like 'Fuyu'. They like a fully sunny position and are easy going about soil. In fact they're generally easy going trees to grow.
9. Pomegranate
Pomegranates are sun-worshippers. Many people in southern climates (zones 8-10) like California, Florida and Texas grow pomegranates in their gardens with ease. They will thrive both in large pots and in the ground in warm, sunny spots.
'Pomegranates are native to the Middle East. They are a delicious fruit with brilliant red edible arils,' says horticultural specialist Dixie Sandborn of Michigan State University. 'They grow on small trees to a height of around 10-15 feet, where the climate is very hot and dry. They are beautiful, with shiny green foliage, crimson blossoms and incredible yellow fall color.'
Most pomegranates are self-fruitful, meaning they do not require another tree to cross-pollinate with, as the bees do all the work. They prefer free-draining, moisture-retentive soil, and will establish fastest in soil that is a little acidic, so do a pH test and amend your soil accordingly.
10. Nectarine
There is a huge selection of nectarines to choose from and these easy to grow fruit are self-pollinating too. This means they are perfect for small yards that don't have room for a second pollinator tree (but you'll get a bigger crop if you do plant one).
There are also dwarf and semi-dwarf forms of nectarines available. These mini trees are perfect for patios or small-scale orchards. They stay around 5-6 feet tall, and are laden with easy-to-reach, full-sized fruit.
Nectarines grow throughout zones 5-9, and there are varieties to suit both hot and cold climates. 'Fantasia' is very adaptable to cooler zones and always produces a nice crop. Its flavor is what all nectarines are compared to,' according to the team at Nature Hills online plant nursery. 'White-fleshed 'Arctic Jay' is another mid-sized tree that suits a cooler climate.
'Meanwhile tropical climate nectarines can stand up to the hottest parts of the US. The 'Arctic Rose', also white fleshed, is good for zones 8-10, and the 'Zephyr' grows in zones 6-10. The 'Double Delight' (zones 7-10) is as pretty as it is tasty, featuring beautiful double-petalled pink blooms and perfect size fruit.'
These deciduous ornamental beauties produce fragrant pink flowers in spring with fruit ripening throughout summer and into fall. The spring blooms attract pollinators and hummingbirds, followed by lush green foliage that makes them the perfect shade tree to rest under when it's hot.
Once you have established your main structure, take down approximately two-thirds of the growth every year, either by cutting back or thinning.
How do you get a bumper crop quickly?
Fruit trees often require several years to establish and mature before producing bumper harvests. In fact, many gardeners completely remove any fruit that develops for the first few years. Removing fruit from developing trees allows the tree to focus on root and vegetative growth rather than fruit production to establish a strong foundation and better fruit production once the tree is mature.
'Personally, I take a less drastic approach with my young fruit trees, allowing some fruit to develop while thinning the fruit to ensure there is not too much pressure on any one branch,' says tree expert Fern Berg.
'If the goal is a bumper crop as fast as possible, there are some things you can do to increase your chances. This includes carefully selecting early-bearing varieties and opting for more mature trees closer to their fruit-bearing age. Grafted varieties will also bear fruit earlier than seed-grown trees, and the good news is, these are often sold as bare root stock.'
How do you plant a bare root fruit tree?
First prepare a planting hole that's large enough to accommodate the root system of your new tree. Add a little compost to the base of the hole and fork it in, and also mix in some extra compost with the soil you dug out.
Plant the tree immediately, positioning it so the roots are well inside the hole and filling in around them by replacing the improved soil. Press down firmly to remove any air pockets and make sure there is good soil contact with the roots.
Hammer a stake firmly into the hole to support your tree and use a tie to secure the trunk to the stake. Water well, then mulch with compost to keep the soil moist, avoiding any contact with the trunk of the tree.
Then all you need to do is keep an eye on the weather and keep your new tree well watered if it's dry.
The Livingetc newsletter is your shortcut to the now and the next in home design. Subscribe today to receive a stunning free 200-page book of the best homes from around the world.
Lifestyle journalist Sarah Wilson has been writing about flowers, plants, and garden design and trends since 2015. Having already studied introductory garden and landscape design as well as a course in floristry she is currently adding to her list of qualifications with an RHS Level 2 course in the Principles of Plant Growth and Development. In addition to livingetc.com, she's also written for homesandgardens.com, gardeningetc.com, Modern Gardens and Country Homes & Interiors magazines.