Vacation vibes this way - the 12 best plants to place around pools work in any backyard for a feeling of glorious relaxation
Whether you like tropical blooms, breezy ornamental grasses or sculptural succulents, these magical combinations will elevate poolside softscaping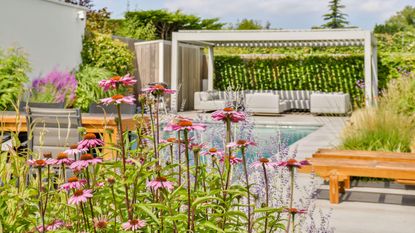 (Image credit: Addictive Stock Creatives/Alamy Stock Photo)
The Livingetc Newsletter
For style leaders and design lovers.
Thank you for signing up to LivingEtc. You will receive a verification email shortly.
There was a problem. Please refresh the page and try again.
Landscaping your poolside space with a selection of gorgeous plants can turn it into a lush oasis, as well as provide additional shade and privacy. To ensure the longevity of your planting scheme it's key to put the needs of your plants first.
When considering how to get the planting right for your pool area it's important to make your selection according to your climate. If your yard is baking in record temperatures, it makes sense to go for succulents and other drought tolerant planting ideas. If you live in a cooler climate, remember that any tropical blooms you may have chosen for that vacay vibe will need to be cared for in the correct way at the end of summer when the temperature drops.
Remember too that most pools have a high level of chlorine or salt, which can be disastrous for some plants. Choose hardy varieties that don't mind being splashed with chlorinated or salt water.
Ideally choose plants that don't shed huge quantities of flowers or leaves too, or you will be regularly spending your downtime scooping them out of the pool. In the worst case they can clog filters and add to your pool maintenance list. Avoid planting deciduous trees near a pool for this very reason, as they are one of the main offenders.
12 easy plants and trees that thrive near pools
'When it comes to poolside areas, choosing the right plants can enhance the overall aesthetics and create a relaxing ambiance,' says Andrew Laurier, plant expert at online plant shop Be.Green.
'When selecting plants for poolside areas, it's important to choose varieties that can withstand direct sunlight, heat, and salty air or chlorine exposure, while also offering unique beauty and resilience, and having low-maintenance requirements.'
Now discover our top 12 choices for planting around pools as chosen by Andrew and the rest of our experts.
1. Hibiscus
With lush tropical blooms that enhance any outdoor area, hibiscus is the dream for poolside planting. The huge flowers come in a whole kaleidoscope of colors from soft white, pink and peach to bolder shades of orange, yellow, red, and purple.
'If your pool area has limited yard space, I recommend planting Hibiscus 'Lavender Chiffon' in pots,' says Alex Kantor, owner at My Perfect Plants nursery in North Florida. 'These exquisite plants showcase large, ruffled blooms that gracefully unfold, revealing a delightful blend of lavender and pink hues. The petals of this variety have a soft, chiffon-like texture, infusing an element of elegance into its overall aesthetic.'
Beyond its visual appeal, this is also one of the best plants to attract butterflies and hummingbirds, creating a lively and vibrant environment, adds Alex.
Hibiscus also comes in hardy varieties, and the stunning flowers add a perfect tropical look for gardens in both warm and cool zones. 'Fast-growing, these plants explode with pinwheel-like flowers the size of dinner plates in late summer,' says Gail Pabst, a horticulturalist who works for the National Garden Bureau. 'Often confused with their tropical cousins, they can survive temperatures as low as -30°F. Take, for instance, Rose Mallow 'Edge of Night'. This compact perennial with huge 8 inch bubblegum pink blooms and jet-black foliage is hardy to zone 4.'
2. Bird of paradise
The Bird of Paradise (Strelitzia) is an excellent choice for poolside areas due to its stunning tropical appearance, ability to thrive in sunny locations and easy going nature. It lends a real holiday feel to your outdoor space too.
'The Bird of Paradise has large, vibrant orange and blue flowers that resemble a bird in flight, adding a touch of exotic beauty to the poolside area,' says Andrew Laurier. 'The broad, arching leaves create a lush and tropical feel.'
It checks out for durability too. 'This plant is well-suited to poolside environments because it can withstand heat and direct sunlight,' says Andrew. 'It also has good tolerance for salty air or chlorine exposure, making it a resilient choice for poolside locations.'
As well as being one of the best tropical flowers to grow indoors too, Bird of Paradise is a low-maintenance plant that doesn't need frequent watering once established. It's also relatively pest-resistant, making it easy to care for without much fuss.
3. Hydrangeas
Everyone wants a hydrangea or two in their yard right now, and the good news is that these effortlessly gorgeous blooms are perfect for planting around pools. These versatile shrubs work best on their own, planted en masse by your pool for an elegant look. What's more, they're long flowering too.
If you don't have room for a bed of hydrangeas like this East Coast design, one plant will make an eye-catching feature potted up in a large statement container and positioned poolside. Potted hydrangea care is pretty easy, too. White is the classic choice but if you prefer blue, pink or even lime green there are plenty of varieties to choose from too.
Different types of hydrangea include traditional mop heads and lace caps, elegant shrubby species and also the invaluable climbing type. Another great idea for planting around pools is using a climbing hydrangea with a trellis panel that will grow vigorously to create a privacy screen.
4. Italian cypress tree
'I have used the Italian cypress tree many times for planting around pools because it offers both practical and aesthetic benefits,' says Alex Kantor. 'Renowned for its graceful elegance and distinctive vertical shape, this tree serves as a focal point, boundary marker, or privacy wall.'
By incorporating evergreen trees around your pool area, you can transform your backyard into an oasis that will make you feel you're on a luxurious Italian vacation. 'The inclusion of Italian cypress trees adds an undeniable charm, exuding a sense of sophistication while providing privacy,' says Alex.
Choosing fast growing hedges for privacy and planting trees around the perimeter of the pool screens your pool from neighbors too. Greenery provides a much softer, more natural looking backdrop to your pool than a garden wall or fence. Just clip it occasionally to keep it looking smart.
5. Succulents
The interiors trend for succulents shows no sign of ceasing. Meanwhile if you live in a hot, dry climate succulents are the natural choice for planting around pools too. ONe of the best plants to grow under palm trees, they look good both in the ground and potted up in containers, where their sculptural shapes are shown off particularly well if you choose larger varieties such as aloe, agave or yucca.
Andrew Laurier is a fan of the Agave Americana (century plant). 'This is another great option for poolside areas. It stands out because of its striking architectural beauty. With its rosette-shaped, spiky leaves and stark silhouette, the Agave Americana adds a sculptural element to the poolside landscape. Its blue-green coloration provides a cool and calming effect too.'
Succulents are an ideal choice for poolside areas as they are highly drought-tolerant and can withstand arid conditions. They only need minimal watering and thrive in full sun, making them well-adapted to hot and dry climates. They're low maintenance too, which means they're an effortless addition to your poolside garden.
6. Ornamental grasses
We love the idea of being enveloped by nature while we swim. Ornamental grasses are one of the best choices to create visually striking planting around pools like this design in Portland, Oregon. These ones are newly planted as yet but will soon grow tall to create an airy shimmering screen.
'Some of the best plants for around the pool are ornamental grasses,' says Amy Hovis, principal at Eden Design in Austin, Texas, and co-owner of Barton Springs Nursery. 'I love to plant grasses that sway in the wind when they catch the slightest breeze. These include Mexican feather grass (shorter grass), Elliot's lovegrass and purple lovegrass for a medium grass with beautiful seed heads. 'Little Bunny' dwarf fountain grass is one of my absolute favorites.'
The latest garden trend report from Yardzen focuses on the fundamental shift in outdoor style, with the clean lines of modernism giving way to organic textures and forms. This is illustrated perfectly by a naturalistic planting of grasses around the pool.
7. Butterfly bush
'I have a 'Black Knight' butterfly bush (buddleia) planted behind my pool and I love to float in the water and watch the butterflies fly overhead as they make their way to the bush for nectar,' says Karen Musgrave, who has a degree in ornamental horticulture and works for Hicks Nurseries in Westbury, New York.
'This spectacular plant produces the most beautiful purple flower spikes. It requires no pruning while it's blooming. Simply cut the plant down to about 6 inches tall in early spring each year.'
Fast growing, buy a 'Black Knight' butterfly bush now and it will soon reach full size and begin producing flowers in time for lazy summer days by the pool.
8. Lantana
Another plant with a pop of color that is guaranteed to bring in the butterflies is lantana (Lantana camara). You can't go wrong with this hardy heat-tolerant perennial, which will thrive in full sun poolside, either in pots or in the ground.
'Lantana is a tough, resilient plant that can thrive in a wide range of conditions,' says Amy Hovis. 'It has thick, waxy leaves that help it retain moisture, and it can go for long periods without water once established.
'We love that it comes in different colors. I like to pair purple lantana with purple lovegrass, or the trailing white variety with 'Little Bunny' or Mexican feather grass.'
Lantana is a must-have for creating a pollinator haven. As well as butterflies, these plants are attractive to bees and hummingbirds, drawn by the sweet nectar, attractive scent, bright color, and the landing pad flower form.
9. Mandevilla
When you're softscaping around a pool, ideally you need plants that look like and remind you of a tropical paradise, and that will also do well in full hot sun.
'Mandevilla is the perfect plant for this with their lush, tropical blossoms and glossy, vining foliage,' says Gail Pabst. 'You will find both vining and bushy varieties for any spot. The trumpet-shaped blooms attract hummingbirds too. I have the Sun Parasol 'Giant Red Emperor' variety in a container with portulaca (moss roses) around the bottom. Both are excellent for heat and drought, and add a touch of the tropics to my patio planting.'
These beauties produce large flowers that can span up to 5 inches. Natural climbers, they are stunning trained to a trellis, one of the best plants to cover a fence. They love warmth and plenty of sun light, and are an easy grower if you provide them with these conditions.
Mandevilla are only hardy to zone 9 advises Gail, so most people treat them as an annual or bring them indoors to overwinter as a houseplant.
10. Elephant ears
'For a more tropical look, Giant Elephant Ears (Colocasia gigantea) are a statement plant that sway attractively in the breeze,' says Amy Hovis. 'They are fast growing and though they may die back in the winter, they'll pop back up in the spring, and grow full size again, just in time for pool season.'
Elephant ears offer some of the boldest poolside foliage around, with huge, rippled heart-shaped leaves in black, purple, emerald green and yellow. They are winter-hardy in frost-free areas. Elephant ears love water, sunshine, and fertilizer, and will grow over six feet tall if you give them this combo.
Elephant ears grow from tubers. Some clump, while others spread on runners along the ground. If you're concerned about elephant ears invading your yard, choose varieties that clump instead, or grow runners in pots.
11. Bougainvillea
No planting around pools guide would be complete without a mention of bougainvillea, the iconic plant seen scrambling over white walls in the Mediterranean. They are one of the most exotic looking plants you can grow, and are covered in brilliantly colored flowers, so a natural fit for poolside.
Despite their delicate good looks (the flowers have a chiffony texture), they need little care once they have settled in after planting. They rarely need watering but they need to be well fed with a fertilizer specially formulated for bougainvilleas.
They are hardy only to zone 9, and in cooler zones they will not survive the winter outdoors. If you live in a cooler climate grow bougainvilleas in containers, then move them inside into a frost-free environment as winter approaches.
12. Coneflowers
If you like the idea of naturalistic planting around pools, opt for relaxed drifts of perennial planting. This will attract hummingbirds and butterflies to your pool area, as well as provide a soft landscape you can enjoy while relaxing in the water.
'Coneflowers are a great option for landscaping around a pool,' says Karen Musgrave. 'The masses of colorful flowers in shades of pink, red, yellow or white bloom profusely from summer until fall. Another plus point is that they are perennial, so they come back every year.'
They partner well with feathery ornamental grasses too for a beautifully soft and unstructured look.
For style leaders and design lovers.
Lifestyle journalist Sarah Wilson has been writing about gardens since 2015. She's written for Gardeningetc.com, Livingetc, Homes & Gardens, Easy Gardens and Modern Gardens magazines. Her first job on glossy magazines was at Elle, during which time a visit to the legendary La Colombe d'Or in St-Paul-de-Vence led to an interest in all things gardening. Later as lifestyle editor at Country Homes & Interiors magazine the real pull was the run of captivating country gardens that were featured. Having studied introductory garden and landscape design as well as a course in floristry she is currently putting the skills learned to good use in her own garden where the dream is establishing a cutting garden.