Ratio Six coffee maker review: Beauty is as beauty does
The Ratio Six Coffee Maker not only looks good, it also performs beautifully. See what makes it one of our favorites.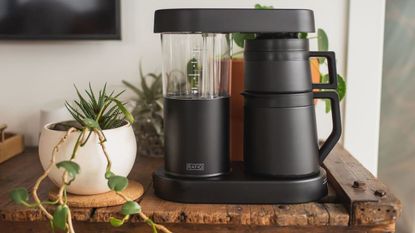 (Image credit: Ratio Coffee)
You'd be hard pressed to find a more eye-catching coffee maker than the Ratio Six coffee maker. The stainless-steel body and stainless steel components, combined with hand-blown borosilicate glass supply lines, are a work of art. But the unique design results in more than just good looks. It simplifies the brewing process so you can achieve the perfect cup of coffee every time, and the heat shield keeps your cup of Joe piping hot.
Reasons to buy
+

Exquisite design

+

Excellent aroma and taste

+

BPA-free water tank

+

Stainless steel body and components

+

One-step brewing process

+

Space saving design

+

Heat shield

+

Removable power cord
Reasons to avoid
-

Expensive

-

No descale alert

-

Small water tank opening
The Livingetc Newsletter
For style leaders and design lovers.
Thank you for signing up to LivingEtc. You will receive a verification email shortly.
There was a problem. Please refresh the page and try again.
I've tested dozens of coffee makers. Some were quite expensive, but it was difficult to understand why. That's not a problem I experienced with the Ratio Six Coffee Maker. It is indeed expensive, but there's no doubt that it's worthy of its hefty price tag. In appearance, performance, ease-of-use, and most importantly, taste, the Ratio Six proves that it's one of the best – and best-looking - coffee makers you can buy.
Ratio Six coffee maker: Specs
Water tank capacity: 40 ounces (eight 5 oz. cups) / 1.3L
Dimensions: 14.25" H x 6.75" W x 9" D/ 36cm H x 17cm W x34cm D
Weight: 8 pounds
Material: Stainless steel
Filter Basket: Flat bottom
Programmable: No
Warranty: 5-year warranty
Who will the Ratio Six coffee maker suit?
The Ratio Six Coffee Maker is for people who take their coffee seriously and know what they want in a cup of Joe. It doesn't have a clock, isn't programmable, and doesn't offer customization features. It does have a 21st-Century stainless steel design that's hard to match, and a simple process for producing the same high-quality, delicious pot of coffee on a consistent basis. It's meant to replicate the very best in pour over coffee in an automatic way.
Ratio Six coffee maker: Unboxing/first impressions
The first thing I noticed when unboxing the Ratio Six coffee maker was that it's (thankfully) not a bulky appliance. The appliance is 13.5 inches in length, 14.25 inches in height, and only 6.75 inches wide. This makes it easy to push the coffee pot up against the wall when it's not in use. However, the Ratio Six is so attractive that I've yet to slide it out of the way. If you like modern design, you'll love the clean lines of the coffee maker and probably prefer to display it.
However, there are quite a few moving parts – you just can't see them when everything is fully assembled. Included in the box, along with the actual appliance, is the brew guide, quick start guide, removable power cord, 4 paper filters, thermal carafe lid, drip catcher for filter basket, heat shield, and microfiber towel.
A power cord is rarely a feature mentioned in a product review. However, this one is notable for two reasons. First, it's a short cord, only three feet in length. At first, that may sound like a negative, because the coffee maker will need to be quite close to the outlet. However, a short cord greatly reduces the risk of entanglements, or falling off the counter or onto a hot stovetop. The power cord is also detachable, which makes it easier to place the coffee maker flush against the wall when not in use.
The body of the Ratio Six is made of thick, precision-stamped stainless steel, and has a satin stainless-steel finish, although it's also available in a matte black or a matte white finish as well. The coffee maker comes with a double-wall, stainless steel thermal carafe. (There's also an option to purchase a hand blown glass carafe.) The spiral shower head is also made of stainless steel. Even the lid to the water tank is made of stainless steel.
Speaking of the water tank, it's made of BPA-free polymer, and the water supply lines are made of hand blown borosilicate glass.
Ratio Six coffee maker: using the coffee maker
To brew coffee, I can use either the flat bottom basket filter or a #4 paper filter (but not both). I use the latter since it's a lot easier to just pick up the filter to toss it into the trash.
As much as I love the Ratio Six, I don't like the small water tank opening, which is less than 2 inches in diameter. So, I have to pay attention when adding water or else, I'll spill it all over the counter.
The Ratio has a lot of bells and whistles, but not the kind that you're probably expecting. For example, it doesn't have a clock, and is not programmable. Since my microwave, oven, and countertop oven all have clocks, I don't mourn the absence of yet another time-keeping appliance. Also, I'm impatient by nature (that's why I pour water too quickly into the water tank and risk spilling it), but I don't have a problem waiting a few minutes for a cup of coffee, so I don't consider the lack of programmable features a real negative, either.
What I really like is the simplicity of initiating the brewing process. There's one button and three lights. When I press the button to start the Ratio Six, the light under "bloom" is illuminated, and the coffee maker pre-saturates the coffee grounds, and they begin to bloom. A few minutes later, the light switches from "bloom" to "brew," indicating that the latter cycle has started. Finally, the indicator light switches to "ready," to indicate the brewing process is complete.
If you like to select from various settings, the Ratio Six may not be the right coffee maker for you. However, I just want a great-tasting cup of coffee, and I have no desire to go through a complex ritual every day to get it.
But as I mentioned, the Ratio Six does have other features that you won't find on most coffee makers. For example, it includes an optional heat shield (the black rubber part above the stainless-steel filter basket). Although it makes a hot pot of coffee, using the heat shield increases the temperature by 5 degrees, so it's somewhere between 195 and 200 degrees and tastes even more flavorful.
Now, here's one tricky part about the coffee maker: the filter basket fits into the grooves of the carafe, and both the filter basket and carafe are inserted into the coffee maker as one unit. And when the coffee is ready, you take them out as one unit and then separate the two. The filter basket is then on the black drip catcher. The thermal carafe lid is placed on the carafe, and allows me to control the flow of coffee into my coffee mug. It also allows me to keep the coffee hot even when the carafe is sitting on the countertop. (Note: the carafe is cool to the touch.)
I performed this ritual for some of my friends who initially said, "That's too much trouble for a cup of coffee." But after tasting the coffee, they decided it was well worth the effort.
Another feature that I like: since the single button and lights are on the end (instead of the side) of the Ratio Six, you can turn the coffee maker in almost any direction, making it convenient for southpaws to turn it to the left, and for people with space issues to turn it vertically.
Cleaning the Ratio Six coffee maker
The Ratio Six is relatively easy to clean. Since the water tank opening is so small, if you end up stopping it before the brew cycle is oven, I would recommend restarting the cycle to drain the rest of the water out. The appliance's body can be cleaned by wiping with a damp cloth (and a microfiber cloth is included in the box). The carafe has a wide mouth, so it's easy to rinse it with warm water (and even add a drop of dish soap) to clean. However, it can't be put in the dishwasher. The carafe lid and heat shield can be rinsed under running water.
The company recommends using the Ratio Machine Wash, an all-natural detergent and descaler, on a monthly basis (twice a month depending on the water quality in your area). However, other types of cleaning and descaling products can also be used. Note: there is no descale alert on the coffee maker, but the company recommends descaling when the following symptoms occur: coffee brewing time is longer than 8 minutes, or the glass tube and tank are cloudy.
How the Ratio Six coffee maker compares to similar products that I've tested
I've tested a variety of high-end coffee makers, including Wolf Gourmet, Breville Precision Brewer, Bonavita Connoisseur, De'Longhi All-In-One, Braun Multiserve, and Ninja-Dual Brew. However, it's almost like comparing apples and oranges since most of the competitors pride themselves on having programmable features and various settings, whereas the Ratio Six prides itself on being simple, and not having a clock or being programmable.
The Bonavita Connoisseur, which is roughly half the price of the Ratio Six, is similar in that it also has a pre-infusion mode and lacks a LED screen and settings. Besides price, it has a few other advantages over the Ratio: the Bonavita Connoisseur has a wide water tank opening, and provides an audio alert when the brewing cycle is over.
However, the Bonavita Connoisseur is also several pounds lighter and smaller and is more of a compact model. In addition, it lacks the heat shield and the modern design of the Ratio Six. In terms of quality, only the Wolf Gourmet and Breville Precision Brewer are comparable – but again, they have different features.
Ratio Six coffee maker: Our verdict
Some people like a plethora of features on a coffee maker. If that's you, this coffee maker might not be the best choice. The Ratio focuses on making excellent coffee, not on providing a variety of preset modes and other customization options. It's not programmable, and doesn't even have a clock.
However, if you appreciate the simplicity of a single button process, and you're more impressed with a heat shield and the ability to make and keep your coffee piping hot – and you're a sucker for modern design, you may have found your next coffee maker. It's definitely in my top three favorites.
Where to buy
About this review and our reviewer
Terri drinks (decaf) coffee every day – and can drink it with or in place of breakfast, lunch, or dinner. She has tested dozens of coffee makers – and can always find time to test more.
All our reviews, as in the case of the Ratio Six Coffee Maker, are based on the real-life experience of using these products at home. The products are given to us free of charge and we test them for as long as possible before sending them back to the brand unless we are able to keep them as we are with this coffee maker. This means that we can continue to use the product, which gives us the opportunity to return to our reviews for updating, so you can keep up-to-date with how it's fared over a period of time
For style leaders and design lovers.
Terri Williams is a journalist with real estate, home improvement, and product review bylines at Architectural Digest, Real Simple, Realtor.com, Bob Vila, Yahoo, MSN, The San Francisco Chronicle, The Houston Chronicle, and Apartment Therapy. She also covers business topics, with bylines at USA Today, The Economist, US New & World Report, Verizon, and several other brands that you've probably heard of. Follow her adventures on Twitter.