I tried Nespresso's Vertuo Creatista - it was like having a coffee shop in my kitchen
Nespresso's new Vertuo Creatista has transformed the once-gimmicky world of capsule coffee into a luxurious home-brewing experience, but can it convert a pod skeptic?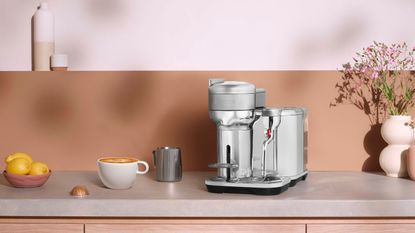 (Image credit: Nespresso)
Produced in collaboration with Breville, the Nespresso Vertuo Creatista textures milk and brews the perfect shot, without the fuss of manual machines. While it costs about the same as an automatic machine, we think it's a great investment for coffee lovers who value style, speed, and convenience.
Reasons to buy
+

High-quality construction

+

Endless customization options

+

Impressive milk steaming features

+

Optimized brewing for every pod
Reasons to avoid
-

A bulky choice

-

Milk overheated easily

-

Crema fades fast
The Livingetc Newsletter
For style leaders and design lovers.
Thank you for signing up to LivingEtc. You will receive a verification email shortly.
There was a problem. Please refresh the page and try again.
Nothing says quiet luxury like a stainless steel coffee maker, but if you've not got the time grind your beans, brew your espresso, and hand-steam your milk each morning, you may feel limited when it comes to choosing the best coffee maker for your home.
While, admittedly, it's quite the niche, the Nespresso Vertuo Creatista plugs that gap between an entry-level Keurig and something a lot more luxurious but time-consuming. I've got my gripes about the concept of capsule coffee. It's not the most cost-efficient way of brewing, and while Nespresso does offer a recycling program, it's still more wasteful than simply using ground coffee. Mainly though, my issue with capsule coffee is that it simply doesn't compete with the quality espresso I can make with my fully automatic machine, and as a coffee lover, that's hard to overcome.
While it's not quite wowed me enough to oust my Breville, the Nespresso Vertuo Creatista is without doubt the most impressive capsule coffee maker I've tested, combining Nespresso's extensive line of Vertuo pods, which come with barcodes to dispense the perfect amount of coffee for each brew, with a high-end Breville milk wand. Maybe I'm starting to see what the fuss is all about...
Nespresso Vertuo Creatista: Key info
Colors: White, black, stainless steel
Heat up time: 30 seconds for coffee, 3 seconds for milk
Dimensions: 9.6 x 16.4 x 12.7 in
Weight: 15 lbs
Water tank capacity: 67.6 fl oz
Capsule container capacity: 6-10 capsules, depending on size
Nespresso Vertuo Creatista: First impressions
The Nespresso Vertuo Creatista needs next-to-no assembly. It's sturdy, with a notably high-quality stainless steel finish. It's also larger than I'd expected, but I could still see it slotting comfortably onto a modest kitchen counter.
There are two parts to the machine. The coffee brewing unit doesn't offer any noticeable difference to the Vertuo Next machines I've tried. You turn the notch at the top to open the pod container, then press the lid shut and twist the lock into place to secure. To commence brewing, you simply press the button on top of the brew unit.
The second unit is a milk frothing wand. This is fully automatic, and it's the same type of wand you'll get with Breville's Bambino Plus. The controls are much the same, too. You have a button that controls temperature, and one that controls texture levels, and both of these have three levels to choose from. Once selected, you simply press a button and the machine will steam your milk automatically. Nespresso includes a metal jug to use for steaming, and this rests on a smart sensor which takes temperature readings to detect when to finish steaming.
Included with the machine was a box of trial coffee capsules.. Nespresso also sent us some of their exclusive summer flavors to try. Nespresso Vertuo machines can make up to five size coffee drinks: espresso, double espresso, gran lungo, coffee, XL, and carafe. It takes some trial and error to select the right cup size for each brew.
Making coffee in the Nespresso Vertuo Creatista
Making your coffee is a straightforward process. You need to make sure the water tank is full up, and the waste bin is empty. Then, un-latch the top of the brewing unit and it will automatically lift up, sliding the used pod from your last coffee into the bin as it goes.
As with the Nespresso Vertuo Next machines, I don't find this brewing unit particularly intuitive to use. As you press the top down, you'll need to twist the top lever and lock it into place. This is actually a bit of a workout when compared to the VertuoPlus line, which do all of this with a simple tap. If accessibility is a concern, I'd opt for a VertuoPlus model instead.
Once you've pressed the brewing button, the machine takes about a minute to brew your coffee (of course, depending on what size you've chosen). The coffee we made was a double espresso. It was very dark and rich, and advertised as a good coffee to pair with milk.
The thick layer of 'crema' on top (I'll explain my quotation marks momentarily) fades quite fast, so by the time your milk is steamed, your coffee won't look quite as glamorous. It's not crema in the traditional sense, because the top layer is made from the unique brewing process that happens inside the unit. By spinning the pod, the machine inserts air into the coffee while it pours, creating that foamy top layer we all associate with a good coffee.
This first brew, the Bianco Doppio, it was a little too dark for me. With that being said, Nespresso has countless blends to choose from, whether it's a formidable Fortado or a more Starbucks-esque Sweet Vanilla. You won't struggle to find one you like, but it may take some trial and error to find a favorite.
We also made one of the limited edition summer brews, the Watermelon Over Ice flavor. We were expecting some sweetness, but this literally had the flavor of watermelon if you combined it with coffee. Syrup was needed, but it was pretty tasty when finished, and a good example of the kinds of experimentation you can achieve with a Nespresso Vertuo machine.
Steaming milk in the Nespresso Vertuo Creatista
For those, like myself, who prefer a milky coffee, the Vertuo lineup just became a lot more appealing. If you had opted for a Vertuo before the Creatista launched, you'd have been stuck with a milk frother to the side, so this is a big step forward in Nespresso's latest line.
As I've already said, you can get the same type of automatic steam wand on Breville's Bambino Plus, and Nespresso also featured an earlier iteration (controlled via a touchscreen) in the original Creatista Pro and Creatista Plus models. I enjoyed being able to control my milk settings with two simple buttons, and there is guidance on what you should input for different coffees (flat white, cappuccino, etc) if you need any advice.
When testing with dairy milk, I was really impressed with the glossy and smooth finish I achieved on level two temperature and texture. I did think it was a smidge too warm. I took the temperature of the milk I steamed on the medium setting and it came to about 160°F, which is the highest temperature recommended for milk by the SCA. With that in mind, I definitely wouldn't advise going above the second heat setting, which leaves the top setting a little defunct.
If you're brewing with oat milk or other non-dairy alternatives, expect to only use the lower temperature setting. These kinds of milk have a lower burning point than dairy, so it's best to be on the safe side.
We struggled to achieve anything that would be able to make latte art, but the milk was well-textured and a definite step up from the separate milk frothers sold by Nespresso. It also handled oat milk very well, which is a notoriously tricky milk to steam in a manual machine.
Another really nice feature is that after you've removed your milk jug and wiped the steam wand clean, it flushes itself out to remove residue and keep things hygienic. The machine also shuts itself down after two minutes of inactivity, keeping energy costs low.
Should you buy the Nespresso Vertuo Creatista?
I've tried dozens of single-serve coffee makers over the years, and the Nespresso Vertuo Creatista definitely takes the top spot when it comes to ease of use and quality design. Aesthetically, I'm a fan, but the space-age brewing unit may not be for everyone.
The inclusion of an automatic steaming wand is a total game-changer for the Vertuo line, especially in a market that's so dominated by milk-based coffee drinks. And while we didn't love every pod we tested, we did enjoy experimenting with the different flavors Nespresso has on offer.
My main complaint with this coffee maker is that it did bring my milk up a smidge too hot, and if you're making a plant-based drink, you're limited with the settings on offer. So while I wouldn't recommend the Nespresso Vertuo Creatista to everyone, if you're the sort of person who wishes they had access to a 24-hour coffee shop but without any of the Barista skills required, I think you've found your new favorite kitchen appliance. It genuinely couldn't be easier to get a fault-free coffee at home.
About this review
Millie Fender is Head of Reviews at Future Homes. Formerly our head of all things kitchens, she's tested everything from coffee makers to cookware, and loves finding the best products to make an impact in a small space.
Millie tested the Philips Hue Gradient Signe Floor Lamp for three months in her own home, and it now lives in her lounge where it's used most evenings.
All reviews on Livingetc are based on real-life experience with the products. These reviews are then used to build comprehensive buying guides that list the best of the best across a range of budgets and use cases.
As Head of Reviews, the Nespresso Vertuo Creatista was expertly tested by Millie Fender. She tested it in our test kitchen with a variety of different pods and milk types before writing this review. To learn more about our process across reviews and buying guides, you can take a look at our explanation of how we test.
For style leaders and design lovers.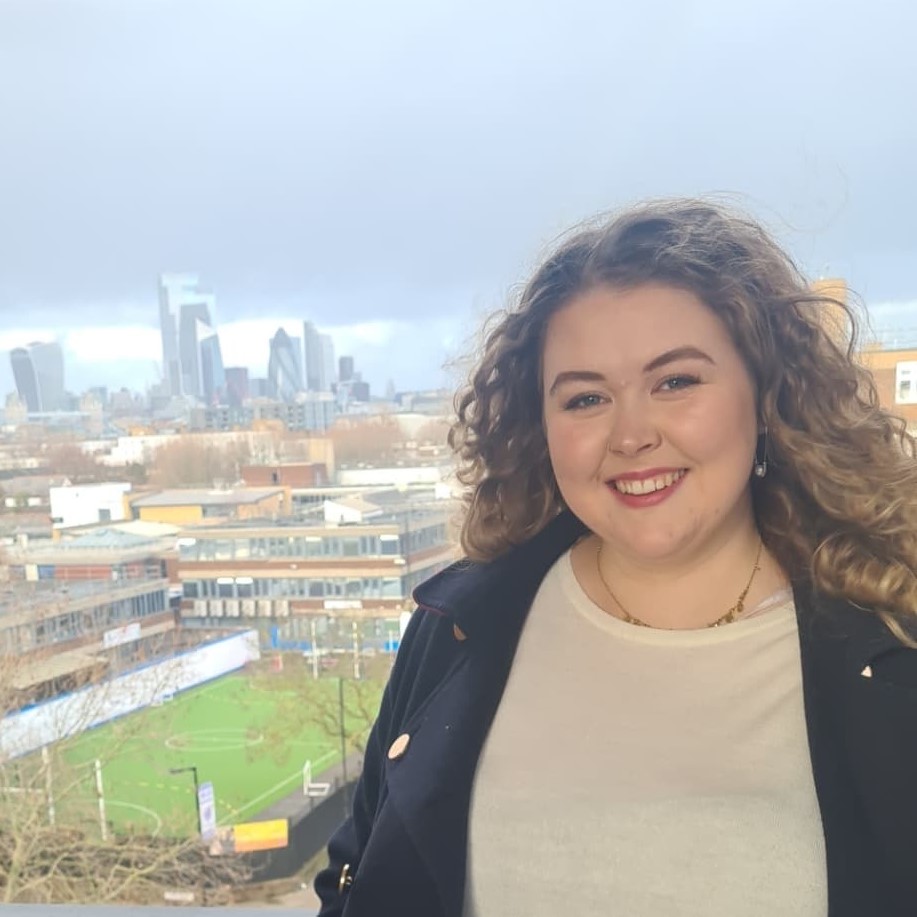 Millie is the Head of Reviews on the Homes Ecommerce team at Future. She started writing for Livingetc in 2021 after working as a staff writer for another Future brand. Specialising in indoor and outdoor cooking, Millie is always testing kitchen appliances like juicers, stand mixers, and pizza ovens. She loves finding renter-friendly ways of adding her own touch to living spaces, and browsing the property market for houses with larger kitchens.