Apple Watch Series 8 review: does this stylish smartwatch offer more than a simple fitness tracker?
We take a closer look at the Apple Watch Series 8, which offers fitness goals and health data, but also lets you message family members and find your keys in a hurry.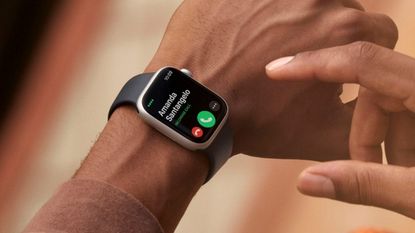 (Image credit: Apple)
With its attractive Always-On Retina display and choice of stylish straps, the Apple Watch Series 8 is easy on the eye and easy to navigate. A natural companion for anyone with an iPhone 8 or later, the Apple Watch Series 8 comes packed with fitness features to encourage you to get moving, stand and take a break - and we can't argue with the latter.
Reasons to buy
+

Practical and stylish extension of your iPhone

+

18-hour battery life with fast charge and 36 hours in low-power mode

+

Empowers you with health data

+

Temperature sensors for sleep and women's cycle tracking
Reasons to avoid
-

You'll need to pay for GPS and cellular use

-

It needs regular charging as you would a smartphone

-

Price plus subscription charges if using apps such as Fitness+
If you're keen to invest in the latest smartwatch, there are a few Apple Watch options to consider, including the Apple Watch Ultra, Apple Watch SE, and the Apple Watch Series 8. Here we've taken a closer look at the Apple Watch Series 8, which comes with a host of strap options and a stylish Always-On Retina display.
If you're already an iPhone user, combining your smartphone with one of the latest Apple watches makes sense. From $399 or $16.62 per month, the Apple Watch Series 8 is Apple's mid-range smartwatch that comes packed with lots of high-end features.
We used the Apple Watch Series 8 over the course of six months to see how well it could enhance our daily routine, if it spurred us on to reach our fitness goals, and find out if it has any useful features that ensure its place among the best fitness trackers.
Apple Watch Series 8: Key info
Advanced Health Features – Blood Oxygen and ECG apps
Temperature sensing for Cycle Tracking
Crash Detection for help in an emergency
Family Setup – pair multiple watches with one iPhone
Always-On Retina display up to 1,000 nits brightness
Apple Watch Series 8: Design
Powered by watchOS 9, the Apple Watch Series 8 is a joy to look at with a design you'll want to show off. It comes in a choice of seven case finishes, and you can personalize it with a strap type and color to suit your style. If you're in a playful mood, you may want to go for a Starlight Aluminium Case with Braided Solo Loop in an orange colorway, for example, or for something more stylish yet still practical, try the Starlight Aluminium Case with Starlight Sport Band.
While the watch designs suit both day to night attire, for something that looks perfect for evening wear, you may want to opt for a stainless-steel or brown leather strap, which looks stunning against the retina display. The watch comes in two sizes to fit different wrist sizes, and you can choose from a 41mm or 45mm case. If, like us, you're not used to wearing a watch and don't want anything on your wrist that feels too bulky, you may want to choose the 41mm design.
While it's not as rugged as the Apple Watch Ultra, the Apple Watch Series 8 is lighter in design, yet both have been designed to be durable and withstand a range of situations. The Apple Watch Series 8 is crack-resistant, dust and water-resistant up to 50 meters, for example, while the Apple Watch Ultra will take you a little deeper to 100m. Either way, this means you won't need to take off the watch when you're washing up, in the shower, or going for a swim.
We found the Apple Watch Series 8 Always-On Retina display clear and bright with narrow borders that curve beautifully right to the edges, and this provides nearly 20% more screen area than the Apple Watch SE. So if a crisp and easy-to-read screen is particularly important to you, this is the design to consider.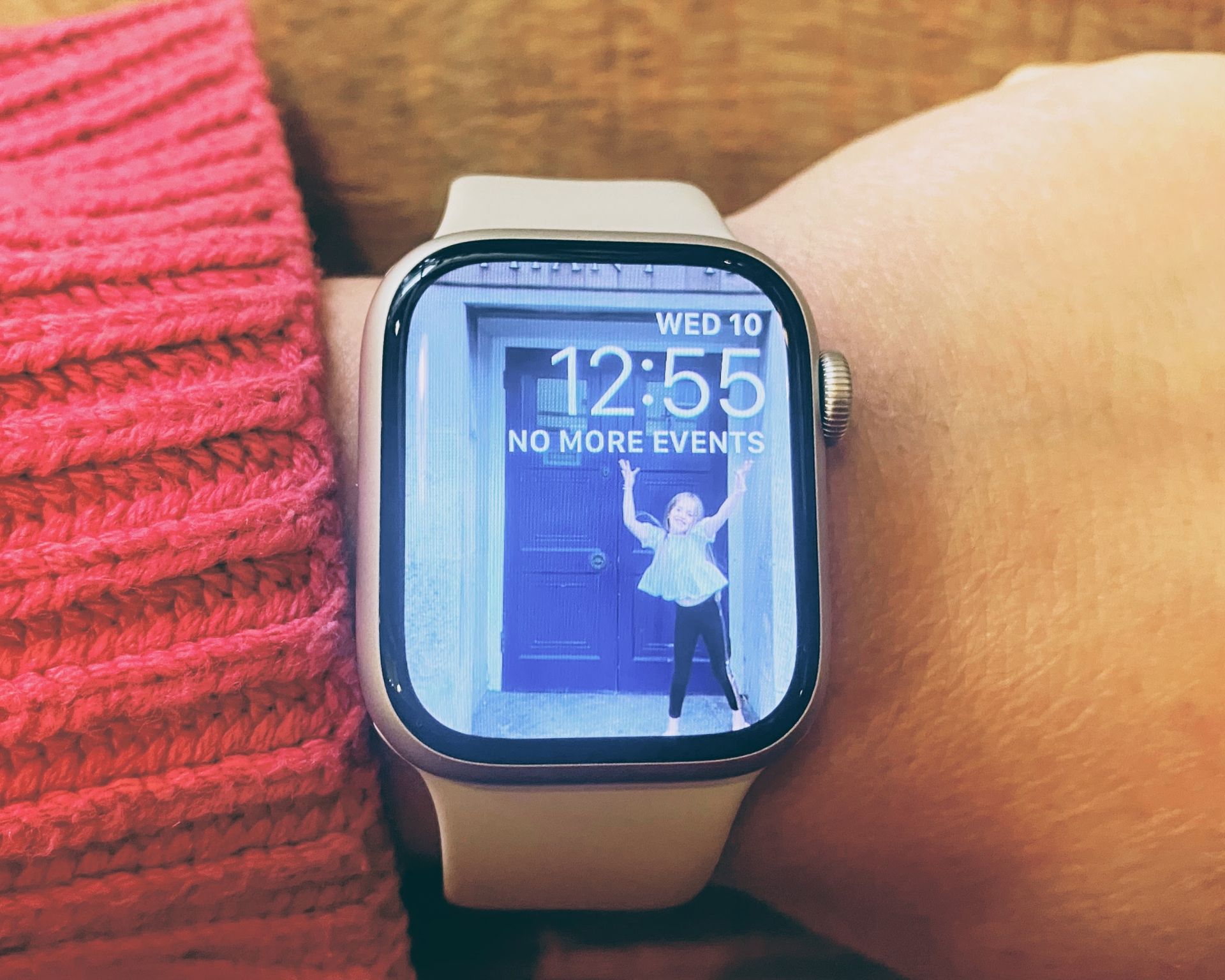 Apple Watch Series 8: Set-up
As with most devices in the Apple family, we found it easy to start using the Apple Watch Series 8. To set it up, we needed an iPhone 8 or later with iOS 16 or later. We needed to update our iPhone to the latest version of iOS before we began to set up, turn on Bluetooth, and connect to WiFi. We found pairing up the Apple Watch with our iPhone simple by holding the two near to each other.
We waited for the 'Use your iPhone to set up this Apple Watch' message to appear and followed the step-by-step instructions to set it up. You can select your watch orientation within the app so the screen is optimized for left or right-hand use. When we first wore the Apple Series 8 watch, it took some getting used to. Not one for wearing a watch all day long, we found ourselves subconsciously removing it, especially when washing up, as it felt a little bulky and tight.
The watch is water-resistant and can get wet up to a point, however, which is a big bonus as to get the best stats and information from the watch, you'll need to keep it on as much as possible. We used the Water Lock mode when going near water, which prevents the screen from responding to touch on its display and ejects any water in its speaker afterward - a mindful touch that will hopefully prolong the life of the device. Within the testing period, we went for a few weeks without using it.
When we came to wearing the watch again, we found it wasn't tracking actively and accurately and needed an update to fix any glitches. The Watch app on your smartphone should automatically suggest updates, but if you need to do it manually, you can update the Apple Watch whenever you need to. Simply open the Apple Watch app on your iPhone and tap the 'My Watch' tab, then go to 'General' and 'Software Update.'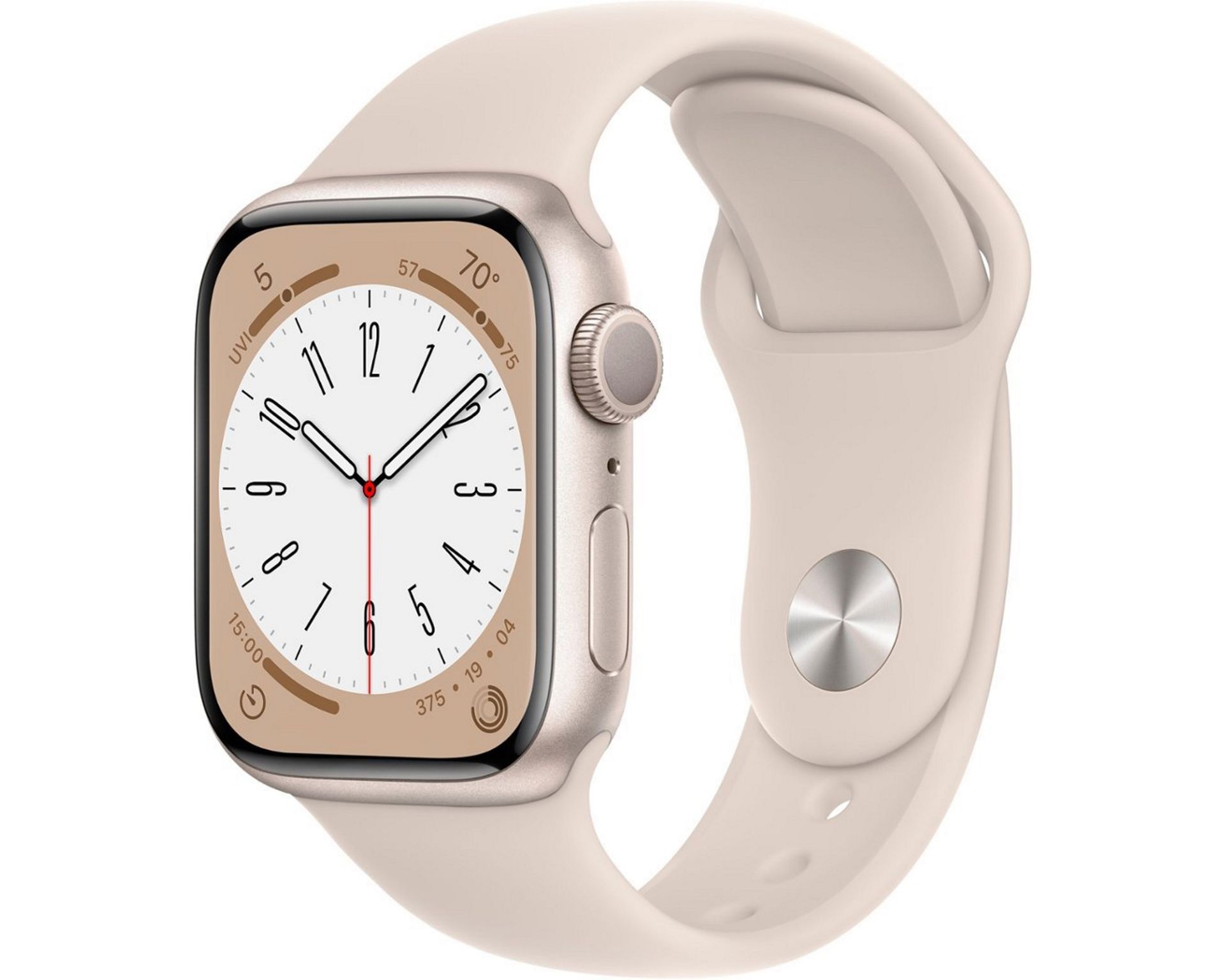 Apple Watch Series 8: Performance
Once we'd paired the phone to the Watch app on our iPhone, it mirrored the majority of apps on our smartphone. For example, we could access apps such as Wallet for Apple Pay, Amazon Music, and Podcasts, but we couldn't see WhatsApp or the Ring doorbell app, however. We did receive notifications from the Ring doorbell on the smartwatch via our smartphone each time someone rang the doorbell, but the slight delay did make it hard for us to respond from our iPhone in time.
Within the Watch app, you can choose to have your compatible apps listed on the Series 8 in alphabetical order or placed in a grid view on the watch face. We found the list view much easier to navigate and scroll through over the rather confusing grid view. Using the Watch app, we could set the Apple Watch Series 8 to have multiple face options and use our own photos as a watch face.
We also added the sophisticated 'Metropolitan' design and the sporty 'Activity' design into the mix – the latter of which makes it easy to see how far you've progressed with your daily fitness goals (more on that below). We also enjoyed using the 'Breathe' face, which guides you through a short deep breathing sequence each time you raise your wrist.
With fitness tracking at its heart, the Apple Watch Series 8 is designed to get you to regularly move, stand and exercise and track all the ways you're active. It's very similar to the Apple Watch Series 7 but does have a few new features worth shouting about. It has a two-sensor design, so you can use it on your wrist to take an ECG, measure your blood oxygen and heart rate, and track nightly temperature changes.
It works well for anyone wanting to track their ovulation cycle or plan for a family, as you can use it alongside the Cycle Tracking app on the Apple Watch Series 8 to gain insight into your menstrual cycle. Like most health-tracking wearables, you'll need a good month of wearing it to get the best data.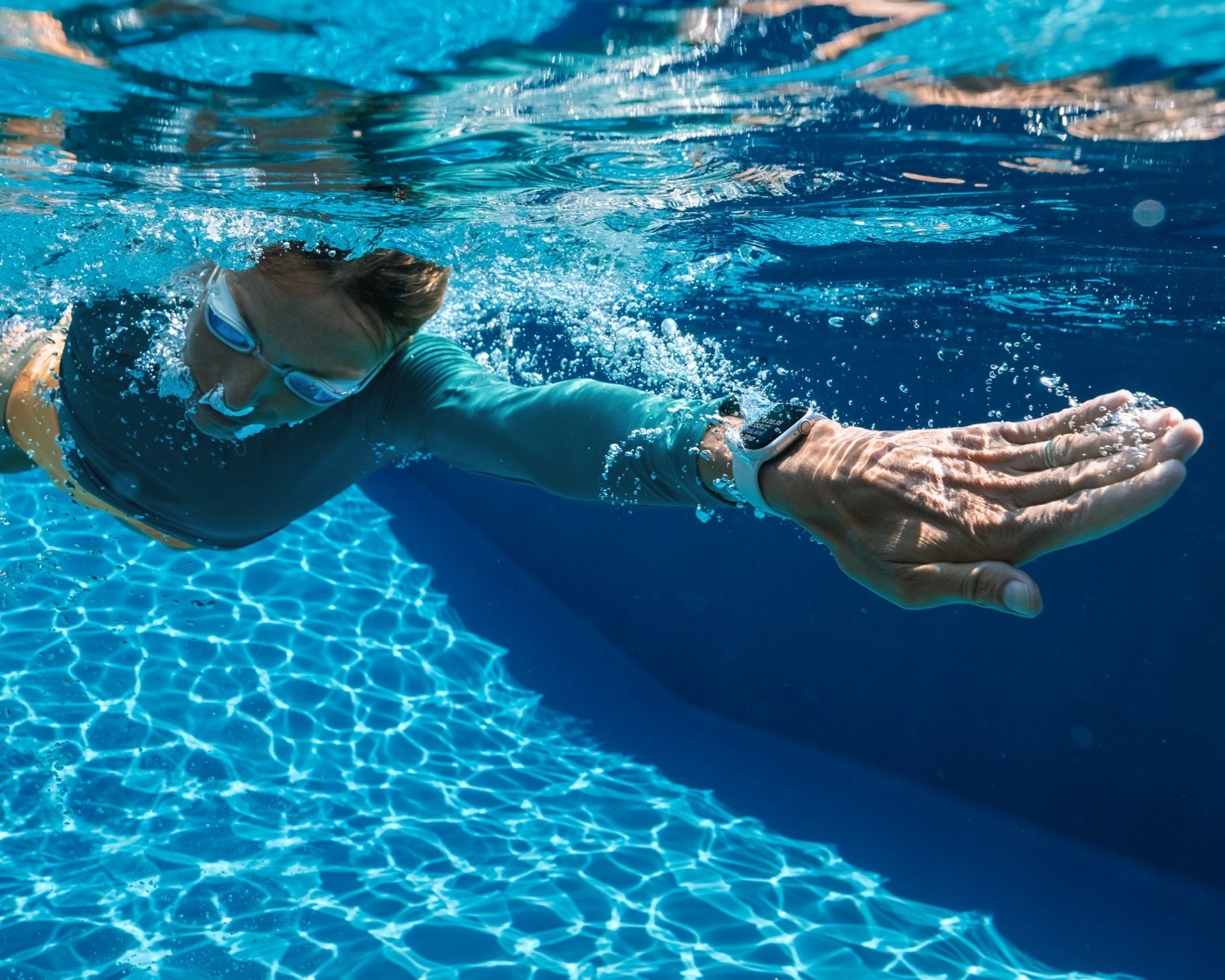 While all this health monitoring may sound intense, we found it surprisingly insightful, and the information a little bit addictive. We found ourselves randomly tracking our blood oxygen levels intermittently through the day and going outside for a breath of fresh air if it was slightly lower than the last reading, for example. The Apple Watch Series 8 is designed to motivate you to get moving more and worked well for us when we'd been sitting watching TV for too long too.
If you subscribe to the Fitness+ app (free for the first three months on eligible devices), you can listen to workouts on your watch via your iPhone, iPad, or Apple TV too. You can then see personal metrics on your Apple Watch Series 8 - such as heart rate and calories burned - while you're working out. If you'd rather not sign up to Fitness+, you can use the Workout App on your watch every time you work out, where you can set a custom workout or set goals.
We found this a great motivator when running, spinning, and walking. We also enjoyed checking in on the Activity app on the Apple Watch Series 8 that displays three rings that close when you meet your own set goals. The red ring showed us how much we'd moved and how many calories we'd burned that day, while the green ring showed us how many minutes of brisk activity we'd done. So whenever we were at a spin class or out walking, we could track this on the app to progress and close the ring.
The blue ring showed us how many hours in the day we had stood and moved per hour, and whenever we were sat typing away for a little too long, we were helpfully nudged to move or stand. That said, the watch also does a very good job of trying to get you to slow down. You can use it to access a sleep tracker and mindfulness app that reminds you that it's important also to be still and bring your attention to your breath.
Apple Watch Series 8 also comes with a new Crash Detection feature that is able to detect whether you're in a car crash and automatically connects you to emergency services. Fortunately, we didn't get an opportunity to test this feature, but we can imagine it would come in very useful should the unthinkable happen. Another feature worth noting is how convenient we found the watch for receiving notifications, calls, and messages when we'd misplaced our iPhones.
Whenever our iPhone rang, we could answer it on the watch, and although the notifications coming through were a little hit and miss depending on our location, it was nice to have the watch as an iPhone backup for hands-free use. You can also use the watch to find devices such as your keys or smartphone and vice versa, and this came in useful when we were in a hurry to leave the house.
We also enjoyed using the watch as an iPhone camera remote to take photos on the iPhone from a distance - this worked particularly well when we had the whole family over and wanted to take a group shot without someone having to stretch out their arm to do so.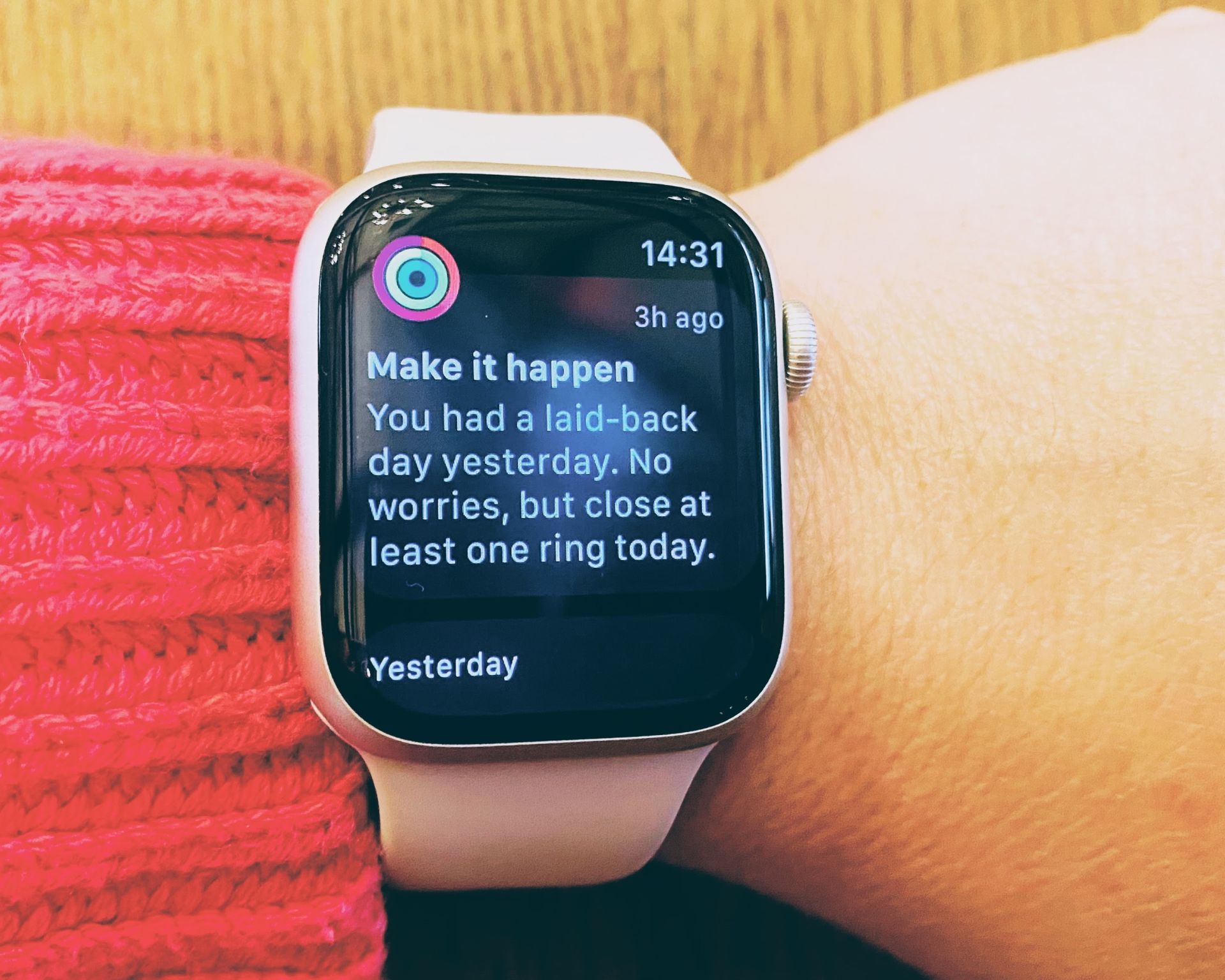 Apple Watch Series 8: Sustainability & longevity
You'll need to charge the Apple Watch Series 8 daily, much like you would your smartphone. Unlike a Fitbit battery life - which, when new, can last between five and seven days - the Apple Watch Series 8 will last for up to 18 hours. This all depends on how much you use it, however.
It took us a while to get into the habit of charging up the watch every night, but once we got into a routine of charging it alongside our iPhone, it seemed to work well for us. One thing to remember is that if you want to make the most of sleep data and temperature sensing to track your cycle, you'll need to wear the watch at night. This means you'll need to try and find a convenient time to charge the watch that works around this.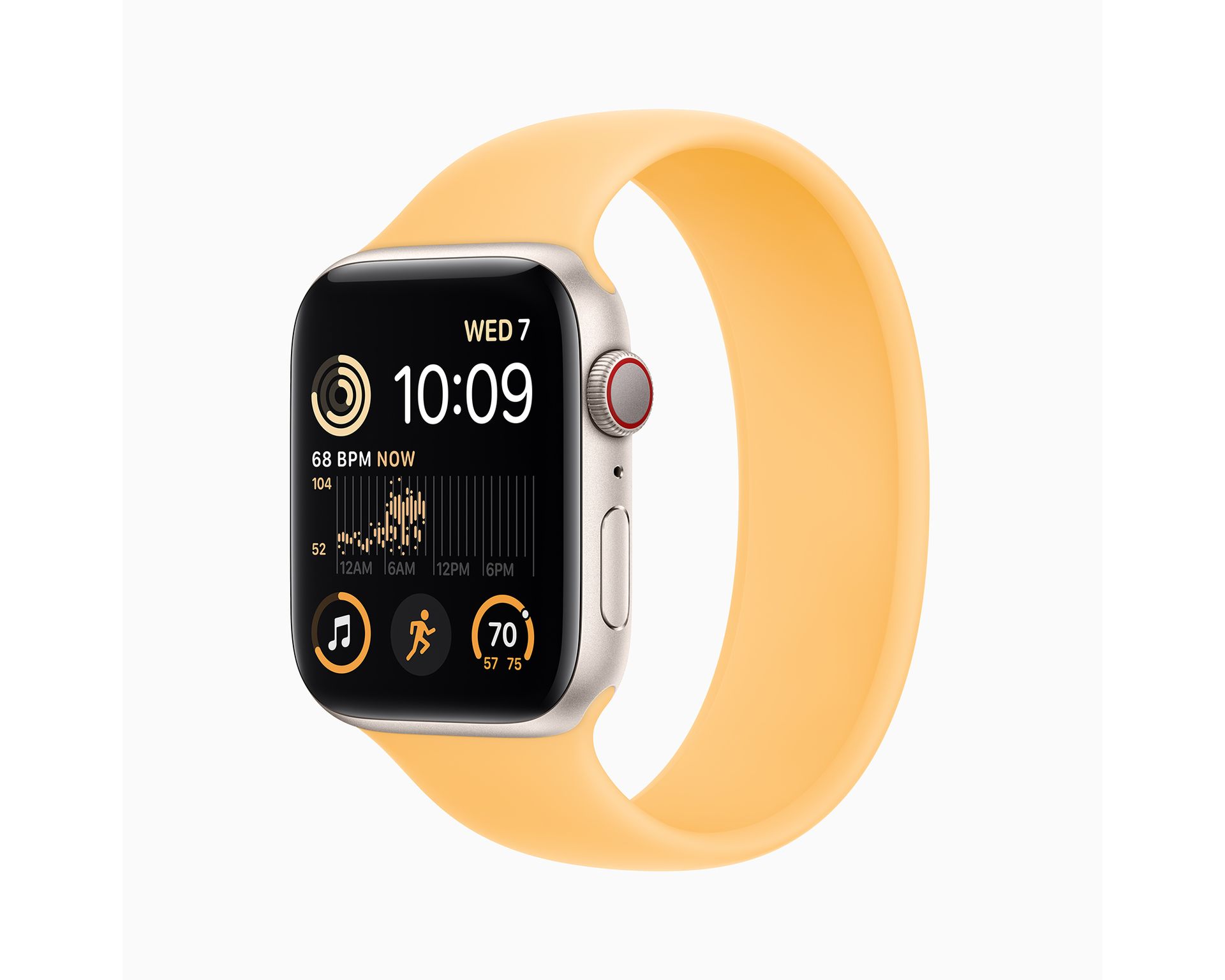 Apple Watch Series 8 vs Apple Watch SE
A step up from the Apple Watch Series 7, the latest Apple Watch Series 8 comes with improved features such as temperature sensing and advanced Cycle Tracking, as we've touched on above. Both the Apple Watch Series 8 and Apple Watch SE were launched around the same time and come with sensors to monitor your health, fitness, and safety. The Apple Watch Series 8 has 20% more screen area than the Apple Watch SE and, unlike the SE, includes a Blood Oxygen and ECG app as standard.
While the Apple Watch SE may not offer as many high-tech display, battery, or sensor features as the Apple Watch Series 8, it is the more affordable of the two options and has all the basics you need to keep track of your fitness. Both phones offer Family Setup, which means you can pair watches for your children and older adults to your iPhone without needing an additional smartphone.
Apple Watch Series 8: Our verdict
We found the Apple Watch Series 8 fun to use and think it offers so much more than a standard fitness tracker. If you're already an iPhone 8 or later user, we think you'll find the Apple Watch Series 8 packed with useful and informative features. And if you're new to the Apple ecosystem, there are lots of advantages to investing in this smartwatch, but you will need to invest in a suitable wireless service plan for cellular service.
In short, we found the Apple Series 8 useful as a natural extension of our iPhone, so we could make and receive calls, check messages, and email on the go without reaching for our iPhone. We found the on-board sensors on the Apple Watch Series 8 that monitor your health, fitness, and safety reassuring, and the information empowered us to make positive changes – be it to move more, stand when we'd been sitting at our desk for too long or go to bed earlier and get more sleep.
It took us a while to get used to wearing the watch, charge it regularly, and make sure its software was regularly updated, but we enjoyed its fitness and well-being benefits, and it definitely made us more aware of the need to be more active. That said, on the days when we received a notification to tell us that we'd 'had a laid-back day yesterday' and that we needed to 'make it happen today,' we were able to simply turn off the device and get back to relaxing. And, luckily for now, being the boss of your technology and making it work for you as and when you want is the best bit.
The Livingetc newsletter is your shortcut to the now and the next in home design. Subscribe today to receive a stunning free 200-page book of the best homes from around the world.
One of the UK's most respected tech and smart homes writers, Emily Peck also covers everything from interiors style to decorating trends. She is a contributor to Wired UK, and has also had a column in House Beautiful. She has written for publications such as Grand Designs, Stylist, Shortlist, Woman&Home, BBC, Ideal Home and House & Garden. She was once the Features Editor of Ideal Home.