This genius buy that's going viral online makes DIYing a tiled kitchen backsplash so much easier
Avoid messy (and tricky to apply) adhesive when tiling with this clever buy that DIYers online swear by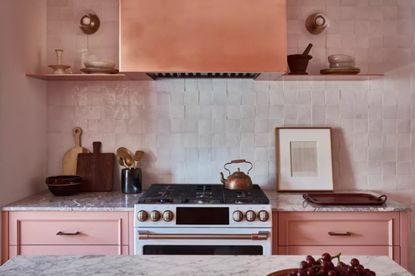 (Image credit: Michael Clifford. Design: Lisa Staton)
The Livingetc Newsletter
For style leaders and design lovers.
Thank you for signing up to LivingEtc. You will receive a verification email shortly.
There was a problem. Please refresh the page and try again.
The backsplash is a staple feature in most kitchens, and making a statement with them is the trend. Unfortunately, if you're undergoing a DIY renovation, they're a bit of a scary job to tackle. Removing tiles, complicated tile patterns, moving outlets, spacers, grouting, sealing... It is not a quick fix. If you are holding out for that big kitchen renovation, or know this kitchen isn't in your forever home, you may be reluctant to engage with the hard work, despite hating what you currently have to live with.
But things are about to change as we have discovered this viral DIY hack that will make it possible to switch up your backsplash in a little time with half the tools, and none of the mess. And it's so simple, what once might have felt like a huge undertaking is now a simple weekend project. The secret? Adhesive tile mat.
Take a look at how you could transform your backsplash, and in a few days' time your kitchen will be unrecognizable.
How do you use adhesive tile mats?
Instagrammer Alexis Nicole first tipped us off to the brilliance of Musselbound adhesive tile mats with her own kitchen backsplash installation. These boards can be simply fixed onto your kitchen walls where your backsplash will be, and the adhesive front removed. You can then fix your tiles directly onto the board.
This removes the need for traditional tile adhesive - which is messy to mix, and a little stressful, as you'll need to finish fixing the tiles in place before the adhesive "goes off". These boards give you instant adhesion too, which means you can get on with grouting your backsplash even quicker.
It's fair to say that on Alexi's viral Instagram post, not everyone was convinced. Some commenters said that the tiles were likely to fall off, and that she should just do the job the right way the first time.
However, Alexis was quick to reply that it's something she's used before and has held up well, with other commenters backing up her success with tile board. 'Literally the best! I've done two backsplash tiling jobs with this,' says one Instagram user, while another says: 'This has been around for like 10 yrs. I've used it in both my houses. Great stuff.'
Here's exactly how Alexis uses them.
1. Remove your existing backsplash. This will differ depending on your tile type and the technique used to apply them so ensure you look up the best way to do this.
2. Now for the magic. Unwrap your double-sided adhesive tile matt, measure out the amount needed for your space, and cut accordingly. When applying to the wall take your time, this is the foundation for your backsplash so it is important to get it right.
3. It is time to tile. Before sticking them onto the matt, as after that there is no going back, have a play around with the pattern and placement. Mark the centre and start placing your tiles from there. Depending on your tile type you may wish to use spacers to help.
4. Once all your tiles are placed there is one file thing to do, add a little grout for that final touch. For this follow the packet instructions, smear it over your tiles evenly, allow it to set, and swipe away the excess.
Now sit back and admire your handy work and enjoy your transformed kitchen.
You will need
For style leaders and design lovers.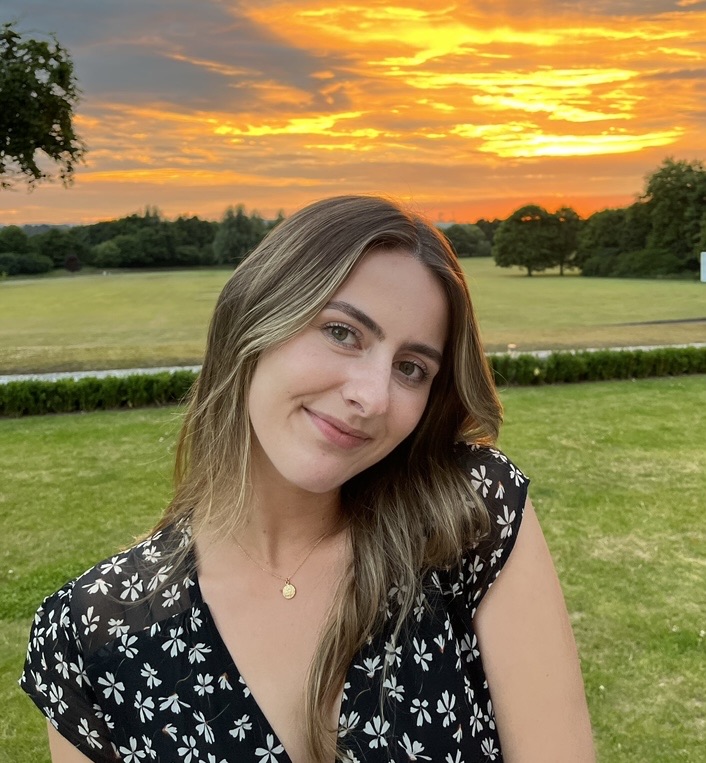 Amy recently completed an MA in Magazine Journalism at City, University of London, with experience writing for Women's lifestyle publications across arts, culture, and beauty. She has a particular love for the minimalist aesthetic mixed with mid-century furniture, especially combining unique vintage finds with more modern pieces. Her previous work in luxury jewellery has given her a keen eye for beautiful things and clever design, that plays into her love of interiors. As a result, Amy will often be heard justifying homeware purchases as 'an investment', wise words to live by.