'You'll be optimistic about your future' - Jake Arnold's 3 decor tweaks to make your spirits soar
Interior designer Jake Arnold knows that getting a room right can positively change how you feel about yourself, your life and your future. Here's how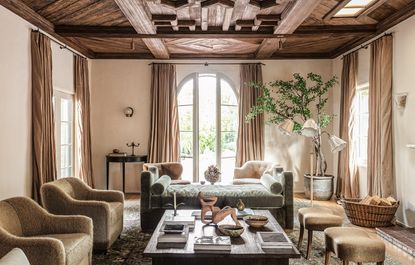 (Image credit: Michael P.H. Clifford. Design by Jake Arnold)
The Livingetc Newsletter
For style leaders and design lovers.
Thank you for signing up to LivingEtc. You will receive a verification email shortly.
There was a problem. Please refresh the page and try again.
Interior designer Jake Arnold has set the style agenda. Richly sumptuous rooms that look comfortable as well as elegant are his calling card. Boucle furntiure, daybeds, indoor trees and curved edges? He set these interior design trends.
And while most designers I speak to talk about how a room can make you feel (relaxed, say, or energized, perhaps. Uplifted, or soothed), LA-based Jake had an idea that felt like a totally new one on me. Rooms that can make you feel optimistic. Yes, he believes that the right approach to interior design can lead to spaces that fill you with a positivity for the future. Have you ever heard anything more enticing?!
'[Optimistic rooms] are about knowing where you are where you want to go,' he says. 'Being grounded in the foundation of your home creates the opportunity for a real connection, with both your own life and with those who you invite into it. The right layout and furniture choices can foster a sense of being social, which can lead to connections, which can in turn lead to you being optimistic about your future. I find that so inspiring.'
And this is how he puts together an optimistic room.
British-born, LA-based interior designer Jake Arnold has honed a signature look that is both elegant and elevated. His beautiful new coffee table book, Redefining Comfort (Rizzoli) is out this month, celebrating and giving background to some of his most wonderful works.
1. Create layouts that invite conversation
'Layout is key,' Jake says, when explaining how to create an optimistic room. 'Before I even start specifying anything, I do a lot of development on the layout. What you want is to create living spaces with multiple seating options, zones in which you can have intimate conversations or areas you can have bigger ones with more people involved.'
This approach to the ideal living room is perfected by angling seating in pools so that people can interact in different directions as the mood takes them. 'Two sofas opposite each other doesn't feel very right for now', Jake says. Because they're too rigid, too formulaic.
Accent chairs on swivels are more intimate and allow for more freedom of movement , or a mix of sofas and armchairs that stops the layout from seeming like a job interview.
The - somewhat compelling - theory is that if you create a space in which you can engage successfully with your favorite people you will be buoyed on the joy of it all and automatically feel more optimistic. It makes sense to me.
2. Include a daybed
One of Jake's signatures is to create spaces that have daybeds in them - but they're more than just a bit of decadent decoration or langorous take on living room furniture.
'I love them because they're double sided,' he says. 'You can sit on one and part of you can face the sofa in one direction, the other part can face the dining table - it's so sociable.' They are the ultimate in convivial - and therefore optimistic - seating.
'They also help to create a more intimate space as its backless nature means it doesn't cause any sense of separation,' Jake says. 'The back of a sofa creates too much of a zone in the middle of a space. Plus, why wouldn't you want to lounge on a daybed?!'
3. Allow light - but not too much
Finally, for a space that will make your heart sing and spirits soar, light is a key factor. 'Warmth is about nourishment and having an environment you can relax in,' Jake says. 'To do this, lighting is everything. Allow as much natural light as you can into a room, and then create shadowing by adding a sheer drape that gives you a dappling.'
Once you've perfected that, focus on how the room feels. 'Then: texture,' Jake says. 'Get an oversized rug that is big enough for every piece of furniture to sit on, as that makes your scheme feel more grounded. Lastly: material. You want a mix of liveable and luxe, linen next to plush materials like a mohair velvet. That combination, for me, creates ultimate warmth.'
Our guide to the best large rugs will help you here.
Redefining Comfort by Jake Arnold (Rizzoli)
Price: $54

All the images in this article have been taken from Jake Arnold's brand new coffee table book, Redefining Comfort. It's an inspiring glimpse into many of his most beautiful projects, explaining how and why he decorated in the way he did.
For style leaders and design lovers.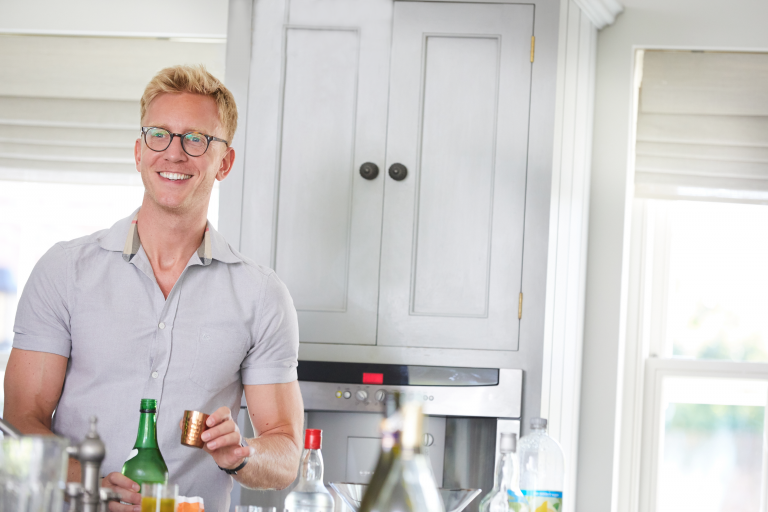 The editor of Livingetc, Pip Rich (formerly Pip McCormac) is a lifestyle journalist of almost 20 years experience working for some of the UK's biggest titles. As well as holding staff positions at Sunday Times Style, Red and Grazia he has written for the Guardian, The Telegraph, The Times and ES Magazine. The host of Livingetc's podcast Home Truths, Pip has also published three books - his most recent, A New Leaf, was released in December 2021 and is about the homes of architects who have filled their spaces with houseplants. He has recently moved out of London - and a home that ELLE Decoration called one of the ten best small spaces in the world - to start a new renovation project in Somerset.