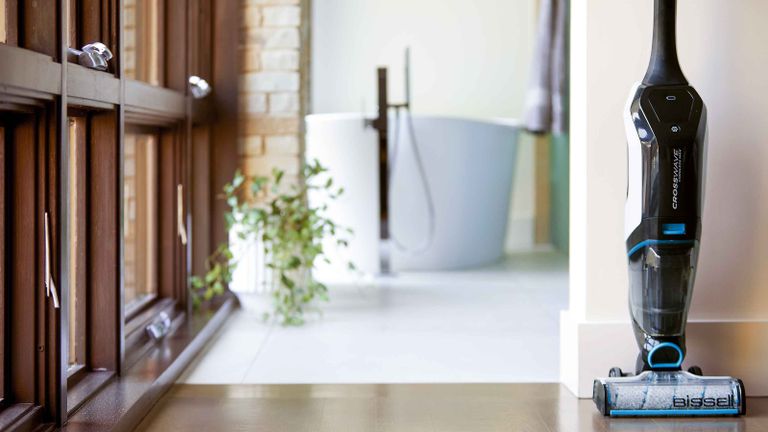 (Image credit: BISSELL Crosswave Cordless Max)
The trend for wood floors, tiled floors and micro-cement underfoot always looks inspirational in photographs, but the practicalities of living with it? 
No matter how sleek the space you can't get around the care these surfaces need. Which is why our new tech obsession is the CrossWave Cordless Max from BISSELL - one brilliant appliance that takes care of three jobs. 
Yes that's right. The new CrossWave Cordless Max from BISSELL saves time, energy and space by vopping - that's vacuuming and mopping at the same time - across a multitude of hard and soft flooring surfaces. It even dries too. It's vopping genius.
The latest appliance in the CrossWave range from BISSELL, the new CrossWave Cordless Max has a cool design which includes a digital display and a bigger brush roll, so it cleans a larger surface area in a shorter amount of time, plus it has a fully automatic self-clean mode, which flushes debris from the brush after each use. 
There's no need to touch any dirt or grime, making it hygienic, convenient and easy-to-maintain.
Its two tank technology separates clean and dirty water, for spotless floors, while its 36V battery power lets you quickly and easily vacuum, mop - or vop - from room to room, across different surfaces, for up to 30-minutes at the flick of a switch.
With its powerful suction mode, spills and splashes, not to mention general dust and dirt, from muddy footprints and pet hair to spilt cereal, coffee or crumbs can all be simply 'vopped' away with the CrossWave Cordless Max, whether on timber, tiles, rugs or other types of flooring.
When you're done, the digital display will indicate when the tank is full and when the appliance is charged and ready to use again.
Mops, buckets, changing mucky water and waiting for floors to dry before vacuuming are a thing of the past, along with tangled leads and storing multiple bulky devices, thanks to the CrossWave Cordless Max. Welcome to the wonderful world of vopping.
Of course, the real joy is that simply and swiftly combining tasks means less time on chores, and more time doing fun things with family and friends.  
Find out more and order the CrossWave Cordless Max from BISSELL - it's vopping brilliant.  
Instagram: @BISSELLUK
Facebook: BISSELL UK