The new home design trend for houses with brains explained
Just what are houses with brains, and why might you want one? We take a look into the newest. most economical and smartest way to design a home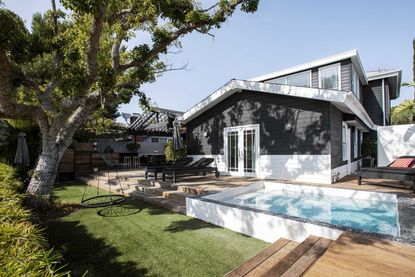 (Image credit: The Agency)
The Livingetc Newsletter
For style leaders and design lovers.
Thank you for signing up to LivingEtc. You will receive a verification email shortly.
There was a problem. Please refresh the page and try again.
There's a new design trend gathering pace, and it's to give your home a brain. Yes, really. Well, sort of. Houses with brains have the capability to think for themselves, in a way, meaning less hassle for their owner, and more economical, too.
Nutritionist Natasha Clarke and her husband Grant were dedicated to building the most environmentally friendly house possible. With all the tech involved, they decided to give it a brain. Here Natasha explains what that is and why a house that can think is the future.
What exactly is a house with a brain?
"We've been planning our new house for three years, and we always wanted to build something that was eco-friendly, and off grid to a certain degree," says nutritionist and proud owner of a house with a brain Natasha Clarke. Off grid living is often associated with cabins in the woods - and for that you'll want our Tiny House expert guide, but there are ways to do it closer to civilisation. "Our underfloor heating is powered by ground source heat pumps that uses pipes buried in the garden to extract heat from the earth. We also use solar energy, and I have an electric car, so we wanted to integrate everything. The brain is specialist software developed by a company called Neutral Home. It links all the technology and apps in the house together, while at the same time optimising energy and saving money too."
How does a house's brain work?
"Energy for our home is stored in a huge battery, which is powered either by the sun or from the grid, and the brain works out when best to charge it," Natasha says. "The cost of kilowattage fluctuates throughout the day, so between 4pm and 7pm it could be more expensive because that's when kids come home, cooking is being done and so on."
The house's brain knows when saving opportunities are available, and so will decide to charge the battery at two or three o'clock in the morning when power is cheaper. Even more impressive is the fact that it can read the weather forecast, and if the next day is going to be hot it might only fill the battery up by half as the rest will be charged by the sun. "Our house is 4000 square feet, and our bills would be between £5000 and £6000 a year. By installing the brain we're looking at around £700," says Natasha.
What else can it do?
A house's brain can turn your heating up and down and do things like making sure your tumble dryer comes on when it's most cost effective. All of these things can be overridden if need be, but otherwise the brain will do it for you. Interestingly, there are also times where there's too much power on the grid and energy is free, so it will charge the battery then. Conversely, sometimes there's not enough power available, so if you turn your power off even for a matter of seconds, you'll be compensated for that. The brain does this automatically, so you don't have to think about it. Amazing.
How hard is it to install and to use a house's brain?
"Piecing it all together was quite a long process, but Jon Bumstead from Neutral Home was brilliant," Natasha says. "He comes from a commercial background where he installed this type of system in huge warehouses etc. and so has years of experience. We also use a smart system called Hamilton, which controls our lights, audio and blinds, and this software can link everything together. The beauty of it is that we really wanted to build this type of home but didn't have the know-how. Even tech novices like us can use it with ease."
For style leaders and design lovers.
An award winning journalist of over 20 years experience, Claudia Baillie regularly writes for Livingetc, John Lewis, ELLE Decoration and Sunday Times Style. She has held staff positions at Livingetc and Sunday Times Style, and also edited ELLE Decoration's Country bookazine. She is as expert in both practical interiors advice and design ideas, and has moderated design-led talks at the London Design Festival and Clerkenwell Design week