Not just for kitchens – design expert reveals why Shaker bedrooms are the next bit thing
Shaker bedrooms are one of this summer's hottest bedroom design trends; here's how to incorporate this classic style into a contemporary bedroom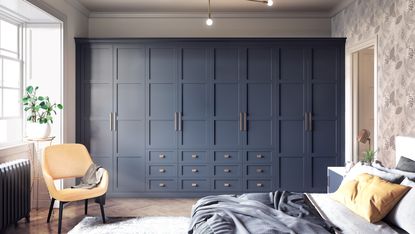 (Image credit: My Fitted Bedroom )
The Shaker bedroom trend is a hot new bedroom trend...with a 300-year-old history. Take the kitchen style pioneered by 18th-century American Christians, incorporate it into contemporary bedroom design, and you may have found an almost infinite ways to combine modern bedroom ideas with a classic design that will never go out of fashion, no matter what else you'll do to your bedroom.
The reason why the Shaker style is migrating into contemporary bedrooms is that its naturally minimalist, streamlined aesthetic is surprisingly easy to update if you'd rather avoid an overly traditional look. We've asked Megan Baker, design expert from My Fitted Bedroom, to give her top tips for working the Shaker style as part of a contemporary bedroom design.
1. Pay attention to colour
The easiest way to make a Shaker bedroom look more contemporary is by having the wardrobes painted a darker colour. 'To keep it contemporary think about your colour palette and opt for a trending colour in matte – such as a deep classic blue, stone grey or graphite, rather than a more traditional wood finish,' explains Megan.
'A bold colour will instantly modernise the overall look and create a block of statement colour that you can build the rest of your design scheme around.'
Dark paint really makes the craftsmanship of Shaker cabinetry stand out – something we've seen time and time again in elegant Shaker kitchen designs. As it turns out, the deep colours work as beautifully in bedrooms, adding a grounding effect to otherwise light schemes.
We have more dark bedroom ideas for you to browse in our gallery.
2. Choose contemporary handles and fixtures
With minimalist furniture, the quality, shape, and finish of the handles really make a big difference, and choosing bolder, angular designs for your Shaker wardrobes will instantly modernize the look.
'The handles that you choose can instantly transform your wardrobe – brass and gold in a modern, minimalist or textured design will create an opulent finish, especially if set against a darker palette. You can bring the colours and textures from your handles into other furniture and fittings in your room – such as light switches, lamps, mirrors and other accessories.'
3. Open up the design with shelving or mirrors
If you prefer a more eclectic bedroom design, then incorporating your bedroom storage ideas into the wardrobes will create a more easy-going and playful look. 'The beauty of fitted bedroom furniture is that it can be designed to work around your specific needs,' adds Megan. 'If you like the Shaker trend but don't want it to look too blocky then you can break it up with open shelving or mirrors. This will also help to soften and modernise the overall finish.'
We expect to see many more Shaker bedroom designs in the coming months – it truly is a versatile style for the ages.
Anna is Consumer Editor across Future home titles. She contributes to Livingetc, Homes & Gardens, Ideal Home and Real Homes, and she has a background in academic research. She is the author of London Writing of the 1930s. Not just an expert in consumer shopping trends, she has also written about literature, architecture, and photography, and has a special interest in high-end interior design.