5 expert ideas for how to work the coolest new bathroom tile trend
Forget metro bricks and classic squares, the newest bathroom tile trend is here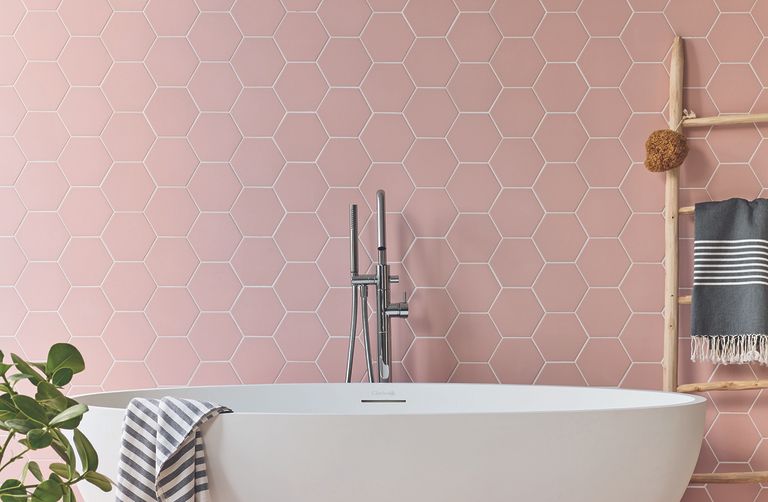 (Image credit: Claybrook)
Hexagon tiles are topping every interior designer's wish list and have become a go-to for modern bathroom ideas this season. From pinprick mosaics to loud and proud field tiles, this six-sided shape is revitalising washrooms, big and small. Packed with personality but distinctly fuss free, these tiles bring a smart, graphic vibe to both walls and floors.
Featuring the latest finishes, it's possible to find them in everything from finely veined marble, rich woodgrains to biophilia inspired patterns. We've caught up with five leading interior experts to discover more about this fresh, new trend.
Mix and match on the floor
There's nothing shy and retiring about these latest tile shapes, so be bold and creative with color and pattern. 'Hexagons are on every interior guru's hot-list,' says Hamish Smith, Creative Director, Sarsen Stone. 'It adds interest to any space, whether you decide to go for a paired back tile or something a little more eye-catching'. New from Sarsen Stone is the National Trust Tile Collection and the Woodland Glade collection with its dappled leaf medley is surely the standout design. While the toning shades and patterns blur effortlessly together the occasional contrasting blush tile highlights the distinctive format.
Tone down everything else to let the shape do the talking
One of the best bathoom tile ideas is to repeat a plain hexagon tile, from floor to ceiling. It may initially appear dull but it will reveal a crisp, graphic pattern as Rob Whitaker, Creative Director at Claybrook Studio explains, 'Hexagon shaped tile are great for adding visual interest to walls without being too wacky; the way the tiles are grouted and naturally link together actually creates an exuberant honeycomb effect.' Team with sleek fittings and pared back brassware and the result is effortlessly chic.
Create a dramatic 'broken edge' where the tiles meet the wall
'It's all about the lines when it comes to hexagons,' says Zoe Perks, interior designer, No.54 Interiors. 'Planning tile layout is absolutely critical if using a large format with a vibrant pattern, especially if you're wrapping objects or corners to avoid awkward pattern breaks, distracting angles or odd edges.'
One standout feature of this stunning shower room idea is the chic and distinct outline they form. Depending on the tile's direction the resulting 'broken' edge can vary from lively zigzag to gently undulating. Show this off with a contrasting tile or paint shade or use its position to imitate a traditional picture rail, 'spill' on to the ceiling and floor for instant drama or plan an irregular splashback to showcase the basin or bath.
Vary the grout color to make distinct bathroom zones
Hexagonal tiles are perfect for upping that luxe effect and pairing black tiles with a co-ordinating grout makes for a striking look. But these tiles are also surprisingly adaptable as interior designer Claudia Dorsch, points out, 'One advantage is that you can 'blend' zones on the floor by changing the color or pattern of the tiles. Keeping the same shape, you can zone an open plan walk-in shower area from a bath or vanity zone'. Varying the grout color also works in the same way, helping to highlight specific areas and intensify others. Try Mapei at BCT for a wide spectrum.
Don't be afraid to go all out in a small space
Smart and space enhancing, hexagonal tiles are perfect for bathrooms regardless of size as the design team at West One Bathrooms highlight, 'Hexagonal tiles are so versatile, there are wild patterns out there or you can opt for more subtle tones of grey or even a marble effect and they will still create drama. Make a fun statement by tiling the floor and walls, it will allow for the space to flow seamlessly as well as creating maximum impact.'