The 6 essential pieces of furniture you need for a minimalist living room – 'everything else is just clutter!'
A good minimalist living room walks the line between pared back and well-dressed - here's the pieces designers say you need, and what you don't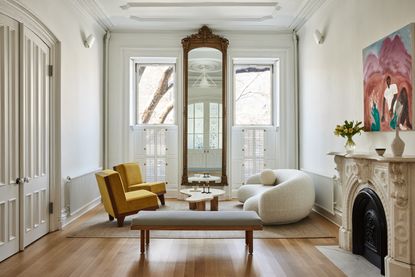 (Image credit: Nicole Franzen, Design: Ronen Lev)
When we think minimalist, we imagine pared-back spaces that are as much about the absence of objects as they are, about the presence of them. The movement began in the 50s and 60s and was inextricably linked to the architecture of the time, expanding on the functionalism of the Bauhaus and the Modernist movements.
Icons like Mies van de Rohe and Le Corbusier focused on the use of buildings, objects, and spaces, letting function guide them. Minimalism played with this idea of what was truly needed and was focused on stripping back to reveal defined and finite forms. The term was used to describe a collective of artists who are now synonymous with it, this includes the likes of Agnes Martin and Donald Judd. Their work was an effort to eschew the contextualism and clutter of the past in favor of drastically simplistic solutions.
Since then, minimalism in interior design has had many waves and the modern form is as a lifestyle as it is a school of design. Figures like Marie Kondo focus on the bare necessities and help people reject the luring temptations of consumerism. In practice, it can be harder to adopt this philosophy, which begs the question, what furniture does a minimalist really need? In order to answer this question, we've spoken to interior designers across the world for their insight into the objects that are essential to every minimalist.
1. A cool couch
Minimalists can keep it simple but striking with the right sofa, as demonstrated in this verdant living room designed by New York-based, Studio DB.
'This vintage Bellini sofa is an essential for every minimalist because its distinctive shape feels sculptural yet still subdued, serving as a centerpiece for the room in a way that eliminates the need to fill the space with any unnecessary additions,' say said Damian and Britt Zunino, founders of the design practice. What we can learn from this project is the importance of introducing fewer but more impact statements into a space.
2. The functional accent chair
Despite the assumption, minimalists aren't afraid of color. This serene Clinton Hill Townhouse scheme designed by Ronen Lev presents a wonderful dose of color through the ochre armchairs. These pieces don't conflict with the other minimal elements in the room but complement them.
'A minimalist's essential furniture should embody simplicity and functionality,' says Jessica Kamel of New York studio, Ronen Lev. 'Our design philosophy focuses on creating warm and serene spaces by bringing in new and vintage pieces that add a touch of character and timelessness to every space we craft.' For your own minimalist scheme, opt for a sculptural living room accent chair that will be able to take on bolder hues with ease.
3. A cool rug
Living room rugs are often the final flourish when it comes to an interior, but a geometric rug can help bring a minimalist space together and help these seemingly unrelated items connect.
'A minimal space needs a rug to anchor the free-floating furniture without feeling too layered,' says Australian interior designer, Greg Natale. 'It's a great way to bring color and pattern into a mostly sparse interior.'
The circular rug forms a path for the eye to follow and brings vibrance and energy into this minimalist space. This idea works particularly well for those seeking to create a minimalist scheme with neutral ingredients.
4. A lighting statement
Living room lighting is a necessity for your minimalist scheme. It works as a sculptural feature and source of illumination in your living room.
The floor lamp in the corner of the minimal and sleek living room design by Diachok Architects creates a statement whilst adding a romanticism into the space. 'It emphasizes clean lines, a limited color palette, and a reduction of unnecessary details,' say Vlad & Karyna Diachok from the international design studio. 'This design philosophy is often associated with the famous phrase "less is more," highlighting the idea that simplicity can be incredibly powerful in conveying ideas and aesthetics.'
The concern for many when designing your minimalist scheme can be a space that feels too cold, but the right lighting can add warmth to your interior without becoming a source of visual clutter.
5. Expressive artwork
Artwork may seem like a contradiction to the functional aspect of minimalism, but art is an ever-present source of inspiration and driver for interior spaces. The right piece can set your room on fire or make it feel like a calming oasis, a window to another world. Though it might not fit into the traditional notions of minimalism, living room wall art is essential to the pursuit of happiness and interior balance.
This project from Abbey Lang Home showcases how art can also serve as a guide to creating a cohesive minimal interior. 'The artwork by New Zealand artist Evan Woodruffe was the launching pad and inspiration for this interior palette,' says Auckland-based interior designer, Abbey Lang of Abbey Lang Home. 'The artwork's scale, alongside its breadth and depth of color, provide the room with its focal point. Furnishing selections were made to compliment the piece, the hand-dyed artisan rug by Armadillo provided a luxurious foundation, offering movement and texture whist echoing tones seen within the piece.'
6. A contemporary coffee table
Coffee tables go hand in hand with the other components of a minimalist interior, as seen in the everyday rituals that we use them for. Reclining onto your sofa to admire your artwork or to enjoy a cup of tea would seem cumbersome without this piece.
In many ways, the best coffee tables are the axis of the room they're in, it anchors itself into the rug and we orbit around this structure. In this pared-back Żoliborz apartment, interior designer, Dawid Konieczny creates a refined scheme that is brought together by the coffee table at its core. 'A coffee table is a very important element in the design of any interior,' says Dawid. 'In minimalist spaces, it can be said that its role increases even more because we do not have many additional elements on which to hang our eyes.'
'In such an arrangement, it is very important that the table complements the entire composition or constitutes a contrasting, slightly scaled element of the entire interior, of course maintaining the aesthetics of the space,' he adds.
The Livingetc newsletter is your shortcut to the now and the next in home design. Subscribe today to receive a stunning free 200-page book of the best homes from around the world.
Writer and design expert Faaizah Shah is the founder of The Interiors Consultancy. She has worked with designers such as Staffan Tollgard and design houses such as Sanderson to help them understand and communicate their narratives. She is known for crafting engaging stories and imaginative content, and understanding great decor from her years alongside some of the best creatives in the industry. She is also a contributor to Livingetc.