6 simple ways you can make your front yard look beautiful without having to plant anything new
Because updating your front yard needn't always be about the planting, and some easy design tweaks can quickly make it way more beautiful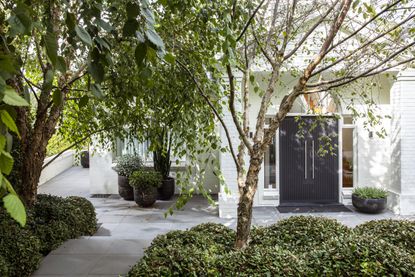 (Image credit: Spirit Level)
The Livingetc Newsletter
For style leaders and design lovers.
Thank you for signing up to LivingEtc. You will receive a verification email shortly.
There was a problem. Please refresh the page and try again.
Front yards are the outdoor equivalent of an entryway. They are high-traffic spaces that you, your guests, your neighbors and, well, anyone who walks past your home can get a good glimpse at. And yet, similar to hallways, they can be slightly neglected when it comes to making them beautiful. We understand these spaces can be tricky when it comes to aesthetics as they need to be practical too if you want them to be home to your car, and they can be tight on space too, or awkward in shape. But regardless, front yards deserve your attention.
You don't need to totally overhaul the area either to make it look more appealing, in fact, you could give it an upgrade without actually having to plant anything new – ideal if you are tackling a space that's more driveway than yard, or if lack of square footage means you couldn't plant much more than the smallest of blooms. We asked landscape designers for their top tips on how to beautify a modern front yard without the need to plant anything up.
1. Create displays with pots
Technically not planting anything into the ground, but using planters to add some greenery to your space is a simple way to soften your front yard, giving it some texture and color without the commitment of digging up your driveway. And potted plants can have just as much of an impact as filling borders. You can create beautiful displays by bringing multiple pots together, or add some height with the best trees for pots.
'One of the best ways to add greenery to a front walkway without planting anything new is to bring in groupings of varying sized planter pots that have texture and/or color,' explains Adam Sexton, senior associate, Richardson & Associates Landscape Architecture. 'The added character from the pots helps to soften the entryway and warm up exterior spaces. The plantings within the pots should be a variety of annuals, perennials and even evergreen shrubs that can be grouped together to create a dramatic statement at your front entry.'
'Adding containers to your space, perhaps by a doorway or gate, is a simple and effective way to liven up your front garden without taking up much space,' adds Kat Aul Cervoni landscape designer and founder of Staghorn NYC. 'I love flanking a door or gate with matching planters that can be planted up with simple evergreens or ferns, or changed out seasonally with vibrant displays of annuals - whatever your preference! Alternatively, I use clusters of planters in a mix of sizes and occasionally finishes to give a less rigid, and more robust display. I find using odd numbers feels best when creating container gardens. This is a great way to have a "garden" when in-ground planting isn't an option.'
2. Update your pathways
Pathways and driveways are as dominant a part of your front yard as the planting, so pay some attention to what's currently going on in your space right now. Updating your pathways will instantly make your front yard look more beautiful. You might find all it needs is a good clean and a de-weed, as landscape designer Jennifer Hayman says 'A good clean up can make your front look fresh and new. However, transforming your hardscaping by swapping out old and tired stone materials for new may be more expensive but the impact will be huge.'
Right now, yard trends are all about very organic, natural, zen garden like spaces. We are seeing more dry gardens and rocks instead of planting, so when choosing pathway designs for your front yard think natural rather than solid paving (looks bland and isn't great for nature either). Instead, opt for gravel paths, or combine gravel with stepping stones as seen in this project by Richardson & Associates Landscape Architecture.
'The landscape objective for this unusual 1965 house included a welcoming entrance courtyard. The design, which evolved comprehensively along with the renovation of the house, evokes that of a Japanese garden. The yard is a calm, peaceful space that belies the complexity of the project. The staggered concrete stepping pads, river stone, and low plantings can be seen from numerous rooms within the house, blurring the lines of where the garden begins and ends,' explains senior associate at the firm Adam Sexton.
3. Bring your interior style outdoors
This is such a simple way to beautify your front yard without having to plant anything new, turn it into an indoor/outdoor space that can double as an extra entertaining area. We are frequently seeing front yards used as more sociable spaces and why not? Make more of this under-utilized space bring out furniture, and planters to soften the area, and make it just as much of a lovely space to spend time in as your backyard.
'In this front yard, we scaled up the furniture to create a spacious and welcoming environment for outdoor dining and entertaining. Try and think of your front yard as an outdoor foyer and don't be afraid to take your home's interior style and translate it to the outdoors,' explains Dan Mazzarini, creative director of BHDM. 'You can add weather-resistant furniture to your front patio to give it that indoor-outdoor effect and use plant pots to act as decorative vases to bring the space together.'
4. Go for an organic on trend style with rocks
Landscaping a front yard with rocks is a lovely way to give your space an on trend update without having to plant anything new. And you can go as subtle or as bold as you like, you can bring in larger boulders for a real dry garden feel or just create layers of texture with smaller pebbles and larger stones on your pathways or to zone your front yard. It can be an easy DIY job too.
'Using rocks is a lovely way to add interest and a sense of place to a small front entry garden. Whether it's a thoughtfully placed boulder, a cluster of smaller rocks, or even a stone honed into a simple orb, these pieces add interest and dimension to a garden without taking up much space or requiring any maintenance,' explains Kat Aul Cervoni.
'They also help give a sense of place to a space - for example, the beautifully polished rocks found along some beaches lend a coastal flair to a space, while mossy, rough rocks can hint at nearby forests or mountains. Rocks and stone can also be used in edging a pathway or patio, or arranged in a way that's reminiscent of traditional Japanese gardens.'
5. Add in a chic and zen-inducing water feature
How serene to walk over this kind of set up to get to your front door. If you've got the budget this can be such a chic way to beautify your front yard – still not technically planting anything new. But yes, we do understand this might not be a realistic approach for many homeowners, even the designer who overhauled this home, Natalie Myers, points out 'The modern house is a new construction in Beverly Hills with a pond designed by the landscape architect at the entry approach. The potted fire plant in front of the door provides a layer of approachability since most people can't relate to adding a water feature at their entry.'
Noted. But there are equally lovely, smaller-scale water feature options that are very achievable and will add that zen feeling to your front yard. Again, we aren't suggesting fussy features made up of plastic rocks with a dribble of water, think more natural with water trickling gently over stones or a stream running along side your pathway.
'Water features are a wonderful way to add interest and further engage the senses in a small front yard. I find that clients appreciate both their beauty, but also the tranquility they bring with the sound of water (which conveniently can also help block the less pleasant sounds of urban life),' explains Kat Aul Cervoni.
'A simple bowl or basin-style fountain can also attract more wildlife to a space. Wall-mounted fountains are especially good choices when floor space is limited. Many options require little more than a dedicated outdoor power outlet to function. Just be sure to clean regularly to keep them in good condition.'
6. Use sculptures to create a focal point
Sculptures and decor as part of your front yard landscaping can add serious curb appeal without the need to plant anything new. Now we are not talking gnomes and the likes, we mean tasteful pieces that match the exterior of your home and personal style. That could be something uber modern and statement, or something more subtle and organic like these stone pieces used in this front yard design by Margaret Naeve Parker.
If you are dealing with a front yard where you actually can't plant anything, say if it's completely bricked over for a driveway, adding a focal point that's more interesting than a car will always elevate the space. And do always add planter too if that's the case, create a display with pots that fit with the style of the sculptures.
'The key to an elevated landscape design and a stylish front yard is not always foliage alone,' says Margaret. I love to create interest by incorporating antique stone furniture and mixing in old, terracotta vessels with beautiful patina. The result is a feeling that the home has a rich, storied history.'
Adam Sexton agrees that adding in a focal point to a front yard can instantly elevate the space, 'Garden Sculptures! These unique elements provide a focal point and transform the entire yard into an intriguing space. Use fixtures you have on hand to thoughtfully light up sculptures, statues, and sundials to create a conversation starter and enhance the mood of any outdoor environment.'
For style leaders and design lovers.
Hebe is the Digital Editor of Livingetc; she has a background in lifestyle and interior journalism and a passion for renovating small spaces. You'll usually find her attempting DIY, whether it's spray painting her whole kitchen, don't try that at home, or ever changing the wallpaper in her hallway. Livingetc has been such a huge inspiration and has influenced Hebe's style since she moved into her first rental and finally had a small amount of control over the decor and now loves being able to help others make decisions when decorating their own homes. Last year she moved from renting to owning her first teeny tiny Edwardian flat in London with her whippet Willow (who yes she chose to match her interiors...) and is already on the lookout for her next project.