10 ways to add a pop of color to a neutral living room that might just be the magic touch your space is missing
Add a pop of color through furnishings, art, paint and more to create an eye-catching living room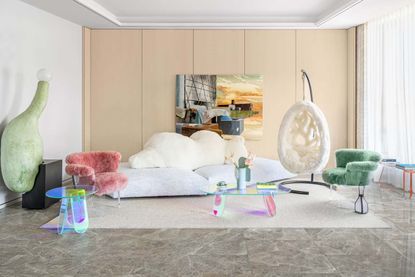 (Image credit: Chris Shao Studio LLC. Photo credit Zhao Yihong)
There's no doubt that a neutral scheme can be really successful, but if you're finding your living room is falling a little flat, a pop of color might just be the solution to make it come to life.
There are plenty of ways to add a pop of color to a neutral living room, and sometimes they don't even require much of a commitment on your part. For instance, a muted sofa could be transformed with eye-popping pillows, a throw, or even a temporary slipcover.
Of course, there are other more decisive ways to introduce a colorful focal point to uplift your room, too. We spoke to top interior designers to get their go-to ideas for adding the perfect color pop.
Aditi is a homes writer and editor with several years of experience. Her articles, backed by expert insights, offer suggestions aimed at helping readers make the best home design choices.
10 easy ways to add a pop of color to living room
1. Paint the ceiling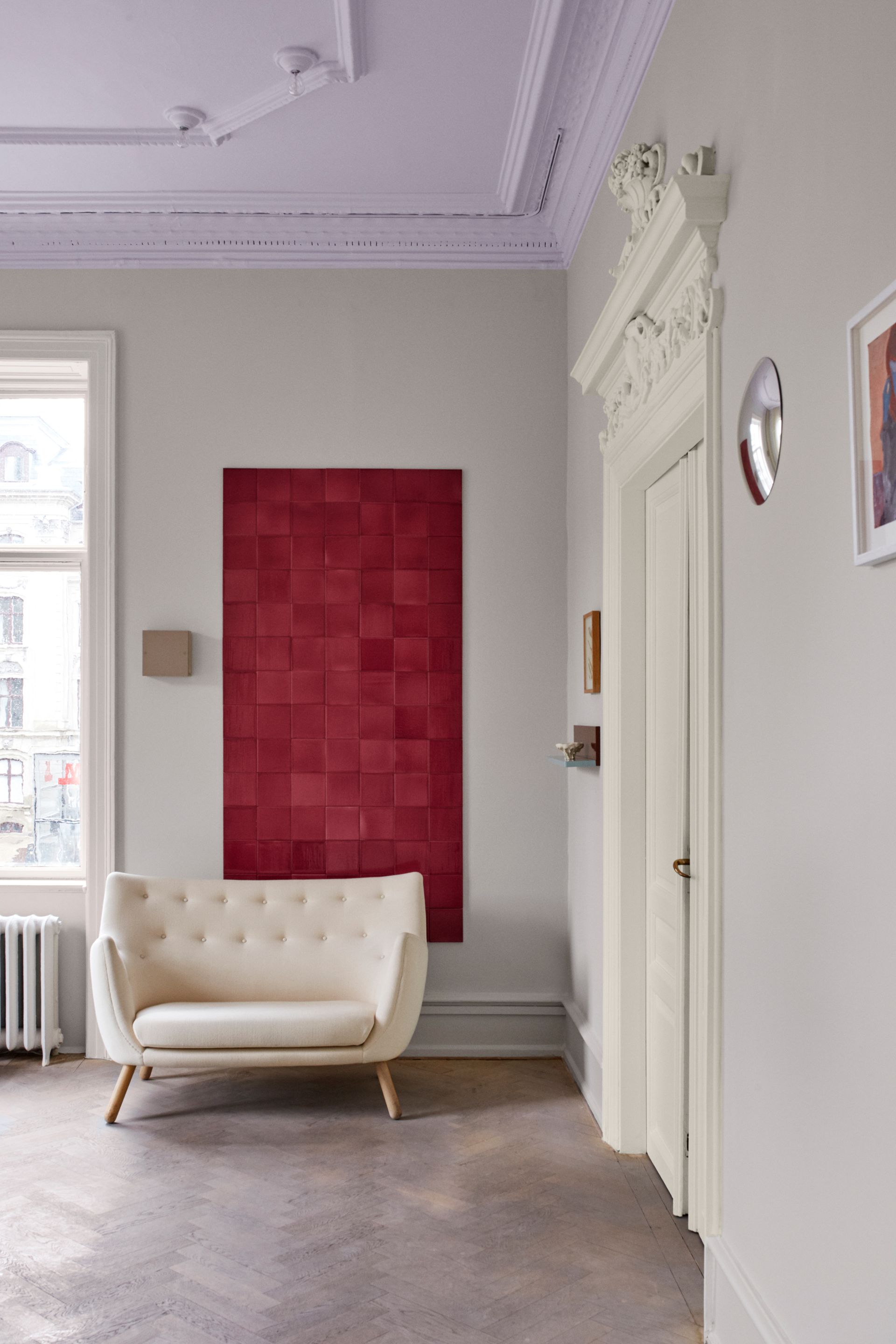 'There are so many different ways to add color pops to your living room,' says Roisin Lafferty, founder of Kingston Lafferty Design. 'Paint is the most transformative tool there is and easily allows you to try something bold and new. Why not paint your ceiling?'
A painted ceiling will make for a wonderful statement feature in an otherwise neutral living room, and drawing focus up and around the room.Don't be afraid to use a darker color on the ceiling, as this will create a dramatic and elegant space. This is a great way to add an extra layer of depth and interest to your room's existing color scheme.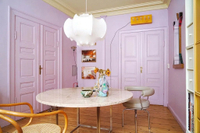 Sugared Almond from Farrow & Ball
To inject a slice of fun to your interiors, consider this charming shade of blushing lilac. This color with a blue undertone has a soft, refreshing touch to it, ideal for living rooms and bedrooms.
2. Choose a bright-toned furniture piece
If your living room color hinges more on a muted, neutral tones, consider juxtaposing it with one standout piece in a bright color. 'A playful way to add a pop of hue to a room is with vibrant sofas, chairs, or coffee tables that also make a bold statement,' says Roisin.
In this living room designed by Kingston Lafferty, a bright orange accent chair in a deep jewel tone is the perfect accent for a dark wood wall.
3. Bring in colorful pillows
Pillows are those lovely living room additions that add a lot of character, and comfort and help design a cozy living room. These are those softer, flexible, and malleable decor elements; the only accessories that can be changed as per changing trends, styles, and seasons. Make the most of them.
'There are several ways to bring a neutral room to life,' says Los Angeles-based interior designer, Beatriz Rose of byrdesign. 'It can be through a combination of well-curated furnishings such as pillows, flowers, vases, even table cloths.'
'We recommend adding color through accessories through drapery, and accent pillows, as these offer opportunities to add depth and interest,' agrees Emily Brown, founder of Emily Lauren Interiors.
So what's the best way to introduce color through pillows? 'Adding a few black accents can make any room more sophisticated,' adds Beatriz, 'but for more drama, introduce 3-5 colors that are complimentary to each other and sprinkle across different surfaces, changing the textures and tonal values, until you reach a sense of balance and color harmony.'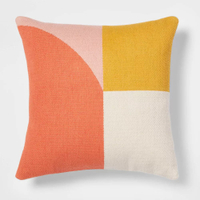 Color block throw pillow, Target
Choose these yellow and peach cushions to add a pop of color to your living room. These made in cotton-blend are soft to touch and the ideal companions to any seater.
4. Paint a piece of accent furniture
Applying paint to your living room furniture can make a bold and dramatic statement. Have an old chair that you love but is out of style? Consider giving it a fresh lease of life by painting it. If you're up for a DIY job, then this can be a great weekend project for you and your family.
'Consider painting an accent chair or a console or bookcase,' says Beatriz. 'The colors can be the same as the neutral colors of the room but several shades darker to give a sense of depth yet remain calm.'
5. Add a bright artwork
Living room wall art can pull a room together a color scheme, but it can also be a way to introduce color into an otherwise neutral space. In fact, if you've got a relatively blank canvas to work with, it opens the door to make a bold choice with your art.
'Art is an easy place to be very expressive with color,' agrees Jennifer Morris, founder of JMorris Design. 'Try not to worry about matching the art with the interiors but make sure the art expresses and captures your and the onlooker's interest.'
In this neutral living room created by Simona Levin, founder of Winding Lane Design, the wall art creates a focal point that brings energy to the muted palette. 'I was already in love with the gentle blend of muted textures and tones in this room, but the incredible piece by Ellsworth Kelly, instantly brought everything to life,' says Simona.
6. Paint an architectural feature
If you've got an interesting architectural feature in your space, highlighting it with paint can be a great way to accent it, while also introducing a pop of color.
You could also introduce color through fireplace tiles, too, adding texture and personality to the space.
7. Update the room with a bright-toned lamp
For a quick but effective way to introduce color, add in a new lamp that pops in the room's scheme. Think of bright, bold hues that make this small element of your living room lighting look effective and dominating..
'Lamps can be a great place to go outside of your comfort zone in the base or shade,' says interior designer Jennifer Morris. 'Brightly colored glass objects or something with unexpected texture. You want your eye to move around so be balanced about the colorful moments.'
8. Pepper the room with a printed rug
If paints, wallpapers, and bold accent chairs aren't for you, or if you live in a rental where making permanent changes isn't possible, then look to your area rugs for color inspiration.
'I find going bold in the rug is a surprisingly good place to add color, because it's at the bottom of your sight line, and less in your face,' says Jennifer.
As for current rug trends, punchier palettes and vibrant combinations are doing the rounds. Also, patchwork rugs made from antique rug fragments are the rage. When it comes to fibers and textures, shag rugs are returning to homes once again, giving a tactile delight to spaces.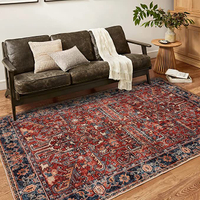 Antique collection rug from Amazon
This Persian boho rug made with premium microfiber yarns is soft and comfortable to touch, and ideal for homes that have children and pets.
9. Decorate with books to add color to a room
Books are beautiful, as they bring warmth, color, and character to any room. Not only are they reflections of who you are, your tastes, and preferences, but they also help add a touch of whimsy and design to your spaces.
If you implement creative book organization ideas, you can create an interior design feature that will enhance your living space. Consider an alternative gallery wall using your tomes. Sort them by color, and you have yourself an attractive, rainbow-colored wall.
Another idea is that instead of placing them as large chunks of red, green, blue, and yellow, choose color blocking as the goal. This helps them stand out and creates a wonderful home visually.
10. Add large, leafy plants
Plants are the most versatile pieces of home decor. Not only do they boost oxygen in the home, but also help create an indoor-outdoor feel, making interiors immediately feel refreshing, crisp, and welcoming.
Large, leafy plants can add a pop of color to an otherwise drab room, making it feel cozier, homier, and smarter. Choose popular houseplants to induce a dose of whimsy, color, texture, and even height in a living room.
You could think of adding one tall plant to a corner or even installing a green wall, with several small varieties dotting the wall.
The Livingetc newsletter is your shortcut to the now and the next in home design. Subscribe today to receive a stunning free 200-page book of the best homes from around the world.
Aditi Sharma Maheshwari is an architecture and design journalist with over 10 years of experience. She's worked at some of the leading media houses in India such as Elle Decor, Houzz and Architectural Digest (Condé Nast). Till recently, she was a freelance writer for publications such as Architectural Digest US, House Beautiful, Stir World, Beautiful Homes India among others. In her spare time, she volunteers at animal shelters and other rescue organizations.