Shopping Edit: the best small desks for a tight spot
Peruse our edit of the best small desks – including small bedroom desks – to work from home in comfort and style, no matter the size of your space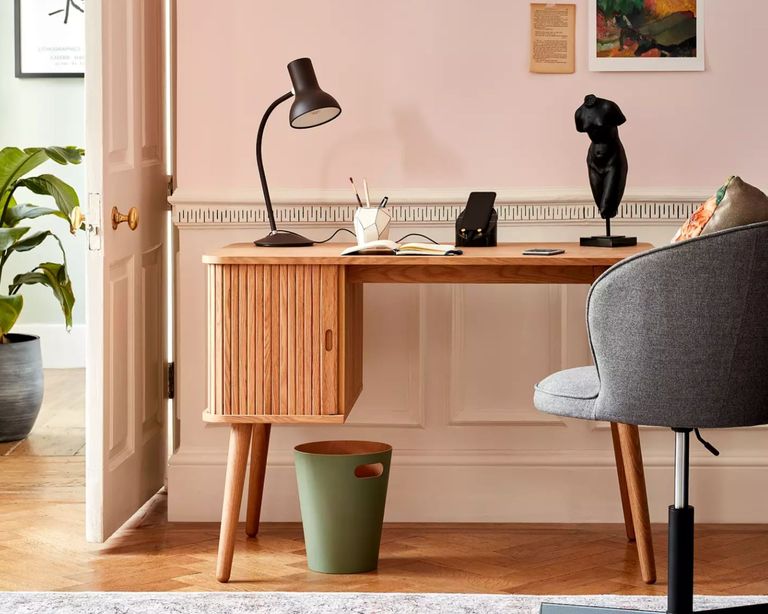 (Image credit: John Lewis & Partners)
Searching for a masterful small desk to use while working from home? Whether you only have a teeny amount of space to work with or you're in the office a few days a week so needn't require a large desk, we can help solve the conundrum of size versus style. These compact desks even double as small bedroom desks for those who work where they slumber, and they are the pinnacle of form meets function – and style.
Gone are the days of compact desks being small in size and non-existent in storage as we've found finesse examples of space-savvy desks that are fit for limited spaces. From leaning ladder desks to corner desks, folding desks plus more, it's all here. And these compact desks boast plenty of storage space from drawers to cupboards. Because the joys of working from home can soon become pretty joyless if your working life is infiltrating into your everyday life.
We're more than aware that those of us living in smaller spaces are often tasked with having to work in awkward areas of the home – a communal living area or even a bedroom. This is why these small desks are perfectly suited to double up as dressing tables, or some can even be stowed away at the end of the day. Many are a great solution for adding a desk in your spare room, too. Otherwise, they can sit neatly in the corner of a living room. You get the idea...
We may have been thinking small but our list has gone far and wide to ensure there's something for everyone and for every space. What are you waiting for? Head to our ultimate best desks guide for all of our top picks that are small, large, expensive and budget-friendly. Visit our home office ideas page for plenty of design inspiration.
The best small desks – and small bedroom desks
1. Garden Trading Clockhouse Desk Tray Table
Create an ad-hoc working space within your home with the Clockhouse Desk Tray Table by Garden Trading. Although small, this portable desk has ample space for all your working-from-home needs. Owning a small desk may even help to keep things tidy by physically limiting how much stuff you can hoard on it – not a bad thing when you're juggling work with a busy home-life. Crafted from oak and beech, this table is as sturdy as it is practical.
Styling tip: decide on where to store this table when it's folded away, such as behind a door or down the side of a wardrobe, that way it won't become clutter when it's not in use.
Garden Trading Clockhouse Desk Tray Table in Carbon & Oak, £180, Cuckooland
2. west elm's Penelope Mini Desk
The gorgeous rounded Penelope Mini desk features a stunning marble top and a more than spacious drawer to hide eyesore paperwork and otherwise unattractive stationary. Sitting on slim tapered legs with a eucalyptus wood frame, it's also sturdy as well as stylish. We recommend adding this desk to a smaller home office or pushing it into a corner of your living room or spare room to work from. Easy to keep clean, too, it even has brass accents – plus, it emanates a soft yet modern and slightly mid-century vibe.
west elm Penelope Mini Desk, £399, John Lewis & Partners
3. Cox & Cox Lotte Desk
If you thought a classic writing desk that's been designed for smaller spaces was out of the question, then look no further than the Lotte Desk from Cox & Cox. Made from pine with a beautiful washed paint effect, the Lotte, with its two simple drawers to stow your stationery, feels well crafted and a true future design classic.
Styling tip: When not being used as a part-time desk – or bedroom desk – this table would suit a hallway, as a place to put your keys and post.
Cox & Cox Lotte Desk, £375, Cox & Cox
4. Swoon Pembridge Folding Desk
If space is at a premium to you – especially in your cosy home office – then why not opt for a space-savvy folding desk? The Swoon Pembridge Folding Desk is our favourite since it's the epitome of function and form. It's made of stunning Acacia wood and will need to be wall-mounted to use. Inside it's a stunning deep green colour, and there are cubby holes for storing clutter. Look out for the cable management features, too. Boasting a minimalist look all in all, especially with help from its conical brass handle that sits neatly once folded, waiting for you to give it a tug. Simply fold it down when you're ready to open your laptop.
Swoon Pembridge Folding Desk, £229, Swoon
5. Graham & Green Henri Metal Desk
Industrial in style, the Henri Metal Desk is made from iron and even has rust detailing for a truly authentic look. Featuring two drawers and a handy shelf, this desk may be on the small side but will help to keep your work surface clutter-free.
Styling tip: They say that keeping plants indoors is good for the air, which can only be a good thing when you're hard at work. Why not style this table with a row of mini cacti or succulents? A quick and low-maintenance way of adding some greenery to your home.
Henri Metal Desk, £275, Graham & Green
6. Habitat Turner 2 Shelf Office Desk
If your room is short on space but has plenty of height you might wish to consider a desk within shelving like the Habitat Turner 2 Shelf Desk. This industrial style desk has real New York City appeal thanks to its black steel frame and simple shelving and desk top. Not only does the Turner desk provide ample storage but the perforated black metal sheeting at the back is magnetic, allowing you to display your list of things to do when you're using it as a desk – or favourite photographs and keepsakes.
Styling tip: keep things organised with storage boxes for the top shelf – go plain and simple or decorative with colour and pattern.
Habitat Turner 2 Shelf Desk, £140, Habitat
7. Made.com Leonie Compact Desk
Designed in collaboration with Smith Matthias, the Leonie Compact Desk has a Mid Century aesthetic made popular in the 1960s and 1970s. If you like Mid Century modern design, take your office to the next level with a thoughtful design such as this one. Where do we begin when discussing the benefits of this desk? There are storage compartments, an extending table top as well as a handy inconspicuous drawer at the front.
Styling tip: with its dainty style and additional storage, the Leoni desk could double up as a beautiful bedroom dressing table, all your need to do is to add a freestanding tabletop mirror – et voila!
Leonie Compact Desk, £249, Made.com
8. John Lewis & Partners Grayson Desk
Although a little bigger than some of the others on our list, the John Lewis & Partners Grayson Desk is still slim enough for those tight spaces. Not only is it petite in size but it features very of-the-moment fluting on the sliding door of its oh-so-clever storage underneath. It's a Scandi-inspired design that feels fresh, made from oak with beautiful tapered legs – you'll be the envy of all your friends.
Styling tip: the internal shelf within the storage unit is adjustable, so no need to limit yourself to what – or how – you store.
John Lewis & Partners Grayson Desk, £399, John Lewis
9. Habitat's Jessie Walnut Ladder Desk
A leaning ladder desk is a revolutionary buy for a home working area in which floor space is premium. The Jessie Walnut Ladder Desk is slim in design with two shelves for storage, plus you can tuck a desk chair underneath to save even more space. This one from Habitat comes in your choice of a walnut or oak finish, and it's a total bargain. Use the shelves above the desk space for displaying your favourite reading material, or as a place for your plants to live.
Jessie Walnut Ladder Desk, £85, Habitat
10. Heal's Ligne Roset Roll Desk
The Roll Desk was designed by Mario Ferrarini. It's compact in size and fluid in style. The tabletop has been expertly crafted using a walnut veneer with natural varnish and the steel base has a black-lacquered finish. This is a truly multifunctional piece that can be used as a desk, dressing table or hallway console – it will look elegant in any situation.
Styling tip: try contrasting with the sleek lines of the Roll desk by adding a desk chair with texture, such as an upholstered chair in a soft boucle, or throw a sheepskin over a wooden chair for extra comfort.
Roll Desk, £810, Ligne Roset at Heal's
11. Maisons du Monde Artic White Vintage Corner Desk
The White Vintage Corner Desk is the perfect answer for those looking to add a handy workspace to a room without the need for endless wall space. Corners are often overlooked, but adding a corner desk will make the most of unused space within a small room. The minimal design means it will work with a number of different interior styles and will certainly increase productivity.
Styling tip: for extra storage, add shelving to the walls above the desk, that way your desk top won't get too cluttered.
White Vintage Corner Desk, £140, La Redoute
12. Oliver Bonas Bali Natural Rattan Desk
Small desks weren't all made the same. Stand out from the crowd with the Bali Natural Rattan Desk. It's not only small in width but it's narrow in depth making it ideal for rooms with little space – especially when you realise you do need to actually close the door to your room or squeeze past your bed. Rattan furniture has seen a resurgence in recent years, not only is a hard-wearing and affordable but it's super stylish, especially for those who love the bohemian style look.
Styling tip: ideal for holding your computer, stationery and a desk light but equally elegant as a console table – add a large mirror above to bounce extra light about the room. Mix with one of the best berber rugs for texture galore.
Bali Natural Rattan Desk, £295, Oliver Bonas
13. Dunelm's Evelyn Concrete Effect Folding Desk
A folding desk that's fit for modern homes? We'll carry on talking. The Dunelm Evelyn Folding Deskeven features a concrete-effect top, with slimline striking black metal legs – and a sleek frame. It's space-savvy meaning that you can move it around your home, from your bedroom to your living room, and even outside on a warm day, all with ease. It can be stored inside a cupboard or wardrobe, too, or you can fold it away and perch it against a wall when not in use. It's pretty much perfect for anyone who is working from home for only a few days a week, wouldn't you agree?
Evelyn Concrete Effect Folding Desk, £39, Dunelm
---
What to look for in a small desk?
Size
Obviously, if you want a compact desk or a small bedroom desk, then you will need to be searching for something with a small footprint. Go for a corner desk to make use of all of the floor space in your home, or opt for a ladder desk if it's a really teeny amount of space that you have to work with. Alternatively, there are folding desks that you can tuck behind other furniture after a long day at work, or you could go for a rounded desk for a softer feel in a smaller room – so as not to drown your space.
Storage
Desk storage is an important feature, even if it is small. To hide your belongings from pens to knick-knacks and various paperwork, this can prove to be especially handy if your new desk will live inside a room in which you use outside of work time. Whether this is a drawer or cupboard is your choice.
Then comes cable management, another important desk feature – especially if you would like this space to stay looking tidy. Cable management is usually hidden and can vary in form, whether it's a hole in the desk for weaving wires through or a tray for your wires to rest on.
See our shopping edit of the best desk accessories to help hide clutter and neatly store your things.
Material
This will be down to your preference – and style but all-in-all, you'll want to opt for something that's sturdy. Especially when it comes to the frame. Solid wood and metal are both great choices.
Easy to clean?
Make sure your new desk has an easy to clean top so that after shutting your laptop each evening, you can give your workspace a little clean – and with ease. Shiny desktops tend to be easiest to wipe clean.
Jo is a News & Shopping Editor across Homes & Gardens and Livingetc magazine. Before joining Future Plc, she worked as an interior stylist and set designer, specialising in editorial and commercial photo shoots as well as installations, exhibitions and events. Her background within this field means she has a particular interest in the creative ways to make a house a home, as well as hunting down the best places to source beautiful things.