5 "winterizing" jobs you need to do for your lawn ASAP - including what to do with your sprinklers in cold weather
Here are the last few tasks to do before winter sets in according to experts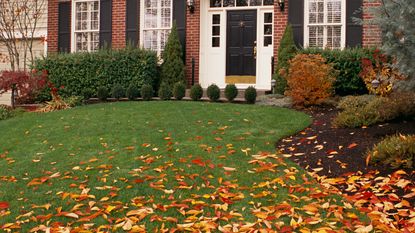 (Image credit: Getty Images)
When fall arrives, it's tempting to think that most of the outdoor jobs are done. This will obviously depend where you live and the weather you get, but in cooler spots, nature heads towards dormancy.
That doesn't mean the hard work is over completely, however. There are still some lawn jobs to do in November.
As with most things, preparation is important. And preparing you yard for winter will reap rewards come spring. We've asked gardening experts, which lawn tasks are best done before winter takes a hold.
1. Rake the last of the leaves
If the trees in your yard are still dropping their leaves, continue to rake them up and use them in the garden, or add them to your compost.
'For larger piles of leaves, collect them and make a leaf mold pile,' says Charlie Nardozzi, author of Month-by-Month Gardening, New England. 'Simply pile the leaves up, contain them with flexible wire fencing, and let them sit. After a few years you'll have usable compost.
'Alternatively, collect excess leaves and place them in your annual flower or vegetable gardens. Till them in and they should be partially decomposed by spring.
'Or use chopped leaves to protect tender roses, perennials, and groundcovers. Whole leaves will mat down and retain moisture next to the stems, causing rot. Chopped leaves have more air spaces and tend not to mat down.' You can even mulch leaves for a lawn using specialist lawnmowers, too.
2. Mow for the last time
In some places, it's about now that you should stop mowing your lawn for winter. 'It's time to wrap up the mowing and lawn-care season in New England,' says Charlie Nardozzi. 'If you haven't already, mow one final time, leaving the lawn about 2 inches high. Make plans to protect your lawn from snowplows by driving stakes along the driveway and sidewalk. This will lessen the chance of a snowplow ripping up the turf.'
'Once you're finished mowing the lawn for the season, clean your mower, removing old grass, dirt, and debris. These can contribute to the metal rusting and weakening. Either prepare the mower for spring now by sharpening the blade, changing the oil, and checking the filters, or wait until later in winter.'
This advice obviously differs depending on which USDA cold hardiness zone you live within and the climate in your area.
According to Kate Copsey, author of Month-by-Month Gardening, New York and New Jersey. 'November is too late to do anything to your lawn, but you can make notes as to what you'll need to do to address any problems you had this year.'
3. Drain the sprinkler and shut the system down
It's important to care for garden equipment, so that it doesn't degrade, break or rust when it's not in use. This is particularly pertinent for items not required for the coming colder and wetter months.
'Lawn watering should be finished for the season in New England,' says Charlie Nardozzi. 'Usually we get enough fall rains to keep the soil moist for newly seeded lawns and sod. Remove lawn sprinklers and have automatic watering lines and sprinklers cleaned out and checked this fall before turning them off for the season.'
'When we're heading into winter, the most important thing is to drain out your sprinkler system,' says landscape gardener, Michael Glassman on behalf of Rainbird. 'Once it freezes, any residual water in the pvc pipes will turn to ice and expand, which will burst the pipes. So if you have one, drain the system down and turn it off completely.'
4. Finish overseeding your lawn
'The key to preventing weed, disease, and insect attacks organically is to have a healthy lawn grass with deep, thick roots,' says Charlie Nardozzi. 'To achieve this, you'll need to build up the fertility of the soil under your lawn.
'While November tends to be too late to successfully sow lawn grass seed in New England, you still can overseed your lawn to help fill in thin areas and create a lush lawn.
'Overseed lawns with grass seed adapted to your lawn's growing conditions. Select a mix high in Kentucky bluegrass for sunny spots and one high in fescue for part-shade locations.
'Even if your lawn looks healthy, overseeding by spreading the grass seed over existing grass will enable even more grass to grow and thicken the grass in thin areas.'
5. Trim ornamental grasses
It's not just lawn grass that needs tending to before winter sets in. Any tall or ornamental grasses that surround your lawn will need some attention too.
'Another good lawn job to do in November is cutting down the applicable tall ornamental grasses,' says Quinten O'Dea, founder of Pittsburgh-based Q&A Landscaping. 'This can vary depending on how far north you are, but luckily the grasses die off and turn brown, showing you when they are ready.
'I find it best to tie them up before you cut them down with a pair of hedge trimmers 4-6 inches above the base. This is a great task to take care of so the long blades of ornamental grass do not blow around all winter making a mess.'
The Livingetc newsletter is your shortcut to the now and the next in home design. Subscribe today to receive a stunning free 200-page book of the best homes from around the world.
Jacky Parker is a London-based freelance journalist and content creator, specialising in interiors, travel and food. From buying guides and real home case studies to shopping and news pages, she produces a wide range of features for national magazines and SEO content for websites
A long-time contributor to Livingetc, as a member of the team, she regularly reports on the latest trends, speaking to experts and discovering the latest tips. Jacky has also written for other publications such as Homes and Gardens, Ideal Home, Red, Grand Designs, Sunday Times Style and AD, Country Homes and Interiors and ELLE Decoration.