4 things to do to your lawn in October – they'll help make sure your grass looks great next year
These tasks will keep lawn grass healthy in months to come if you do them now, according to experts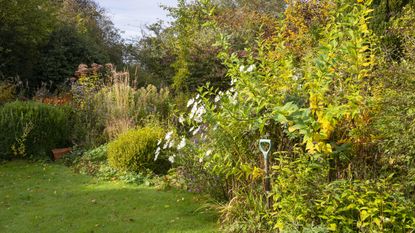 (Image credit: Getty Images)
Gardeners know it's essential to complete tasks now, so a yard looks good in the seasons ahead. Yet trees, shrubs and flowers or a vegetable patch aren't the only elements that require attention at the end of the summer. Lawns need some love before winter sets in too.
The yard tasks undertaken (or not) during the fall, will have repercussions–either positive or negative–when spring rolls round again.
It's tempting to assume a lawn will just take care of itself if you mow it now and then. However, there are some extra steps you can take to ensure your lawn is green and luscious come spring. Here's what our gardening experts suggest.
1. Deal with fallen leaves
If you have a lot of fallen leaves on your lawn, they need to be raked up and dealt with. There are plenty of uses for dead leaves in the yard and can provide free fertilizer and weed prevention when used as our gardening experts suggest.
'Leaves are everywhere in October,' says Kate Copsey, author of New York & New Jersey, Month-by-Month Gardening. 'Remove them when they are dry and easy to collect. A few leaves on the lawn are fine as they'll break down; you just don't want a mass of sticky, slick leaves as they damage a lawn.
'The leaves lie flat and when they're wet, they adhere to one another, making a slick shield that prevents water and air getting to the lawn beneath them. Damp cool days also create a great environment for fungal issues.'
'If you only have 2 to 4 inches of leaves on the lawn, simply run your mower over the dry leaves to chop them up. They will quickly decompose, feeding your lawn grass,' says Charlie Nardozzi, author of New England Month by Month Gardening.
'Some research suggests that sugar maple leaves, in particular, will help prevent dandelion growth in lawns. Otherwise, make leaf mold piles, add them to your compost pile to help balance your nitrogen and carbon materials, or simply till them into annual flower and vegetable gardens to add organic matter directly to the soil.'
2. Patch up bare areas
If you didn't lay turf or seed bare areas in September, there is still time to complete this task in early October.
'If the weather stays warm, especially in southern regions of New England, you can still lay sod and sow grass seed to patch bare areas and renovate larger swatches of lawn,' says Charlie Nardozzi. 'Keep fall-planted lawns well watered with at least 1 inch of water a week. Reduce watering once the lawn grass seed germinates and starts growing strong.'
Patching up bare areas of grass obviously differs depending on where you live and the climate in your area. For lawns in New York and New Jersey, Kate Copsey advises patching lawns in mild winter areas only.
'New grass needs a few weeks to establish and seed should not be sown in areas where the frost date is early-or mid-October,' says Kate. 'Lawn renovation and overseeding should be finished this month, but plan to keep young grass moist until it's established.'
3. Fertilize your lawn
It might seem like the wrong time of year, but there are certain parts of your garden that you should fertilize in fall. 'Finish fertilizing your lawn if you didn't already in September,' says Charlie. 'Fall lawn fertilization helps build strong grass root systems without stimulating lots of top growth. So you won't have to mow more often and you'll have a strong lawn going into winter.'
'The best fertilizer for lawns is slow release. I usually recommend an organic granular fertilizer with a 3-1-2 ratio. This ratio is nitrogen to phosphorous to potassium. It slowly feeds the grass roots as needed.
'In areas near waterways, some communities and states in New England have banned the use of phosphorous fertilizer on lawns because phosphorous can easily leach out of lawns into waterways and contribute to pollution. Look for no-phosphorous lawn fertilizers and follow the application directions on the bag.'
'Most New York and New Jersey lawns contain cool-weather grasses, which include rye grass, fescues, and Kentucky bluegrass,' says Kate. 'Warm-season grasses do not do well in freezing temperatures, so they're only found in the southern coastal areas of New Jersey.
'For the cool-season grasses, the best time to fertilize is in fall after the stress of summer has passed. Late October is the last chance for the second and final fertilization of the lawn.
'However, Eastern New York and southern New Jersey can apply the second fertilizer as late as early November. A general guide is to apply 1 pound of nitrogen per 1,000 square feet in fall.
'For those who prefer not to use lawn chemicals, there are organic options. These include lots of commercial fertilizer products as well as some lawn care companies with organic offerings.'
4. Mow for the last time
'Mow for the final time of the season toward the end of October or when the lawns stop actively growing,' says Charlie. 'Mow a little lower than normal to remove more of the grass growth. This will help prevent thatch build-up and fungal disease from occurring in spring.'
What you'll need
The Livingetc newsletter is your shortcut to the now and the next in home design. Subscribe today to receive a stunning free 200-page book of the best homes from around the world.
Jacky Parker is a London-based freelance journalist and content creator, specialising in interiors, travel and food. From buying guides and real home case studies to shopping and news pages, she produces a wide range of features for national magazines and SEO content for websites
A long-time contributor to Livingetc, as a member of the team, she regularly reports on the latest trends, speaking to experts and discovering the latest tips. Jacky has also written for other publications such as Homes and Gardens, Ideal Home, Red, Grand Designs, Sunday Times Style and AD, Country Homes and Interiors and ELLE Decoration.