What is a side yard? And how can you turn it into your favorite part of your home?
Generally neglected, the side yard can become a great functional space that complements and adds to your backyard scheme. Here's how to understand their potential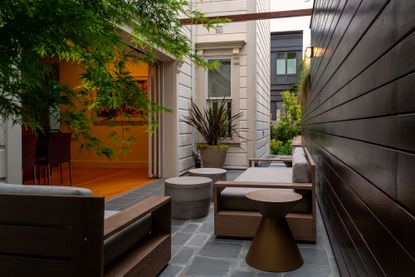 (Image credit: Travis Rhoads Photography. Design: Seed Studio Landscape Design)
The Livingetc Newsletter
For style leaders and design lovers.
Thank you for signing up to LivingEtc. You will receive a verification email shortly.
There was a problem. Please refresh the page and try again.
Your backyard, garden or deck aren't the only exteriors your home features. Many homes have side yards, too – those long, often narrow paths that run alongside the home, often considered purely utilitarian areas, used for keeping hoses, garbage containers, or even garden supplies.
But these spaces can contribute hugely to your home's outdoor space if dealt with properly. All you need is a little planning and creativity to make this space magical, whether it's big enough to spend time in, or just act as a transition that adds to the wow-factor of your backyard.
To understand the potential of the side yard, we reached out to top designers who offered ideas on how to make this area more efficient and pretty. These landscaping ideas will transform the side yards from awkward to awesome.
What are side yards?
Side yards are essentially that narrow strip of land that connects your front yard to your backyard on each side of your house. These run along the periphery of the house, and are usually considered as wasted space, used to store non-essentials such as garbage cans, garden waste and more.
Usually, these are pretty narrow in width, often just a few feet wide, and due to their small backyard size are neglected for full-fledged use. However, for those who understand space utilization well, and are conscious of their home's exterior visuals, know all too well how to use this space.
'Side yards tend to be narrow, but that doesn't mean they shouldn't be addressed,' says Dan Mazzarini, principal and creative Director of BHDM Design and ARCHIVE by Dan Mazzarini . 'Think of it as the procession from the front to the back of the house. You can use the space to your advantage for a shaded garden to grow ferns and other shade-loving plants, or a fruit and vegetable garden right outside your kitchen window.'
'These spaces shouldn't be neglected because it's so great to have that additional outdoor square footage for storage, socializing, cooking and more,' adds Victoria Holly, principal and founder of Victoria Holly Interiors.
How can you make a side yard functional?
'A great functional addition to the side yard is an intimate firepit for the family to congregate at,' says Victoria. 'This is also a great place to hide the kids play equipment (so your main backyard can remain pretty). For that, consider adding a pretty painted shed. The shed can also hold additional storage for things like bikes or gardening tools, or even extra dining room essentials.'
'Many side yards are beside a kitchen door and this makes it the perfect spot for barbecuing, or having a narrow and romantic dining area outside; just add a nice backyard deck for setting up the seating,' Victoria adds. 'Install overhead string lights and utilize the length of side yards.'
How should you landscape a side yard?
Extend your modern vegetable garden or flower garden with a side yard. Use this space to plant tall trees, fruit-bearing varieties, evergreens, or even creepers. Make this a lovely green spot that always looks cheerful and welcoming.
'Creepers are a great way to add some greenery to this space and can transform the look of your exteriors,' says Richa Kedia, gardening expert, publisher, and founder of Simplify Plants. 'One option you might consider is the bougainvillea. These beautiful plants come in a range of colors, from bright pink to deep purple, and they're known for their vibrant, showy blooms. They can be a little tricky to grow, but with the right care, they can make a statement on your exterior walls.'
'Another great option is the trumpet vine,' says Richa. 'These plants produce stunning orange or red flowers that will catch the eye. They're also great for attracting hummingbirds and other pollinators to your green patch, so they're both beautiful and beneficial.'
'For this space, consider brick or slate pavers for the walkway, and low light shrubs like rhododendron and azalea and plants like ferns and hostas which multiply annually,' says Julia Mack, founder of Julia Mack Design. 'Consider an eye-catching water feature like a small fountain or birdbath. Pottery makes for a nice feature in a small space. Large pots with drainage can easily hold a small tree like a Japanese Maple and nearby small pots lend themselves to herbs like rosemary, mint, and thyme.'
'If your side yard is wide enough, a simple yet beautiful bench can be placed here, so while working outside, you could settle down and rest,' says says Jennifer Morris, founder of JMorris Design. 'Even if it's not in use, a bench placed in a side yard simply offers a great whimsical touch. Another way to design it is with multicolored plantings.'
A swing, a small seating area or trees grown in pots that are painted too look great.
For style leaders and design lovers.
Aditi Sharma Maheshwari is an architecture and design journalist with over 10 years of experience. She's worked at some of the leading media houses in India such as Elle Decor, Houzz and Architectural Digest (Condé Nast). Till recently, she was a freelance writer for publications such as Architectural Digest US, House Beautiful, Stir World, Beautiful Homes India among others. In her spare time, she volunteers at animal shelters and other rescue organizations.