What are the three characteristics of minimalism? Designers on how they can create calming homes
Let these expert-backed principles guide your minimalist design decisions and help you to create a calming and personal home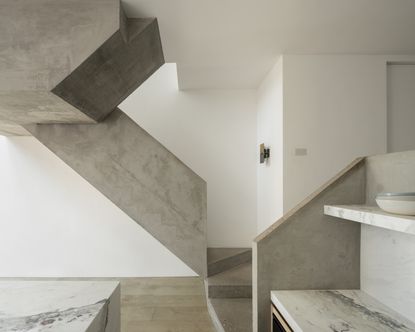 (Image credit: deDraft, photographer: Ståle Eriksen)
Minimalism is one of interior design's longest lasting trends, and recent iterations of soft or warm minimalism have breathed new life into the style.
But despite its now mainstream popularity, minimalism in interior design can be hard to define. Is it a design philosophy, a fine art movement or a lifestyle choice? The answer is all of the above. Thankfully, there are certain characteristics of minimalism that apply across the different genres.
To find out what these are, and how we can apply them to decorating our own homes, we spoke to deDraft architect Grant Straghan. The designer has created various spaces including his own home - which Livingetc called one of the best houses of the year - that exemplify the new wave of soft minimalism that's taking hold. Featuring warm neutrals, characterful, natural materials and a more liberal attitude to ornamentation, soft minimalism is a much cozier version of its predecessor.
Despite this, the key characteristics of minimalism remain the same, which Grant Straghan lays out as "functionality, simplicity and honesty". We'll unpack each one below, including insight from more leading designers in the field.
1. Functionality
For minimalists across time - from the first modernist architects of the 1930s to the soft minimalists of today - functionality is one of the most important characteristics of the discipline. Grant Straghan describes it as "a direct response to immediate context and a desire for spaces and things to perform their own function."
Skip Sroka, of Sroka Design, shares his view when it comes to what minimalism means: "For me, minimalism celebrates a simplicity of function and incorporates materials that are intrinsic to that function. In the kitchen above, everything you need for a kitchen to function is there, but there is no applied decoration."
However, the designer adds that this focus on functionality doesn't have to make a space feel sterile. "There is a fine line between sterileness and minimalism!" says Skip Sroka. "Minimalism can have glamourous materials. Having a tactile quality is important. While mid-century modern is appreciated now, in its rebirth, it tends to be more 'high touch', incorporating more luxurious materials in its reincarnation. Good minimalist design is human, high touch design."
2. Simplicity
We move on to the second characteristic of minimalism: simplicity. "[Minimalist spaces are] visually appealing with a clear user experience, eliminating complexity and using a restrained materials palette," says Grant Straghan.
These interiors can be deceptively simple, says Skip Sroka: "At first glance, [you get] a feeling that the result is simplified, but upon closer inspection, one realizes it was no easy task to make it look so simple. It is actually harder to construct."
The effort is worth it though, as the resulting simplicity can have a positive impact on our wellbeing. This is why minimalism is a better way of life. "I think our lives today are so over-scheduled and often frustrating, that being in a minimalist interior allows one to relax as there is a soothing quality to that experience," says Skip Sroka. "It helps to recharge our internal batteries. By applying minimalist principles to our home environment, I believe we can help calm ourselves down. I proffer that this basis of design helps us to be healthier. Good minimalist design is soothing to the soul."
3. Honesty
This final characteristic refers to "robust materials that do their job rather than thin applied surfaces", says Grant Straghan. American artists Donald Judd and Carl Andre—from the minimalist art movement of the 1960s—are key proponents of this practice.
Using honest materials is just as important to minimalist designers today. In their 2022 book, Soft Minimal: A Sensory Approach to Architecture and Design, Danish firm Norm Architects emphasize the importance of reuniting people with the natural world by avoiding synthetic materials.
"Spaces and objects must certainly be functional, but if they are to truly serve us, they must also attend to our bodies and emotions," writes Norm Architects Founding Partner Jonas Bjerre-Poulsen. "At this moment in design history, we believe it's necessary to go beyond strict rationalist and modernist doctrines to resensualize the built environment with a hapticity that embraces the whole human being; that addresses our perception of space and all of our sensory faculties."
Jonas Bjerre-Poulsen continues: "As engagement with nature is essential to human well-being, natural materials and forms, natural light, and quiet acoustics become synonymous with haptic design. We use sensory materials that remind us of nature and therefore calm us."
So, while the minimalist doctrine is evolving to address our modern needs, its three most important qualities—functionality, simplicity and honesty—can continue to guide minimalist practices in our own homes.
The Livingetc newsletter is your shortcut to the now and the next in home design. Subscribe today to receive a stunning free 200-page book of the best homes from around the world.
Kate Hollowood is a freelance journalist who writes about a range of topics for Marie Claire UK, from current affairs to features on health, careers and relationships. She is a regular contributor to Livingetc, specializing in reporting on American designers and global interiors trends. Based in London, Kate has also written for titles like the i paper, Refinery29, Cosmopolitan and It's Nice That.