3 ways to arrange two couches, and one way to avoid for a sociable living room that looks super-expensive
These rules to adhere and avoid are going to change the way you layout your living room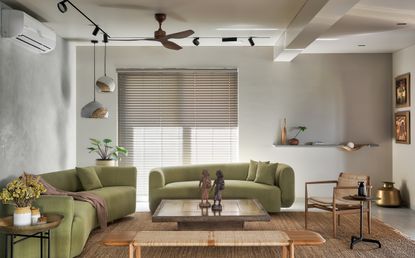 (Image credit: Pulkit Sehgal. Studio credit Zero9)
Arranging two sofas in the living room can, in the beginning, feel like a simple task but when you think about effective, ergonomic, and conversational seating, you might want to give this a deeper thought. The way the sofas are placed in a living room can affect the look, feel, vibe, and even functionality of the space.
The options for how to place two sofas in a living room are many but we asked top experts to advise us on the best ways possible. Plus, ways we shouldn't arrange them. Take a look at these living room furniture placement ideas, and learn how to make this space the most relaxing and usable one.
Do: place the sofas parallel to each other
To create a cozy living room setting that instantly puts you and your guests at ease, think of an arrangement that allows you to have deep conversations while also encouraging free movement.
'Whether a person is looking for more seating for entertaining or to create comfortable spots for a cozy evening, having two sofas can do just the trick,' say Rishabh Kapoor and Monica Chadha of Design Deconstruct. 'There are a couple of ways in which they can be placed, but the ones that work the best are when the two sofas are facing each other. This is great for a large space plan or accommodating plenty of people, with space in the middle for walking.'
'Sofas when facing each other are the most ideal to have a conversation as people sit facing each other which helps in engaging in long, continuous conversations,' say Rishabh and Monica.
'More than one sofa is great for lots of seating, but the room needs to be large enough to avoid looking forced,' says Elizabeth Drake, founder of Elizabeth Drake Interiors. 'And for my advice, the two sofas should always be a matching pair. Two parallel sofas, placed perpendicular to the fireplace are my first choice. The lines of the pair of sofas guide the eye to the fireplace, which typically is a design feature in the room. And the setup makes for natural conversation across the coffee table.'
'If you're placing two sofas across from each other with a coffee table between them, consider adding a pair of chairs at the opposite end of the fireplace, facing the fire, with a drinks table between the chairs,' says Michelle Woolley Sauter of One Coast Design. 'This layout creates a unique and visually exciting seating arrangement while providing ample space for seating.'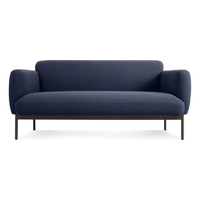 Puff puff studio sofa, 2Modern
Looking for a smart, modern sofa? Consider this well-rounded contemporary piece supported by a hardwood frame and rounded powder-coated steel base. Bring in a pair and give your living room a smart look.
Do: choose an L-shaped layout around a table
If you're wondering how to design a modern living room, then an L-shaped layout with two sofas could work.
'The mark of a good room is one that people want to stay and chat in until you have to kick them out,' says Peter Spalding, co-founder, and chief creative officer of Daniel House Club. 'People always seem to want to linger. In my den, we have two sofas in an L-shape with a chair opposite the corner of the L. The bonus here is that just beyond the chair, directly opposing the main sofa, is a big, low window seat in a bay window. The Potbelly stove is across from the other sofa and has a couple of stools nearby. I love this arrangement because it brings the window seat (often forgotten) into the plan and causes people to sit there. I think the lesson here is that if each sofa can be facing something of interest and relevance to the furniture grouping, a room becomes much more dynamic.'
'You can set up the sofas perpendicular to the TV if you prefer to watch laying down, but typically we set the couches in an L-shaped to prioritize the living space as a conversational zone,' says Dan Mazzarini, principal and creative director of BHDM Design and ARCHIVE by Dan Mazzarini.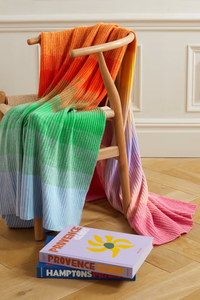 Ribber cashmere blanket, Net-A-Porter
Want to add coziness and a pop of color to your living room? Consider this knitted throw drenched in rainbow colors, and drape it over the sofa for a fun surprise.
Do: place them on the same wall
If you have to conceptualize a small living room layout, make the most of one wall, and place both sofas against it. This will allow you to create plenty of space in the middle of the room, to walk, for extra chairs, stools, or even storage. This will also help the room breathe and look airy and surprisingly large.
'They are a family of four so they needed their space to spread out as well as host,' says Esther Lundstrom, founder of Lundstrom Interiors. 'Having a square coffee table between the sofa components as well as the main coffee table provided ample space to put drinks down. By designing the sectional in this layout we were able to extend it to span the whole wall.'
Dont: push the sofas against the walls
'It's natural to gravitate towards the edge of the living room when creating a furniture layout,' says Sarah Rosenhaus, principal and founder of Sarah Rosenhaus Interior Design. 'But contrary to what you might think, this does not make the room feel bigger, especially if it's a small apartment living room. Instead, it creates more space between your pieces and becomes less functional. Float your furniture in the center of the room creating conversational seating arrangements. Place your furniture forward into groups to make all the elements feel more connected.'
Consider floating your furniture to create an island in the center of the room with a TV mounted on one wall. 'Another great way to make a welcoming and comfortable seating area with room for a coffee table in the middle is to angle the two sofas towards one another,' says Meera Pyarelal, founder & interior designer at Temple Town.
What is the best living room layout for two couches?
'You could consider a U-shaped seating arrangement with two couches and a chair, with the TV on the wall opposite the open end of the U-shape,' says designer Michelle Woolley Sauter. 'This layout is perfect for larger families or groups of friends, and can help create an elegant living room.'
'Another way with a U-shaped layout is by combining two L-shaped sofas,' says Meera. 'This works well in living rooms with more space because it can fit more people than a parallel sofa arrangement.'
Aditi Sharma Maheshwari is an architecture and design journalist with over 10 years of experience. She's worked at some of the leading media houses in India such as Elle Decor, Houzz and Architectural Digest (Condé Nast). Till recently, she was a freelance writer for publications such as Architectural Digest US, House Beautiful, Stir World, Beautiful Homes India among others. In her spare time, she volunteers at animal shelters and other rescue organizations.