4 vegetables to plant in October to keep you in fresh produce all winter
We've chosen four of our favorites to sow now for fresh spring pickings, plus one fresh and leafy one to see you right through winter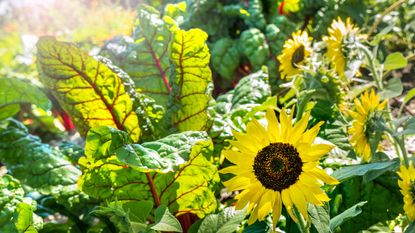 (Image credit: Ian Shaw/Alamy Stock Photo)
Fall is a busy time in the vegetable garden, especially once you've finishing harvesting your summer crops. It's a great opportunity to make the most of warm days and sow seeds for winter crops too, especially if you want to keep your vegetable patch productive rather than letting it lie dormant through the winter months.
Now is the time to get a head start on next year's growing season while the soil is still warm and light levels good. Planting in September and October is a good idea as it means you can start harvesting produce from your backyard earlier in spring, plus the plants tend to be much healthier and faster growing once the warmer weather arrives.
Crops like garlic, peas and broad beans can be planted In the vegetable patch now, for earlier harvests next spring and summer. Meanwhile if you're craving fresh leaves try growing microgreens on the kitchen countertop right through winter with repeat sowings to see you through the cool season. Now find out how to grow our favorite four vegetables to plant this month.
1. Microgreens
A microgreen is a plant that is harvested at its seedling stage, well before the baby leaf stage. The good news is that this is a crop you can grow on your kitchen counter right through the cooler months and they will be ready to harvest in 7-10 days.
'Before a plant starts developing into maturity, underdeveloped sprouts are proven to average 10-50 times more nutrients and vitamins than fully mature vegetables and greens,' says Gail Pabst, a horticulturist at the National Garden Bureau. 'The nutritional content will vary depending on what type of seed you're growing, but generally, this is one of the most efficient ways of consuming raw vitamins.'
Microgreens also add a unique crunchy texture to traditional green salads. Always grow seeds that have been specifically marked for use as a microgreen or sprout. Once they are displaying their first "leaves" you can simply snip them to enjoy raw.
Microgreens are typically sprouted with the use of soil, but many varieties thrive just as readily if you grow them hydroponically without soil. Find out more about easy ways to start hydroponic gardening now and you can keep yourself in fresh produce all year round by growing vegetables in a water-based, nutrient-dense solution in a smart unit in your apartment.
You can buy a really delicious selection pack of 6 types of microgreen seeds from Amazon here.
2. Peas
For optimum flavor, grow peas in cool weather. For earlier crops that are ready from May onwards, sow in fall but depending on your climate you may experience losses from cold weather.
'The best way to grow garden peas is to sow the seed directly into the soil,' says Gail Pabst. 'Peas are light feeders. If you want to fertilize them, do so sparingly and use a fertilizer low in nitrogen.'
Choose a sunny, well-drained spot and enrich the soil. Make a shallow trench, and sow peas in two parallel lines leaving 24 inches between them, spacing the seeds about 4 inches apart. Cover the seeds with soil, and water well.
The seedlings should appear in one or two weeks. Thin gradually to 4-6 inches apart when seedlings are about 1-2 inches high, and offer climbing support when they start to grow taller.
'Garden peas, like beans, are legumes. They have the ability to fix nitrogen in the soil, which makes that important nutrient readily available to other plants,' says Gail. 'Spent plants decompose into organic matter to further enrich the soil. At the end of the season, simply dig the plants into the soil.'
I like to grow pea shoots in pots of compost on my windowsill, and like microgreens this is another crop you can grow year round in this way. It's so easy to do. Simply fill a pot with compost, add a thick layer of pea seeds, top with soil, and cover until they start to sprout. Remember to keep them well watered.
Our favorite brand of pea seeds is just $4.99 for a pack on Amazon.
3. Garlic
Fall is the time to plant garlic in most parts of the United States. It's general practice to plant garlic between mid September and mid October, depending on your growing zone. If you haven't done it yet, there is still time.
Garlic is one of the few crops that you plant in the fall in order to harvest the following summer. Planting garlic now gives the crop a head start in terms of root development, so when spring arrives plants will grow faster and be stronger.
There are different types of garlic that can be planted at different times of year. 'If you live in the South, plant cloves in the fall for a spring harvest,' say the vegetable growing experts at Burpee. 'In the North, plant hardneck varieties in fall for a spring harvest.' Always buy good quality cloves from a reliable garden center or mail-order catalog, rather than using the grocery store variety.
To get the best from your fall garlic, plant in well drained soil rich in organic matter with the tips of the bulbs just showing above the soil, allowing 3-4 inches between cloves and space rows 1-2 feet apart. Tuck under straw mulch for protection if the garlic emerges in the fall and a heavy frost is expected.
You can buy a three-pack of garlic bulbs to plant for $8.25 from Amazon.
4. Fava beans
Fast-growing, cool weather fava beans can be planted in fall in a sunny spot with well-draining soil. They perform best if they get their deep roots established when the weather is cold and damp. This reduces the chance of pests and diseases when they crop in early summer.
'Direct sow October/November in mild winter areas,' says Craig Diamond, who heads up the family-run business West Coast Seeds. 'Direct sow February to May in other areas. Optimal soil temperature for germination is 50-70°F. Sow seed 2 inches deep, 6 inches apart, in double rows 9 inches apart. Germination takes 10-14 days, depending on conditions.'
Enrich the soil with compost prior to planting, and keep it free of weeds. It's a good idea to stake plants while they're young to protect them from the wind. They don't mind frost but it's a good idea to protect any tender fall sowings with a cloche if severe weather hits as this may knock them back and delay the first harvest.
A pack of 25 fava bean seeds is $6.39 on Amazon.
What other vegetable crops can I sow now?
We've suggested our favorite 4 vegetables to plant this month but the good news is there are plenty more to choose from. Now is also a good time to sow leafy crops and winter salads like lettuce, arugula, spinach and chard, as well as oriental leaves such as mizuna. This will give you a supply of fresh leaves right through winter.
In fall the soil is still warm after heating up for the whole of summer, so seeds will germinate quickly. If the weather is warm enough, the growing season can continue for months. Just remember to keep your vegetables well watered during fall, especially if the weather is dry.
The Livingetc newsletter is your shortcut to the now and the next in home design. Subscribe today to receive a stunning free 200-page book of the best homes from around the world.
Lifestyle journalist Sarah Wilson has been writing about flowers, plants, and garden design and trends since 2015. Having already studied introductory garden and landscape design as well as a course in floristry she is currently adding to her list of qualifications with an RHS Level 2 course in the Principles of Plant Growth and Development. In addition to livingetc.com, she's also written for homesandgardens.com, gardeningetc.com, Modern Gardens and Country Homes & Interiors magazines.