6 vegetables to plant in August that will still give you produce this year
It's never too late to get growing, and these 6 vegetables to plant in August prove that the crops can just keep on coming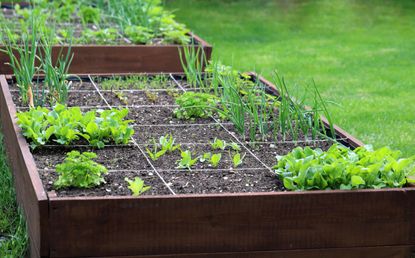 (Image credit: Alamy)
The Livingetc Newsletter
For style leaders and design lovers.
Thank you for signing up to LivingEtc. You will receive a verification email shortly.
There was a problem. Please refresh the page and try again.
And you thought it was too late to go self-sufficient! Happily, there are still a few different types of vegetables you can plant in August that will still give you produce this year. There really is no time like the present.
August is the perfect month for adding to your vegetable garden. Much like the best vegetables to plant in July, planting up veggies in August means they will benefit from the last few weeks of warm weather and you could be eating from your backyard well into the winter. You can also get growing vegetables with longer grow times so you will have something in the depth of winter and early spring too.
6 vegetables to plant in August
Experts explain which vegetables to get into the ground this month.
1. Lettuce
Lots of leafy greens are great for growing in late summer as they have really speedy grow times. Even if you are pushing it and just planting the seeds towards the end of the month you may find you still get a harvest before fall. Lettuce is also one of the best vegetables to grow indoors so if it's struggling just bring it inside and you can enjoy its bounty all year round.
'August is the perfect time to sow lettuce, a tough and adaptable cool-season vegetable that loves late summer conditions. You can sow lettuce seeds directly into the garden soil or start them indoors using seedling modules for later transplanting.' says Reese Robbins, founder of Just Pure Gardening. 'When planting the seeds, bury them about 1/4 inch deep, and once they sprout, give them plenty of space by thinning them to at least 6 inches apart. This allows each lettuce plant to stretch out comfortably and develop to its full potential. And keeping your lettuce well-hydrated is essential, especially when the weather gets hot.' Regular watering helps keep the soil moist, preventing the leaves from turning bitter and ensuring they stay crisp and delicious.
'If you plan to enjoy fresh lettuce throughout the colder months, consider using protective measures like a greenhouse or garden fleece to extend the growing season. These simple tricks will shield your lettuce from frost and chilly temperatures, allowing you to enjoy homegrown salads well into the fall and winter.'
2. Pak choi
'Many leafy veg such as Pak Choi are prone to bolting during summer. The long day length, intense light and heat stress them into flowering. Sowing them into modules in August reduces the risk of bolting and will give you an autumn crop followed by later winter crops if you protect them with cloche or fleece. The same approach can be used with spinach, winter lettuce, and rocket,' explains Annelise
'In late summer, oriental leaves like pak choi and mizuna present fantastic fast-growing options for your garden. These vibrant greens thrive in the warm days of August and beyond, making them a perfect addition to your late-season planting.' adds Reese. 'To get started, you have two options: sow the seeds directly into the garden soil or use seedling modules for later transplanting. Whichever method you choose, plant the seeds at a depth of approximately 1/2 inch in the soil.
'As they sprout and grow, provide sufficient space between each plant, spacing them out by about 2 inches. This spacing allows the oriental leaves to spread out comfortably and develop into healthy, robust plants.' 'One essential aspect of caring for these greens is consistent watering, especially during the hot spells of late summer. Regularly watering the plants ensures the soil remains moist, promoting steady growth and preventing the leaves from turning bitter due to water stress.'
3. spinach
A great one for vegetable garden beginners as spinach is fairly hardy and fast growing. Just make sure to keep its soil moist if you have a drier climate.
'Late summer is ideal for sowing spinach seeds directly into your garden soil for a bountiful supply of fresh and tender spinach leaves. As August arrives, seize the opportunity to start this cool-season crop,' suggests Reese. 'Begin by planting the spinach seeds at a depth of about 1/2 inch in the soil. Remember to provide enough space between each seed, leaving approximately 4 inches of distance. This spacing is essential for allowing the spinach plants to spread out comfortably and receive the necessary nutrients and sunlight to thrive.
'Watering plays a vital role in the healthy growth of spinach, especially during the hotter periods of late summer. Regular and adequate watering ensures the soil remains consistently moist, a condition that spinach truly appreciates. Consistency in moisture levels helps to prevent the spinach leaves from turning bitter and ensures a sweeter, more delicious taste,' he adds.
4. beetroot
Not only does beetroot taste fabulous, but it also adds a flash of color to your garden – something you will definitely appreciate as winter sets in and greenery starts to die back. They can be a great addition to a vegetable container garden amongst leafy greens.
'In August, you can indulge in the vibrant allure of beets, those delightful root vegetables that lend a burst of color and flavor to your garden. To get started, sow beet seeds directly into the soil. Plant the seeds at a depth of approximately 1/2 inch in the soil and leave enough space between each seed, spacing them out by about 3 inches. This allows beetroots to develop without crowding, ensuring they grow into plump, succulent gems,' advises Reese.
'Adequate watering plays is key to the development of beets, especially during the hot days of late summer. Consistent hydration is key to their proper maturation, preventing them from turning woody and ensuring they remain tender and flavorful.'
Beetroot also happens to be one of the vegetables you can grow indoors all year.
5. broccoli
'Intriguingly, you can enjoy a fall or winter harvest of broccoli by venturing into late summer planting. While traditionally associated with spring, broccoli can thrive if planted in August, providing a delicious and nutritious addition to your cool-season garden,' suggests Reese.
'Use transplants when planting broccoli in late summer, and generously space them approximately 18-24 inches apart. This spacing allows each broccoli plant the room to flourish and develop its full potential, yielding a lot of heads. As the weather transitions to cooler temperatures, your broccoli plants will thrive, offering you a gratifying harvest later in the season.'
6. cabbage
Cabbage can take up to six months to be ready to harvest, so get them planted in now so you can have them in time for spring.
'Cabbage seeds and transplants hold the potential for a successful yield when planted in August, adding diversity to your cool-season garden. Plant cabbage seeds at a depth of approximately 1/2 inch in the soil, giving spacing of 1 inch between each seed. As the seedlings grow, space them generously at around 18-24 inches apart, enabling them to expand comfortably as they mature into substantial, leafy heads,' advises Reese.
'Watering is crucial in supporting cabbage growth during the warm days of late summer. Consistent and sufficient watering ensures the plants receive the necessary moisture to thrive.'
For style leaders and design lovers.
Hebe is the Digital Editor of Livingetc; she has a background in lifestyle and interior journalism and a passion for renovating small spaces. You'll usually find her attempting DIY, whether it's spray painting her whole kitchen, don't try that at home, or ever changing the wallpaper in her hallway. Livingetc has been such a huge inspiration and has influenced Hebe's style since she moved into her first rental and finally had a small amount of control over the decor and now loves being able to help others make decisions when decorating their own homes. Last year she moved from renting to owning her first teeny tiny Edwardian flat in London with her whippet Willow (who yes she chose to match her interiors...) and is already on the lookout for her next project.