Should an outdoor dining table be in the sun or the shade? Design experts decide and offer a few simple workarounds
With the hot summer months here, you might be wondering about the ideal placement and materials of your outdoor furniture. Experts offer key advice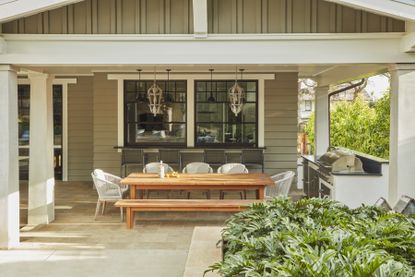 (Image credit: Caitlin Atkinson. Studio credit Jessica Risko Smith Interior Design)
The Livingetc Newsletter
For style leaders and design lovers.
Thank you for signing up to LivingEtc. You will receive a verification email shortly.
There was a problem. Please refresh the page and try again.
It's that time of the year when outdoor entertaining is in full swing. And this means, setting up a fun BBQ, bringing out the grill, creating a makeshift kitchen, and most of all, adding an outdoor dining room.
While it's a great time to get the fun and festivities going outdoors, you may wonder if it's okay to leave your dining table and chairs out in the scorching sun. Plus, the ideal ways to protect them from the elements. For this reason and more, we reached out to experts to help us with advice. Find out how to save your backyard dining, and make it last season after season.
Should an outdoor dining table be in the sun or the shade?
The simple answer is – it's not ideal to keep it in the sun. It is common to think that leaving wet furniture out in the sun will help it dry out, and prevent mold and mildew. However, the hot summer sun can be extremely harsh and the UV rays can damage your patio furniture.
'For the frames of tables and chairs, wood especially is not great in a lot of climates if you plan to leave items outside, especially if you experience four seasons or intense weather like sun or snow,' says Jane Lockhart, founder of Jane Lockhart Design. 'Wood can fade, and lose its longevity if left all the summer months in the sun.'
Similarly, wrought iron furniture will become exceptionally hot, and is the worst candidate to be left out in the sun.
If you don't have a shaded area in your outdoors, it is ideal to place the dining table under a large tree, next to a tall fence, or close to other structures that block some of the sun's rays.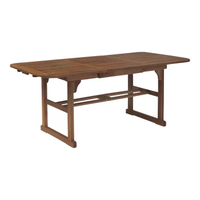 Choose this acacia wood dining table for the outdoors, and host a fun, intimate gathering of family and friends all summer.
How do I protect my outdoor table from the sun?
It might not be convenient to keep your dining table and chairs indoors and pull them out when needed. The simplest way to protect your outdoor dining is by keeping it in the shade. Consider umbrellas, canopies, makeshift thatch roofs, and more. If you have an existing gazebo in your outdoors, place the dining under it. These will not only help keep the furniture cool but also reduce the direct sunlight your furniture receives.
Other than shade, you could also consider furniture covers. These will prevent direct sun exposure and protect the furniture from the elements. Sunbrella fabrics or Perennial fabrics are ideal for the outdoors. Make sure the covers are thick enough for good protection.
These ideas apart, it is also a recommended practice to seal your furniture from time to time. Several retailers sell outdoor wood sealants that ensure the piece looks new, is damage-free and lasts a long time.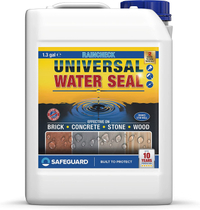 This rapid-curing, colorless water seal can give your furniture long-lasting protection.
What is the best outdoor furniture for full sun?
The best outdoor furniture should last you several seasons and always look as good as new. 'For those hot summer months, dining furniture that's made of concrete, stone, man-made materials such as Dekton, or synthetic materials such as resin wicker will help when the sun is beating down on the surface,' says Linda Hayslett of LH.Designs. 'These materials can help absorb some of the heat when using the surface, so you don't burn your skin.'
Synthetic all-weather wicker is another option as it does not dry out or become brittle under the direct sun. Avoid any natural fibers as those may fade from continual sun exposure and become brittle when too dry.
'It's important to think about the durability and cleanability factor too, of your outdoor dining set up,' says Dan Mazzarini, principal and creative director of BHDM Design and ARCHIVE by Dan Mazzarini. 'In more urban areas, expect dust and debris from the street to find its way onto your pieces. In that case, recycled plastic is the way to go.'
For style leaders and design lovers.
Aditi Sharma Maheshwari is an architecture and design journalist with over 10 years of experience. She's worked at some of the leading media houses in India such as Elle Decor, Houzz and Architectural Digest (Condé Nast). Till recently, she was a freelance writer for publications such as Architectural Digest US, House Beautiful, Stir World, Beautiful Homes India among others. In her spare time, she volunteers at animal shelters and other rescue organizations.