Is sanding your walls before painting really worth the extra time? These experts settle the debate
To sand or not to sand, that is the question. We asked the experts whether this step is really necessary in your painting prep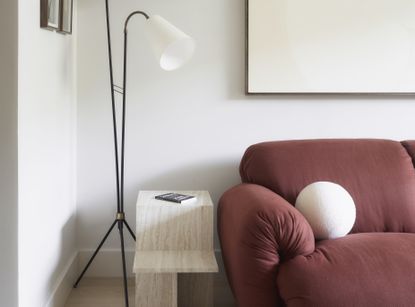 (Image credit: Mary Wadsworth)
There are some instances in life where we'll willingly take the long way around whereas, other times, we'll search for any shortcut possible. When it comes to painting a room most of us fall within that latter camp, and one of the most convenient ways of cutting corners is by skipping the stage of sanding your walls. However, some experts say it could be a costly mistake...
To sand or not to sand - that is the ultimate question. It's actually more of a contentious debate than you probably first thought: while some experts resolutely claim that sanding walls is a crucial step if you want a professional-worthy paint idea, others say it's the most permissible stage to skip. So, naturally, we're here to settle the debate.
In cases where time is of the essence, it might be tempting to pass over the preparation stage and take your roller directly to the walls. To find out if it's actually worth taking the extra time to sand first, we spoke to some professional painters and decorators to find out their two cents on the matter. Here's what they had to say.
Should you sand walls before painting?
Painting a room isn't the sort of job that can be over and done within an hour. When you factor in drying times and the time taken for application, it really adds up. It's understandable then that you might want to skip any non-essential steps. The question is, is sanding one of them?
Most decorators will tell you that when painting a space sanding is an important part of the preparation, alongside the likes of priming the walls and protecting your other surfaces. That's because starting with a smooth surface is the first step toward a professional-worthy finish, so it's important that you remove any loose paint, plaster, or wallpaper residue that might prevent that.
'We always sand walls before painting if they're non-textured,' explains Anthony Kulikowski, owner of Five Star Painting of South Bend. 'Sanding promotes adhesion of the next coat, makes the walls feel slightly smoother, and can remove any foreign objects that may be there from the previous painter.'
The good news is, while it might be advised, sanding isn't crucial. As Tila Lee, painting expert and owner of Pretty in Paint School, explains: 'Some people swear by it, but if you're doing it yourself it's up to you how fussy you want to get with it.' Unless your walls are in a pretty bad state beforehand, it's unlikely that sanding will make any seriously noticeable difference, especially to the untrained eye. You can certainly get away without doing it if you're just refreshing your existing paint color or touching up a specific area.
What are the exceptions?
That being said, it's important to know about the circumstances in which sanding is in fact not advised at all. If you're painting a popcorn ceiling or woodchipped walls - or any textured surface for that matter - sanding will ruin the texture or grain.
As Tila explains, in these instances, whether or not to sand should be decided on a case-by-case basis depending on the client and the project. 'If we're painting a rental suite that's 70 years old and is full of lumps and bumps, we're probably not going to sand the whole walls before as it's too much work,' she says. 'Most landlords also don't want to spend that much money on their rental property freshen-ups.' Achieving smooth walls in these older homes would likely require a complete gut renovation.
It's also worth noting that sanding a textured surface in an older home could lead to more than a few cosmetic issues - it could be a health risk, too. This is because patching compounds or textured paint - including popcorn ceilings - in homes built before the 1970s will likely contain asbestos, a mineral that can cause cancer or pulmonary diseases, so you should definitely take this painting shortcut in this instance.
What is the most efficient way to sand a wall for painting?
Before you commit to painting your wall, you'll need to know the most efficient way to sand. A hand-held sanding block will obviously be out of the question, but thanks to technology there are plenty of easy-to-use tools that get the job done quickly.
'Using a pole sander with a large circular head is by far the best way to sand a wall,' says Anthony. These typically come as long extension poles with a flat pad on a pivot so they can be used on ceilings as well as walls. 'This sanding should just be a light scuff sand', Anthony adds, 'you're not sanding wood so remember to keep it light and avoid over sanding'. It's a good idea to then give your wall a quick wipe over with a microfiber cloth and to vacuum up any dust before painting to avoid it sticking to your wet paint.
The entire sanding process needn't take longer than an hour and will take much less in a smaller room, leaving you plenty of time to go wild with your bold new paint idea! That added time is a small price to pay for a professional-worthy paint job - after all, if a job's worth doing, it's worth doing properly.
$169.99
NEU MASTER Drywall Sander
This electric sander helps you sand your walls and ceiling quickly and efficiently. With 7 different speed controls and 10 vacuum holes to help collect dust, it helps you get the job done properly, even when you're forced to work fast!
Lilith Hudson is the Junior Writer on Livingetc, and an expert at decoding trends and reporting on them as they happen. Writing news articles for our digital platform, she's the go-to person for all the latest micro-trends, interior hacks, and color inspiration that you need in your home. She discovered a love for lifestyle journalism during her BA in English and Philosophy at the University of Nottingham where she spent more time writing for her student magazine than she did studying. Lilith now holds an MA in Magazine Journalism from City, University of London (a degree where she could combine both) and has previously worked at the Saturday Times Magazine, ES Magazine, DJ Mag and The Simple Things Magazine.