6 low-maintenance backyard jobs to do in September - experts set you up for a perfect 2024
As the end of summer rolls round, make time now to get out into the garden to tidy up and get things in the best shape ever for next year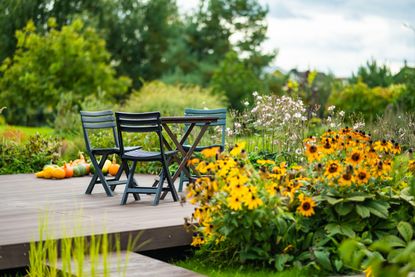 (Image credit: Alamy)
The Livingetc Newsletter
For style leaders and design lovers.
Thank you for signing up to LivingEtc. You will receive a verification email shortly.
There was a problem. Please refresh the page and try again.
If the weather is balmy it's a great time to get out in the garden to enjoy the warm air and softer light that the start of the fall season brings. You may also be lucky and still have late-blooming flowers to cut for the house and crops to harvest. But cooler days are on the way for sure so it's also important to prioritise gardening jobs that need to be done now.
Make improving your soil, tidying up flower beds, and planting bulbs for spring your top priorities. You should also think about putting in place a protection plan for any plants that don't like cold weather. It's also a great time to plan next year's garden by making rough sketches of your flower beds and vegetable patch, and making a note of what worked and what didn't. This way you can improve your backyard next year.
Now find out what the top 6 low-maintenance jobs to do now are and make 2024 your best gardening year ever.
1. Clear out flowerbeds and plant/divide perennials
As fall progresses and temperatures drop, summer bedding plants will start to fade and look tatty. Neaten up flowerbeds by removing old blooms and adding to the compost heap, as long as the plants are disease and pest-free.
Deadhead plants that are still flowering and tie up tall stems to prevent them flopping over. You may even get another flush of flowers - dahlias are likely to keep going if you keep picking them right now. At the same time collect seeds from favorite flowers and store in labelled envelopes, ready to sow in spring.
Look at your flowerbeds to see if there are any empty spots. Start cutting back and deadheading perennials that have passed their best, remembering to leave any ornamental ones with interesting structure and seed heads for winter interest in the flowerbeds, as well as providing a habitat for insects and seeds for the birds.
'As temperatures cool, conditions become ideal for planting perennials and hardy bulbs, as well as cool-season annuals,' says Justin Hancock, who has has a wealth of experience gardening all the way from Northern Minnesota to Miami, and is a horticulturalist at Costa Farms. 'Get a jump start on the busy spring season (while saving money by getting many plants on sale) by planting in fall. Add color now with chrysanthemums, asters, pansies, and ornamental kale.'
Choose an overcast day to plant any new perennials. Move and divide any existing perennials that have finished flowering. When planting and moving perennials, create a hole large enough to accommodate all the roots, but no deeper than the rootball itself. Be sure to water the plants in well afterwards.
2. Feed soil with organic material
Once you have cleared flowerbeds it's time to prepare the soil for its seasonal rest. It's the perfect time to feed your soil, replenishing the nutrients that have been used up all summer long by growing plants.
Layering well-rotted organic material like compost or manure onto the surface and leaving it to be broken down by earthworms and frost is one way of doing this. If you have your own composter and it's full of broken down material now is the time to spread it around. The other way is to dig it in. It's best to do this after it has rained. If you add organic material to dry soil, it will sit on the surface, taking longer to benefit the soil beneath.
'I like topdressing my soil with compost at this time of year,' says Justin Hancock. 'Adding/incorporating compost to your soil on a yearly basis provides a wealth of benefits, from helping improve drainage when it's wet to helping it hold moisture better when it's dry to encouraging beneficial micro-organisms that help fight pests to increasing soil fertility so you have stronger, happier plants.'
Feeding the soil with organic material will also help to break up compacted clay soils and make thin soil better able to retain moisture. This is especially important if you have experienced heatwaves and periods of drought this summer.
Price: $42.99
Size: 32-35 Pound Bag
We highly recommend this brand which is proven to improve soil structure.
3. Empty containers and plant them with spring bulbs
Container gardens that you planted up in summer will need stripping out now, checking over and cleaning, then replenishing with fresh soil. Plant them up with cold weather container plants like heathers, pansies, and hellebores.
Another must for gardening jobs to do now is planting spring bulbs, and there's plenty of choice in garden centers and online right now. If space is at a premium, bulbs grow well in large pots layered up beneath your cold weather plants.
'Planting bulbs in containers is one of the easiest ways to have a brilliant show of flowers in spring,' says horticulturalist Jenny Rose Carey, author of The Ultimate Flower Gardener's Guide. 'Bulbs that are hardy in your area are the best value for money. They should come up year after year and may be so successful that they multiply.'
Jenny suggests a mix and match approach when choosing bulbs, thinking about flowering time, height of bloom, shape of flowers and color. Crocus, hyacinths, tulips, Iris reticulata, and alliums all look stunning in large pots, providing continuous color from the earliest days of spring right through to summer.
When planting spring bulbs, remember that most prefer a sunny spot. Make sure you raise the pots up on feet so excess water can drain away, helping prevent bulbs becoming waterlogged. If you live in a cold climate stock up on fleece and bubble wrap, which is ideal for insulating planters.
4. Rake up fallen leaves to make a rich soil improver
This season is called 'fall' for a reason. All those fallen leaves need to be raked up from the lawn because they block sunlight, causing yellow patches, and harboring pests and diseases.
'Work out a management strategy for dealing with fallen deciduous leaves,' says Jenny Rose Carey. 'Keep as many as you can to use as a soil improver. Shredding the leaves first helps them decompose quickly. There are two main strategies you can take. Either spread the shredded leaves onto your flowerbeds as a mulch, or put them in a compost bin or pile to use in coming years. I do a combination, taking some away and putting the rest back on the beds.'
Leaf mold is one of the best soil improvers available. The leaves break down to give you a gorgeous crumbly leaf-mold that your soil will love. If you're short on space or don't have a compost bin, pack raked leaves into black bin liners with holes pricked in the side and store them somewhere out of the way. Water helps leaves break down faster, so leave bags uncovered so rain can get in.
5. Look after your shrubs and trees
'For me, the number one gardening task for now is to keep up with the watering, particularly of evergreen trees and shrubs,' says Justin Hancock. 'Once the soil freezes in winter they're unable to take up moisture, so keeping them well hydrated in September and October goes a long way in preventing winter yellowing or browning, especially if they're newly planted, you had a long/hot summer, or it's a particularly dry or cold winter season.'
Now is also a good time to tidy up and trim shrubs, hedges, and trees to get them in shape. Their growth will gradually slow down anyway as the weather gets cooler so it's good to pause and take an overview of their shape and condition to assess what needs doing to improve their appearance.
Pruning can help to rejuvenate shrubs that are old and filled with dead wood, as well as improving the appearance and shape of the plant and reduce the risk of disease. If your shrub or hedge is a flowering variety it will also increase the amount of flowers when it comes into bloom.
Pruning according to climate is important. If you prune and new growth emerges then there is a frost the fresh shoots will be blackened. If the plant needs to be completely renovated, this can be done in late winter or early spring just before new growth starts to show.
6. Bring houseplants and tropicals indoors
If you have houseplants that have been holidaying outside or other tropicals you've been enjoying in the yard and want to bring them in and save from the winter weather, now's the time to make a plan.
'Most tropicals do best when brought in before temperatures drop below about 45-50F at night,' says Justin Hancock. 'Acclimate those in the sun by putting them in a shady spot for a couple of weeks, then scout plants for pests, hose them down with water, and trim them back before bringing them inside to smooth the transition and keep them looking their best.'
You can also bring your plants in at night, and transfer them outside during the day. Gradually, over the course of two weeks, increase the amount of time the plant spends indoors until it is in your indoor garden full time.
For style leaders and design lovers.
Lifestyle journalist Sarah Wilson has been writing about gardens since 2015. She's written for Gardeningetc.com, Livingetc, Homes & Gardens, Easy Gardens and Modern Gardens magazines. Her first job on glossy magazines was at Elle, during which time a visit to the legendary La Colombe d'Or in St-Paul-de-Vence led to an interest in all things gardening. Later as lifestyle editor at Country Homes & Interiors magazine the real pull was the run of captivating country gardens that were featured. Having studied introductory garden and landscape design as well as a course in floristry she is currently putting the skills learned to good use in her own garden where the dream is establishing a cutting garden.