How to style deep shelves like a pro - designers create easy-yet-expensive looking corners
Interior designers reveal their top tips for styling those troublesome deep shelves and turning your corners into works of art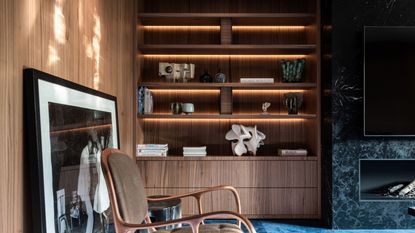 (Image credit: Patricia Goijens. Design: DVV Architects)
Once you have the sofa, a coffee table, some warm lighting, and perhaps a rug your living room is almost complete. Apart from the dreaded deep shelves you have been avoiding that is. This space offers ample opportunity for styling, but equal opportunity for mistakes.
When done well, deep shelves can look amazing. A well-curated shelf can instantly elevate the overall look of your living room. By following a few key guidelines your fear of the deep shelves will be dispelled and suddenly you will view them as a great design opportunity. You can easily turn your space into a modern living room with a few key design choices and decor pieces.
Discover our interior designer's 4 top tips for styling deep shelves and transform the look of your space in an instant.
1. Balance
One of the biggest mistakes people make when styling their shelves is doing it in isolation. It is important that you consider your shelves as part of the room. Otherwise, they become unbalanced when we are looking for harmony. Artem Kropovinsky, interior designer at and founder of Arsight, suggests that for too long shelves have been thought of as storage. 'Deep built-in shelves aren't just about space,' he says, 'they redefine rooms by merging functionality with style.'
He argues that too often deep shelves have become cluttered spaces, which is why balance matters so much. Don't be afraid of negative space. You do not need to fill every inch of your shelves. They can also be a feature of a minimalist living room. 'The beauty of these shelves lies in their subtlety,' says Artem. Their effectiveness depends on how they exist as part of the whole room.
Interior designer, Christina Kim, suggests anchoring your shelves with larger items at the bottom to help balance them out. 'Keep the heavier, larger items such as lanterns, stools, or baskets closer to the ground to anchor the styling,' she says. 'As you get closer to the top, layer smaller items such as in stacks of books with leaning art.'
When styling your shelves keep this in mind: 'The role of deep shelves is to embrace a room's architecture, giving a seamless touch, as if the room was always meant to have them.' Artem believes this is the key to curating beautiful shelves.
2. Lighting
'Lighting, to me, is like the magic wand in interior design,' says Artem. Good lighting is an essential component to styling shelves, without it, you are left with dark and dull space that is unsalvageable. Not to mention open storage is a huge 2024 living room trend, so use lighting to show it off.
In order to inject some much-needed energy into your shelves, consider utilizing small lights. You will immediately notice a huge difference in your space. 'Built-in soft lighting doesn't just improve visibility, it brings the entire shelf to life, casting shadows and highlighting contours,' Artem explains.
This doesn't mean a huge construction project. You can easily install battery-powered lights on a remote that are transportable and inexpensive. Once you have nailed your styling you will want to light it up and show it off.
3. Create a story
A clever way to look at the styling process is to see it as a story. Every item should be placed with intention and contribute to the overall vision. See the shelves as a blank canvas for the design you want to display. 'When deep shelves are styled correctly, they don't just hold items; they tell stories, acting as the main spectacle on that canvas,' explains Artem.
Christina suggests curating your shelves based on your interests. 'Include collections of your favorite things, which can be a stack of National Geographic magazines or a grouping of like-colored vases,' she says. The important thing is how you group and style these things. 'Try placing an object with an unusual or strong form on a single shelf all by itself so it can be admired,' she explains. 'Avoid small items scattered throughout as they read as clutter.'
Don't be afraid to play around with the positioning of your items. You will find that you quickly get a grasp of what works and what doesn't. Soon you will find it second nature.
4. Contrast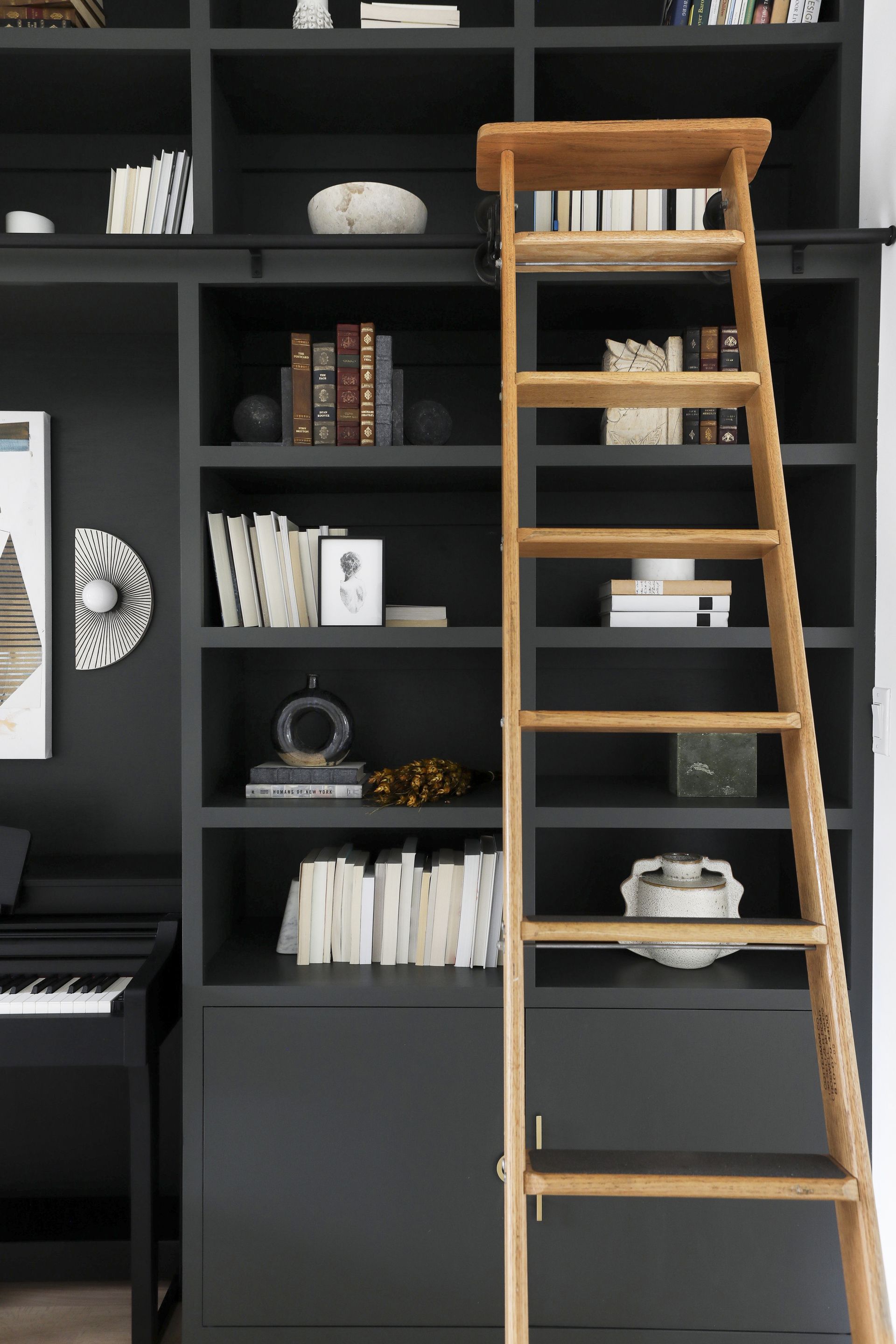 One of the core principles of effective shelf styling is juxtaposition. This combines different heights and textures, and places unconventional items together. A well-balanced shelf is a mix of practical and decorative elements that all work together. Books paired with structural wood pieces create an interesting contrast and compelling narrative, for example.
Decorative elements are a design-forward living room idea we love, creating contrast is of of the best ways to invite this feature into your home. 'I like contrasting new shiny things with items with a patina,' says Christina, 'it makes things more interesting. Strive for imperfection. It's so much better,' she explains. The best-styled shelves are the ones with something unexpected and unique, try to incorporate personal or antique items to add a statement.
Top picks for deep shelf styling
The Livingetc newsletter is your shortcut to the now and the next in home design. Subscribe today to receive a stunning free 200-page book of the best homes from around the world.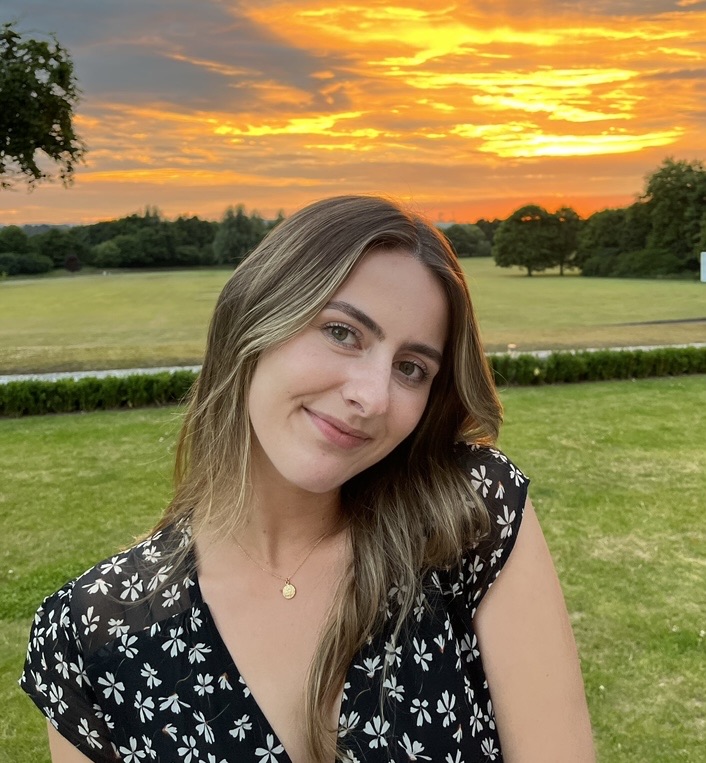 Amy recently completed an MA in Magazine Journalism at City, University of London, with experience writing for Women's lifestyle publications across arts, culture, and beauty. She has a particular love for the minimalist aesthetic mixed with mid-century furniture, especially combining unique vintage finds with more modern pieces. Her previous work in luxury jewellery has given her a keen eye for beautiful things and clever design, that plays into her love of interiors. As a result, Amy will often be heard justifying homeware purchases as 'an investment', wise words to live by.