"Cocktail gardens" are the backyard trend we're buying into this summer - they're chic and actually easy to grow
Make sure you've got the garnishes for your favorite cocktails to hand with this edible backyard idea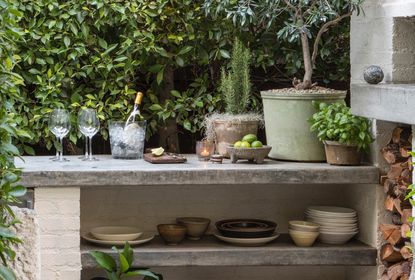 (Image credit: Scott Shrader)
The Livingetc Newsletter
For style leaders and design lovers.
Thank you for signing up to LivingEtc. You will receive a verification email shortly.
There was a problem. Please refresh the page and try again.
When you have the advantage of a backyard, garden, or even a small balcony, it warrants a cocktail garden. After all, edible plants are a great way to add a flourish to a summer cocktail, and when you've got them to hand, it's so much more handy than having to run out to the store.
Also known as a bartender's garden, a cocktail garden is a special gardening practice of growing fresh fruit, veggies, and herbs to infuse into cocktails – kind of like an edible garden. If you love to entertain at home or simply love your margaritas and Negronis at the end of the day, then this new garden trend is for you.
We asked top gardening experts to on easy-to-grow herbs and how to maintain them. Here are the best pro tips on converting your backyard or even apartment balcony into one that top chefs and bartenders would love.
What is a cocktail garden?
Cocktail gardens are a big modern garden trend of growing garden-fresh mixers and garnishes.
'The idea behind a cocktail garden is to have high-quality ingredients on hand to use in cocktails, which can add a unique and flavorful twist to classic cocktail recipes,' says Richa Kedia, gardening expert, and publisher, and founder of Simplify Plants. 'I've tried growing mint, basil, and even strawberries in my cocktail garden, and it's been really fun to experiment with different recipes and flavors. Cocktail gardens are becoming increasingly popular because people are becoming more interested in craft cocktails and mixology. With a cocktail garden, you can experiment with different flavors and ingredients and create unique and delicious cocktails you can't find anywhere else.'
'In addition to being a fun and creative hobby, growing a cocktail garden can also be an eco-friendly and sustainable way to enjoy cocktails,' says Richa. 'By growing your ingredients, you can reduce your carbon footprint and support local agriculture.'
What are some easy-to-grow plants for one?
A big urban gardening trend, a cocktail garden ideally houses those garnishes and ingredients that are used to make special drinks or things that are added to spirits to enhance their flavor.
'A cocktail garden typically includes a variety of herbs like mint, basil, thyme, and rosemary, as well as fruits like strawberries and raspberries,' says Chris Bonnett, the founder of Gardening Express. 'Additionally, some cocktail gardens may feature edible flowers, such as violets, pansies, or elderflower. Other popular additions include spices like ginger or chili peppers.'
'One of my favorite, most simple herbs to grow in the garden is mint, also brilliant for fresh mint teas on summer mornings, and comes in varieties including spearmint, peppermint, and even Mojito mint,' says Whitney Bromberg Hawkings, founder of FLOWERBX. 'Some other versatile options include basil, rosemary, and thyme, used as garnishes, in shrubs, or syrups too.'
'When it comes to growing fruits in your cocktail garden, there are some easy choices that'll make delicious garnishes and blends,' says Whitney. 'Strawberries and blueberries are perfect for muddling, while fresh peaches work beautifully in a champagne bellini. Some may forget that edible flowers are also an essential ingredient in a great cocktail, creating a garnish that will take your drinks display from pretty to extraordinary. Choose rose petals or honeysuckle for a fragrant touch, or opt for nasturtium, borage, cornflower, or lavender for a classic cottage garden look.'
Fruits and herbs apart, cocktail gardens can include vegetables too. 'Cucumbers, peppers, and tomatoes are all popular vegetables that can be used in cocktails,' says Richa. 'Flowers such as violets, roses, and lavender can be used to add color and flavor to cocktails.'
Planting time: Spring and summer
Price: $99
Want to add color and fragrance to your garden? Or are looking for new varieties for your herb garden? This Tuscan Blue Rosemary plant is an excellent choice.
What is the best time to start growing one?
'With summer here, there's nothing better than presenting a welcome cocktail to your dinner party guests that features ingredients from your herb garden – both sustainable and impressive,' says Whitney. 'The best time to plant herbs, fruit, and flowers in your cocktail garden for a summer bounty is early spring, ready to reap the rewards throughout the summer. However, if you've missed your chance to get started this year, many garden centers will be selling small plants in pots that you can transfer outside and start using straight away, just in time for your next cocktail party.'
How much space do I need for a cocktail garden?
A herb or vegetable garden may feel like the most exciting idea, especially for those DIY-ers, and ones who love the farm-to-fork concept. But can this wonderful idea of a cocktail garden be a reality in small homes and apartments?
'It's possible to create a cocktail garden even if you have limited garden space or live in an apartment,' says Chris. 'Just place a few containers on your balcony or patio, or find the best spots in your apartment that receive at least 6 hours of direct sunlight every day.'
If you're willing to get started on your backyard or balcony garden, just remember that you need to keep a few tools and space requirements in mind, as suggested by Richa.
Garden space: You will need a sunny spot in your garden or balcony that receives at least 6 hours of sunlight daily.
Soil: Choose high-quality soil that is well-draining and rich in organic matter.
Containers: If you don't have a garden space, you can use containers to grow your cocktail garden. Choose containers that are at least 12 inches deep and wide enough to accommodate the plants you want to grow.
Seeds or seedlings: You can buy seeds or seedlings of herbs, fruits, and vegetables that are commonly used in cocktails, such as mint, basil, thyme, strawberries, and citrus.
Fertilizer: Use a balanced fertilizer to help your plants grow strong and healthy.
Watering can or hose: You must water your plants regularly, so ensure you have a watering can or hose on hand.
Gardening gloves and tools: To make planting and maintaining your cocktail garden easier, you may want to invest in a pair of gardening gloves and some basic gardening tools, such as a trowel and pruning shears.
Material: Resin
Price: $13.99
If you're looking for a lovely, design-savvy watering can to add to your garden's aesthetic, then consider this green-toned, scandi piece made in resin.
How can you maintain a cocktail garden?
Maintaining a cocktail garden requires as much work and attention as any garden. You need to carefully watch over your garden or container gardening herbs to ensure they are healthy and continue sprouting during peak season.
'Container gardens tend to dry out faster, so check the moisture levels regularly and water accordingly,' says Chris. 'Make sure the containers have drainage holes and be mindful not to let the roots sit in standing water.'
For style leaders and design lovers.
Aditi Sharma Maheshwari is an architecture and design journalist with over 10 years of experience. She's worked at some of the leading media houses in India such as Elle Decor, Houzz and Architectural Digest (Condé Nast). Till recently, she was a freelance writer for publications such as Architectural Digest US, House Beautiful, Stir World, Beautiful Homes India among others. In her spare time, she volunteers at animal shelters and other rescue organizations.