How to add Apple TV as a HomeKit home hub - and why it's a good idea for your smart home
Control your home with your Apple TV box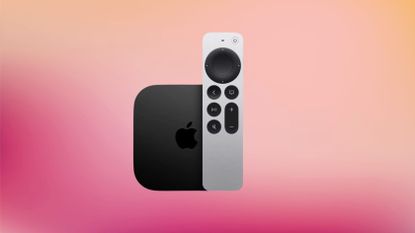 (Image credit: Apple)
The Livingetc Newsletter
For style leaders and design lovers.
Thank you for signing up to LivingEtc. You will receive a verification email shortly.
There was a problem. Please refresh the page and try again.
As well as being an excellent streaming device that offers a far better streaming experience than most standalone smart TVs, Apple TV can also act as the brains of your smart home as an Apple HomeKit home hub.
Yes, you can use a HomePod or even certain iPads as the gateway to your smart home. But if you have Apple TV 4K, this is also a great option. In some ways it's better, given you can connect an ethernet cable for added reliability.
Shortly, we'll explain how to add Apple TV as a HomeKit home hub, but first a little explanation as to what that actually means, and why you'd want to do it.
Why you might need a HomeKit home hub
When it comes to Google Home vs Amazon Alexa vs Apple HomeKit, they're all systems that allows you to control all your smart home technology in one place. Unlock the doors, turn on the lights, adjust the thermostat — all of that can be done via Siri or a shortcut on your iPhone with Apple.
But only if you're on the same network or within Bluetooth range of the HomeKit-compatible smart home technology you're trying to control. If you're not, then nothing will happen.
And that's where a HomeKit home hub comes in. It's a (usually) static device that will act as your permanent representative on your home network to pass on instructions delivered remotely.
That means you can (say), ask Siri to turn on the thermostat in your home when you leave the office, and the message will be passed on to your HomeKit home hub to action. It's all done via your Apple ID, so will take fractionally longer than using your phone on the same network, but not long enough that you're likely to actually notice.
As well as remote usage, a HomeKit home hub is also required if you want to share access to your smart home controls with others, or if you want to automate some of your smart home functions — frankly some of the most useful functionality of smart home technology.
Which versions of Apple TV can be used as an Apple HomeKit home hub?
First things first, if you want to use Apple TV as your HomeKit home hub, you need to make sure it's a compatible version.
All versions of Apple TV 4K are supported, but if you're using regular Apple TV, then you'll need a third (2012) or fourth-generation (2015) model.
Note that the third-generation model has a couple of limitations: you can't share outside access to your HomeKit accessories with other users, and it doesn't support camera video streams.
How to add Apple TV as a HomeKit home hub
Assuming you have the compatible hardware, setting up Apple TV as a HomeKit home hub is a doddle and will take less than a minute. As Apple explains, your Apple TV "automatically becomes a home hub when you add it to HomeKit."
Open the Settings menu on Apple TV. It's the big, black gear/cog on a silver background.
Select 'Users and Accounts'. Make sure that your name is shown under 'Default User' and that you're signed into Apple iCloud with the same Apple ID that you used in the Home app on your iPhone.
Go back to Apple TV Settings, and select 'AirPlay and HomeKit'.
Scroll down and select 'Room'. Then either pick out a room on the list or add a new one.
And you're done! If it's not working as expected, Apple has a few suggestions.
Make sure your Apple TV is up to date.
Double check that you're signed into iCloud as the primary Home app user.
Turn on iCloud Keychain and 2FA on your Apple ID.
Make sure that Apple TV is connected to your home WiFi network and turned on.
For style leaders and design lovers.
Freelance contributor Alan has been writing about tech for over a decade, covering phones, drones and everything in between. Previously Deputy Editor of tech site Alphr, his words are found all over the web and in the occasional magazine too. He often writes for T3 and Tom's Guide. When not weighing up the pros and cons of the latest smartwatch, you'll probably find him tackling his ever-growing games backlog. Or, more likely, playing Spelunky for the millionth time.