How to make your dream home happen - interior designers tell all
Make your dream home project go smoothly with these insider tips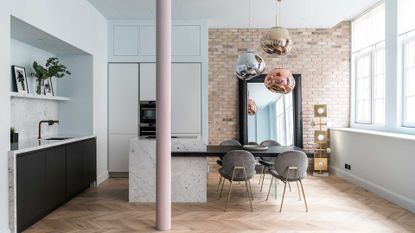 (Image credit: Day True project)
The Livingetc Newsletter
For style leaders and design lovers.
Thank you for signing up to LivingEtc. You will receive a verification email shortly.
There was a problem. Please refresh the page and try again.
Designing a dream home takes more than just preparing a pinterest board. It can be fraught with expensive mistakes if you don't plan properly.
To keep the stress levels low and the budget in line, we've asked 13 of our favourite Interior Design experts to give us the inside track on what to consider when decorating your home.
Total renovation or room refresh, these tips are a surefire way to ensure an interior designer can deliver your project on time and on budget.
Designing the decor yourself? Be your own client and get on board with this precision planning and practical preparation, before you pick up a paint swatch, and you'll soon be living in your own dream home.
See these gorgeous Modern Homes
FIRST THINGS FIRST
Know your brief. Reflect on your existing home; what you like best and why; what works well and are there any frustrations? What are your morning and evening routines? Think about how you want to use your home and how you want it to feel. It's just as important to know what clients don't like as much as what they do.

Suzy Hoodless, founder and creative director, Suzy Hoodless
KNOW YOUR PRIORITIES
We can help clients to maximise their budget by agreeing priority areas during the first phase of the design process, creating a hierarchy throughout the house. Additionally, having an understanding of which rooms we will focus on and when means that the clients will have plenty of time to bring their own ideas and suggestions to the table.
Clara Ewart, senior interior designer, Kitesgrove
BE OPEN
All I require is a willingness to chat and an open mind. I begin with a couple hours of brainstorming with the client, which I'd liken to speed dating. We talk about everything and anything: music, food, fashion, fragrances, favourite hotels, album covers, books, a Netflix series. It's from these initial discussions that I'm able to distill a mood and direction – it's so collaborative. Designing for people is a real dance, and if they're willing to Tango, the end result is always amazing.

Jo Berryman, founder, Jo Berryman Studio
PLAN WELL IN ADVANCE
Even simple proposals often need local authority approval to ensure you're meeting regulations. More substantial builds require planning permission. Depending on the scheme, or if the property is listed, this can take 8-20 weeks. Lead times on furniture can be 8-12 weeks, sometimes longer. We often have to remind clients that it will be worth the wait!
Fiona Blanchot, co-director, Studio Ashby
BUILD A PICTURE
Come to a first meeting armed with an idea of what you're looking to achieve. Think about everything; how you want to live in the space, your likes, dislikes, inspirations and aspirations. Nothing is off limits.
Some clients like to create mood boards on Pinterest according to rooms, themes or colours, or with tear sheets from magazines. Others produce fabric samples, photographs of artwork and objects or places they've lived in or visited that influence their sensibilities.
Lucy Barlow, founder, Barlow & Barlow
EARLY INVOLVEMENT
The best results usually come from early meetings. The interior designer needs to fully understand the scope of the property – the fundamentals, widths, breadths, etc; and any additional companies that the client has instructed need to be aligned as early as possible to ensure that the project stays within budget. All of the teams involved need to have a holistic view of the design of the home. Once each team has been briefed early on, then we can all work on the project independently with a common goal in mind.
Matthew Williamson, interior designer, Matthew Williamson
GATHER INSPIRATION EVERYWHERE
Prepare a visual scrapbook of things you love – they don't have to be relevant to the design of your home but could be anything from paintings and pictures to ceramics, antiques, fashion or architecture. We ask clients to explain why that item touches them. Mood boards are a vital part of the process and help keep both the designer and the client focused on what they are looking for.
Tricia Guild, founder and creative director, Designers Guild
DON'T FORGET THE DETAILS
From paint to soft furnishings, to lighting, they all play a part when bringing a space together. It may seem like accessories and smaller items are not significant but they can play a huge role when finalising a budget. So consider a maximum budget that you don't want to exceed.
Enass Mahmoud, creative director, Decor by Enass
SPREAD THE SPEND
We appreciate that clients don't always want to set a budget for fear of it being exceeded. However, clearly communicating what you wish to spend from the outset will mean time isn't wasted specifying items at inappropriate price points. It is important to balance the spend.
The base construction work and fit-out should always be commensurate with the property, but it is very important to not get carried away with the build and leave nothing to furnish and decorate – all the items that bring joy, practicality, humour and make a real home.
Henry Miller-Robinson, co-founder, K&H Design
'FESS UP
Being a decorator is like being a slimming mirror. The home you create should be a reflection of the client at their most glamorous. In addition, a decorator has to be a psychiatrist, marriage counsellor, clairvoyant and a maid! I ask clients to dispense with niceties and be honest about their habits. Do they watch TV in bed; do they eat in front of the telly; do they love their inherited china or want to see the back of it; do they want to appear richer than they are or more low key? I keep my clients' secrets safe, safe, safe. Honesty is key.
Jonathan Adler, founder, Jonathan Adler
BREAK IT DOWN
Photographs and plans (estate agent/architect's drawings) can help us to understand the space and how light falls. Break large projects into smaller sections, as making too many decisions at once can be overwhelming.
Hayley Robson, creative director, Day True
DO YOUR HOMEWORK
Although you're employing professionals, a renovation will still involve homework from you. Be clear on who's involved in the decision-making. We can present beautiful solutions, but without regular meetings and/or email communication, the project will grind to a halt, which can become frustrating and costly. Ideally respond the same day to emails (whenever possible) and be decisive.

Irene Gunter, director, Gunter & Co
TRUST YOUR DECISION
Look at the past work of the design firm and find projects they have created that speak to you. Discuss what aspects of those projects appeal. Once you have chosen your designer, have faith in them and their vision. Trust your decision and be involved, but don't micromanage the work, or you might end up with a project that makes neither you or the designer happy. There is a reason you picked that designer so let them lead you to your dream home.
Robert Novogratz, principal designer, The Novogratz
See the latest interior design trends
For style leaders and design lovers.
Jacky Parker is a London-based freelance journalist and content creator, specialising in interiors, travel and food. From buying guides and real home case studies to shopping and news pages, she produces a wide range of features for national magazines and SEO content for websites
A long-time contributor to Livingetc, as a member of the team, she regularly reports on the latest trends, speaking to experts and discovering the latest tips. Jacky has also written for other publications such as Homes and Gardens, Ideal Home, Red, Grand Designs, Sunday Times Style and AD, Country Homes and Interiors and ELLE Decoration.