'It's minimalist, but still comfy!' 4 tips for having throw pillows on a couch while keeping the room calm and uncluttered
Does a couch need throw pillows? Design experts explain the 4 rules of accessorizing your living room that feel minimalist and super-comfy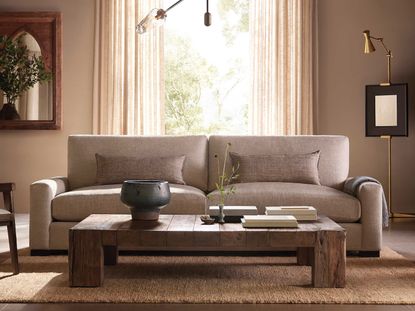 (Image credit: Arhaus)
It's easy to see why minimalism is such a popular interior design trend. By encouraging us to live with less, it can help us design spaces that are calming, elegant and even liberating to reside in.
Minimalism in interior design looks to distill objects down to their core essence, stripping away any frills or ornamentation. This could spell bad news for your couch, which might need a throw pillow or two to be comfy. Thankfully, recent iterations of 'soft' minimalism are more lenient when it comes to accessories, especially if they can help create a sense of wellbeing and ease.
Does a couch need throw pillows?
To find out how to create a super comfy, minimalist couch, we ask leading designers for their tips.
1. Choose a comfortable sofa with a sleek silhouette
A good couch shouldn't need throw pillows to be comfy. If you're starting from scratch and buying a new sofa for your minimalist living room, there are plenty of styles that are snuggly and have a sleek silhouette.
"A minimalist look doesn't have to mean sacrificing comfort, in fact, a minimalist look can be very inviting when done right," says Ashton Jones, Director of Assortment and Product Development at Blu Dot. "It all starts with investing in a good base, a comfortable sofa that doesn't need the help of pillows (Blu Dot's Sunday Sofa for example). Stick to a clean low profile design that still provides comfort, a sleek silhouette with minimal detail can help achieve this aesthetic."
Maggie Gienger, Director of Interior Design at Arhaus, agrees: "To achieve a truly minimalist look, it's important that your sofa be comfortable on its own. Many Arhaus bestsellers, like the Remington sofa [pictured], have simple frames and are available in standard and deeper depths."
One watch out is to avoid sofas that are prone to slouching over time. Kim Armstrong of Kim Armstrong Interiors in Rockwall, TX explains: "Loose back cushions are great and cozy, but they can look sloppy over time. One way to maintain comfort, but give you a sleeker minimal design, is to purchase a sofa that has a tight back, and one bench seat. This will mean that your sofa looks less "lived" in even if it's your evening crashed on the daily!"
2. Add throw pillows in solid colors
If you're used to a cozy smattering of throw pillows, your sofa might feel naked without them. Minimalism shouldn't be punishing, so try adding throw pillows in a minimalist way. "Sometimes minimalism can lead to interiors feeling cold and unwelcoming," says Blu Dot's Jones. "Pillows and throws can help to add a cozy element, a touch of flair and added warmth. When deciding which pillows/blankets to add, stick to solid colors with similar tones".
While it's important not to introduce lots of different colors, playing around with various textures can help create a cozy minimalist living room. Jones continues: "Differentiate textures and materials to add depth and warmth to the sofa. Avoid pillows or throws with busy patterns and loud, clashing colors. Instead, add ones that complement the room without sacrificing the minimalist aesthetic. Blu Dot's Signal pillow, for example, is upholstered in two-toned contrasting fabrics that enliven and soften a sofa."
3. Accessorize with natural materials
Like solid colors, choosing natural materials for throw pillows and throws can help you accessorize your sofa in a minimalist way. Natural materials are a key tenet of soft minimalism, as they can help us feel grounded and calm.
"Don't be afraid to add décor and accent pieces with simple, neutral textures and textiles, which will add a layer of warmth and comfort without overwhelming your space," says Arhaus' Maggie Gienger. "To keep things simple, I recommend sticking with neutral colors and avoiding patterns. Opting for a cozier material, like velvet or faux fur, or a natural material such as raw silk will up the comfort factor while maintaining a clean look."
When it comes to the shape of your throw pillows, Kim Armstrong recommends "a round bolster". "It maintains its shape while adding something to the sofa," she says.
4. Store pillows and throws in an ottoman
When it comes to how to arrange throw pillows on a couch, there's no rule that says they need to be on display all the time. Rather than leaving your throw pillows and throws draped over your couch, consider storing them in an ottoman.
"It's important to choose storage solutions that blend seamlessly with the rest of the decor and serve practical use," says Jones. "For example, Blu Dot's Hoard Ottomans [pictured] create storage space for blankets in a functional furniture item. Meanwhile, our minimalist Souvenir Sofa has built-in shelves to keep decor organized."
Gienger from Arhaus agrees, adding that a storage ottoman can also provide additional seating for your living room. "Or, a simple basket always does the trick," she says. "I recommend leaning into natural, woven materials to keep things minimal."
Our shopping editor picks the best throw pillows for a minimalist couch
Kate Hollowood is a freelance journalist who writes about a range of topics for Marie Claire UK, from current affairs to features on health, careers and relationships. She is a regular contributor to Livingetc, specializing in reporting on American designers and global interiors trends. Based in London, Kate has also written for titles like the i paper, Refinery29, Cosmopolitan and It's Nice That.