Well, this changes everything - a houseplant expert explains exactly what pots you should choose for better plants
Do plants do better in plastic or ceramic pots? Houseplant expert Lisa Eldred Steinkopf explains how to choose the right material for a thriving indoor garden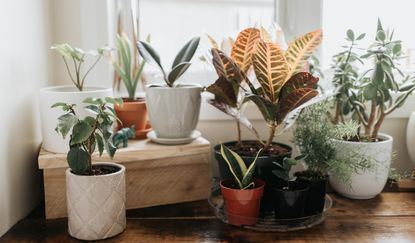 (Image credit: Getty / Sara Monika)
The Livingetc Newsletter
For style leaders and design lovers.
Thank you for signing up to LivingEtc. You will receive a verification email shortly.
There was a problem. Please refresh the page and try again.
Depending on how advanced a gardener you are, you may have wondered whether houseplants do better in plastic or ceramic pots? After all, there are a number of variables that contribute to whether a plant thrives or not. And most of these variables are to do with the plant's conditions.
Does the plant have enough light, or too much? Does it need fertilizer, more or less water? The latter is where the material of the pot can have an effect on the plants in your indoor garden.
'The container you choose for your house plant is important,' says Lisa Eldred Steinkopf, the house-plant guru and author of several books. 'The most common are terracotta, plastic, glazed terracotta or ceramic.'
Lisa Eldred Steinkopf is The Houseplant Guru, who features all things houseplants on her blog, thehouseplantguru.com. She is the author of Bloom, Houseplants and Grow in the Dark and has written for HGTVgardens.com, Real Simple magazine, Michigan Gardener Magazine, the houseplant section of Allan Armitage's Greatest Perennials and Annuals app, and Michigan Gardening Magazine, where she writes a monthly column. She worked for more than a decade at Steinkopf Nursery as the Annuals and Houseplants Manager. She harbors well over 1,000 houseplants in her home.
Do plants do better in plastic or ceramic pots?
Both plastic and porous materials are currently being used in trending pots for indoor gardens. Both have their plus points, depending on the plant. 'If you have a plant that prefers to be on the dry side, such as a cactus or other succulent, using a porous (unglazed) ceramic pot is recommended,' says Lisa. 'That isn't to say they won't do well in a glazed ceramic container though.
'Remember, you are in control of the amount of water your plant receives. The porous wall of an unglazed ceramic or clay pot allows water to escape, not only through the drainage hole, but through the wall of the pot too.
'If on the other hand a plant prefers to stay moist, a glazed (or plastic) container would be a better choice.
'However, the most important requirement is drainage, which means a drainage hole and not gravel in the base of the pot,' says Lisa.
In essence, which material is best will depend on the type of plant you are potting, as well as its size. So check whether your plant prefers its soil to be moist or dry.
Plastic pots will retain moisture, so suit plants that like their soil damp. While unglazed ceramics, clay or terracotta are porous, so allow moisture to escape, so are good for desert-dwellers, or plants that prefer drier soil.
A moisture retaining vessel made of plastic may also be useful if you are a forgetful plant parent, as your plant will survive longer between waterings.
Consider also, how tall your plant may grow. Ceramic pots are heavier than plastic, so are often better at supporting larger plants. You can always keep your plant in its plastic grower's pot and place it inside a ceramic planter, if you prefer a more decorative look.
On a style note, if you're choosing indoor plants that make a room look more expensive, porous materials tend to look more chic. While if you're wondering what plants are best for a lush indoor garden, and after that verdant look, plastic is often better for these tend to require moisture.
The best porous houseplant pots to buy now
The best plastic houseplant pots to buy now
For style leaders and design lovers.
Jacky Parker is a London-based freelance journalist and content creator, specialising in interiors, travel and food. From buying guides and real home case studies to shopping and news pages, she produces a wide range of features for national magazines and SEO content for websites
A long-time contributor to Livingetc, as a member of the team, she regularly reports on the latest trends, speaking to experts and discovering the latest tips. Jacky has also written for other publications such as Homes and Gardens, Ideal Home, Red, Grand Designs, Sunday Times Style and AD, Country Homes and Interiors and ELLE Decoration.