4 ways designers are lighting rooms in 2024 that feel so much cozier and richer than what we're used to
More and more interior designers are eschewing the large and cumbersome central lighting fixtures in favor of a layered and subtle lighting scheme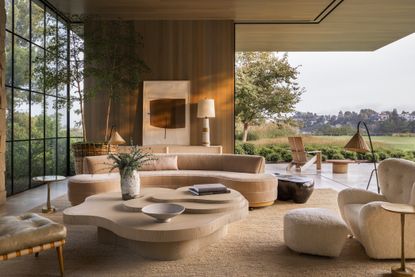 (Image credit: Shade Degges, Design: Jamie Bush + Co.)
There is a change afoot in the world of lighting design. More and more interior designers are eschewing the large and cumbersome central lighting fixtures in favor of a layered and subtle lighting scheme. These new schemes allow for a more natural form of lighting with less harsh and impending structures in living spaces. Using a tool kit of lights, from overarching floor lamps to clusters of table lights, this a more tailored approach to lighting. For homeowners, it means more options to adjust the lighting of your living room to your needs with fixtures to help you focus and unwind, whatever the occasion might be.
The challenge here is knowing how to make the most of this latest lighting trend. As always, the beginning of your lighting design journey starts with the role of your space and what you intend to do in it. Those seeking to read may benefit from fixtures that focus just on this task whilst those seeking to display their art collection might want to integrate a constellation of spotlights to bring attention to their prized works. To inspire you to experiment with your lighting, we've spoken to some of the world's best interior designers and gathered a selection of our favorite styles.
1. With just a floor lamp
Overarching floor lamps in expansive sizes are growing in popularity and for good reason, these luminary structures a diffused glow to specific spaces in your living room. As shown in this private villa project from Diachok Architects, the floor lamp is high enough to add light to the sofa and surrounding space but also acts as a sculpture in this cool and contemporary living room. "By strategically placing individual light fixtures throughout, we paint with light, emphasizing specific architectural elements, artworks, or cozy reading corners. The advantages of this approach are manifold. First and foremost, it grants us the freedom to highlight and emphasize the unique features of our space," said Vlad & Karyna Diachok, founders of the studio.
Another benefit of the perfect floor lamp over a central light fixture is its adaptability. This piece can be moved around the room with ease, used for set a more romantic glow on its own or in tandem with other pieces for a more layered look. "Moreover, the flexibility of adjusting each light fixture provides the opportunity to customize the ambiance for various activities or moods. In this context, the floor lighting fixture emerges as a true masterpiece. With its elegant design and warm, diffused glow, it serves as both a functional light source and a statement piece of décor," Vlad and Karyna add.
2. With layers
The most important thing to remember when creating your lighting design is that lighting works best when layered. This scenic interior from Jamie Bush + Co showcases this layered approach at its very best with its library of lighting opportunities. "In large, modern living areas we choose to create intimate pools of light using floor and table lamps which create smaller intimate spaces within a larger context. Overhead lighting flattens a space so instead we design for multiple lighting conditions in a room to give flexibility and warmth," says Jamie Bush, founder of Los Angeles-based studio, Jamie Bush + Co.
Even if you have a central pendant in your room, Bush's advice can still be taken on board. Adding complementary fixtures to existing your lighting design will allow you to tailor your room to your lighting needs, be it day or night.
3. With spotlights 2.0
Although spotlights were originally designed for the stage, they have come a long way and have become a staple in the lighting toolkits of architects and designers the world over. Diffused or direct, a spotlight can direct attention to the furniture, accessories, or architectural elements of your room that you want to highlight. Interior designer, Dawid Konieczny's Grzybowska apartment project showcases how spotlights can work effectively in a minimalist scheme whilst effectively distributing light into the room.
"Central lighting in the living room is a very interesting issue. The use of central lighting does not always work, with a large open space, it is difficult to illuminate all zones well with only central lighting. Another issue is that with not very high rooms, the choice of lamps is often very limited because the issue of proportions is at stake. The use of lighting alternative to the central one allows you to avoid some obstacles, provide good illumination of the entire surface, and maintain harmony for the entire interior," says Warsaw-based interior designer, Dawid Konieczny. For those seeking a lighting solution that won't create visual clutter and works with low ceilings, spotlights might just be the secret to success.
4. With a focus on picture lights
Picture lights can be used for so much more than just highlighting artwork as proven by Wisconsin-based interior designer, Amy Carman in her University Club project. Coordinated with the architectural shelving, the picture lights don't just accentuate this feature wall but also emit a soft directional glow that will diffuse into the rest of the space.
"Picture lights are a great way to add a warmth and dimension to a room. The polished nickel fixtures we used at our University Club project draw the eye to the custom white oak bookcases and highlight our client's books and keepsakes beautifully. Overhead lighting alone can risk washing out a room with too much light. The subtle glow from a grouping of picture lights provides the perfect amount of illumination when entertaining guests or relaxing at the end of the evening," says interior designer Amy Carman.
Lined up against the contemporary sofa and coffee table, this charming interior showcases how more traditional lighting fixtures can still be used in modern schemes to great effect.
Livingetc's editors pick the best lights to buy now
The Livingetc newsletter is your shortcut to the now and the next in home design. Subscribe today to receive a stunning free 200-page book of the best homes from around the world.
Writer and design expert Faaizah Shah is the founder of The Interiors Consultancy. She has worked with designers such as Staffan Tollgard and design houses such as Sanderson to help them understand and communicate their narratives. She is known for crafting engaging stories and imaginative content, and understanding great decor from her years alongside some of the best creatives in the industry. She is also a contributor to Livingetc.