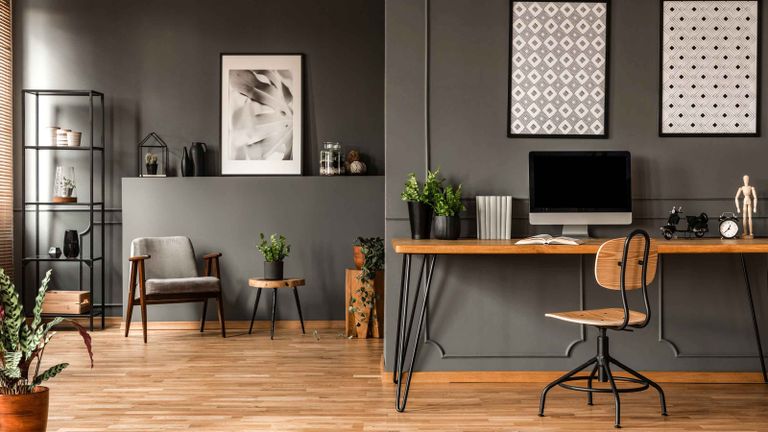 (Image credit: Stories Flooring)
Home offices have changed beyond recognition, and these once relegated spaces are suddenly seen as prized. Inspiring colours, sleek finishes, time and care - they all go into making a space you want to work in.
That's why it's worth getting on board with the engineered wood flooring from Stories Flooring.
The ground is the most important place to start - it changes everything about how you feel when you walk in. Engineered wooden flooring is wonderful to the touch, inviting and warm, rich in colour and texture and tone.
And natural colours, textures and tones are known to have a positive impact on our wellbeing. It's the reason the trend in biophilic design (taking inspiration from nature into the home) has taken root - and easy to see how timber floors are a big part of this.
With their real wood veneer, the planks and parquet boards at Stories Flooring have all the beauty of timber, while their multi-ply construction makes them remarkably more durable than their solid wood counterparts - and suitable for underfloor heating.
Stories engineered wood flooring is elegant and an easy-to-care-for alternative to solid timber, that will instantly revitalise a tired space.
There's a beautiful array of styles and timber tones to choose too - from the palest white oak to the darkest American black walnut, with a host of honey hues and rich reds in between.
In addition to the wide selection of timber tones, there's an abundance of fabulous finishes spanning oiled and lacquered to distressed or smoked and more, so whatever modern style you err towards, it's covered.
Love the modern rustic look? Check out the handcrafted mocha, bandsawn smoked or the distressed light brown European oak. Easy elegance more your thing? French chateau oak herringbone or lacquered walnut acacia are just a couple of the many sumptuous styles that would suit.
For those who prefer a more polished appearance, peruse the beautiful lacquered or oiled oaks. Or for simple Scandinavian style, there's a plethora of pale blond hues.
Some planks are even unfinished, so you can add your own finish if you choose - and there's a selection of lengths and widths for larger or smaller rooms.
So whatever your home office situation, this simple-to-install engineered wood flooring will support your #workgoals and #dreamscheme.
Engineered wood flooring, from £24.99 per sq m, Stories Flooring