4 unbelievable ways designers have created indoor gardens - they'll transform your unloved corners
No space for an outdoor garden? Let these unexpected indoor gardens inspire you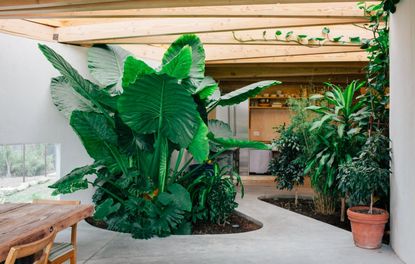 (Image credit: Grant Harder)
We all know the benefits of having houseplants filling your rooms. They purify the air, can have mood-boosting effects and the very process of keeping them alive can be beneficial to your mental health too. So it is no surprise we are seeing a rising trend in indoor gardens. More than just a few potted plants aesthetically placed on shelves, but a full-on forest-like space, thriving indoors.
And designers and architects are getting more and more ingenious with how and where they create indoor gardens. They have squeezed them into unexpected spaces, made them a central part of the floor plan, and found clever ways around the lack of outdoor space by bringing full-grown plants and trees indoors.
We spoke with designers who are constantly looking for ways to bring the outdoors in in the most surprising of ways, and share tips on how you can (realistically) recreate these unexpected green spaces in your own home.
1. A jungle-like garden in a home office alcove
Alcoves can be such underused spaces, and we understand that when they are put to use their main job is storage. But if you want to add an indoor garden to your space, an alcove can be an ideal place for greenery to thrive and add something unexpected to a room.
In this broken-plan, apartment living room designed by YLab, the idea was to create an outdoor feel indoors. 'The project was a remodel of an apartment located in an old building in Barcelona's Gracia district. The former 295 sq ft apartment was heavily partitioned with up to 6 rooms and gave off a dark appearance with almost no connection with the outdoor space,' explains Yolanda Yuste, partner at the studio.
'The new owners, a Norwegian couple in love with design and with the city of Barcelona, had understood the potential of its sunny inner courtyard covered with ivy vines, and chose to buy it as their holiday residence. They wanted to transform it into a bright and open space and create a semi-exterior garden to overcome the lack of an outdoor space.'
'We opted for two large facing custom built-in planters, in the same natural sandstone as the floor, contain a lush garden that can be taken care of even when the owners aren't around, thanks to the Gardena Smartwatering technology, totally concealed inside the planters.'
So despite the appearance of being a fully integrated indoor garden, you could actually quite easily recreate this look, which is transformative to the space. The key is with the planter matching the flooring so it blends in seamlessly. Our guide to what plants are best for a lush indoor garden will help, as will our edit of trending pots and planters.
2. A tree growing through an open plan home
Indoor trees are everywhere right now, the bigger and more impactful the better. But there's one thing having a tree in a pot to add some greenery to your living room, it's a whole different feel to have a tree growing through your home. It was this idea that was the starting point for this home designed by 07BEACH.
'The limited lot size made it difficult to have a garden, so I came up with this design, which is a courtyard-like space to be a part of the house,' explains Joe Chikamori, principal of the studio. 'At first, I started with a design in which the courtyard and the living room were separated by glass walls, but that made the courtyard and the living room feel tight, so I took the glass away and designed the living room and the courtyard to be completely coexistent.'
It's not a super straightforward job, Joe explained it took him a while before finding a gardener who would agree to help him create this setup, but it's not an impossible one. Joe says you just need to ensure you have the right amount of light and the right tree – Ficus Benjamin was his choice as it wouldn't outgrow the space and didn't need too much direct light.
If you want to slightly cheat the look, firstly it's about being bold with placement. So often indoor trees and houseplants get pushed to corners, but if you want to create a look that gives the impression of a tree growing in your home, pull it into the center of the room.
Choose a large planter, and fill the base of the tree with smaller plants too if you want to create a wilder look. Or go for stones for a more minimalist look. Take note next time you see an indoor tree in a bar or a restaurant, they create this kind of setup all the time, it's just about choosing the right tree (something large but not so large it will outgrow the space) and being bolder with your positioning.
3. An open plan kitchen broken up by an indoor garden
We are always looking for ways to zone an open-plan kitchen – indoor garden is not an option we have come across all too often. But what a fabulous way to break up this large living space in a way that feels both unexpected and really natural. It's a look you could definitely recreate without having to totally reconfigure your space by using a collection of planters.
'For this project, the client had asked us to create a jungle-like space to dine in and entertain their friends,' explains designer Casper Mork-Ulnes. 'We also wanted to take this opportunity to connect the interior with the exterior, and we used plants to enhance this connection with greenery both on the interior and exterior.'
'The plantings themselves have changed many times over the years, which is something that is engaging about having an interior green space - it is ever evolving and ever-growing. Plus, you have the benefit of the climate it creates, the space has a lush cool humidity that is very pleasant as a contrast to the California heat outside.'
'The vegetation is also used as a semi-opaque screen to shield the functional kitchen from the dining area, so that you are surrounded by plants on the inside and the exterior large garden space - which creates a unique mood and wonderful space to enjoy meals and entertain friends.' he adds.
4. A garden growing in the basement
Designer Robson Rak embraces indoor greenery in so many of his projects, and even in this, at first glance, dark basement setting he has found a way to bring in a flourishing garden.
'Our homes are designed with a commitment to heliotropia and well-being through a deep connection with nature. We incorporate strategically placed foliage-fringed courtyards and transparent vertical hollows that pour light into our homes and ensure foliage is viewed at every vista through the house. This results in spaces that ultimately provide the user with a sense of warmth and well-being; spaces that make the user feel good,' explains Robson.
'This basement indoor garden provides light and ventilation into subterranean rooms, creating a fresh, healthy space. The ground floor atrium provides a separation between the old and new architecture, allowing a visual connection to greenery from all spaces, along with light into an otherwise dark space.' he adds.
An easy lesson to learn here for creating your own indoor garden is the difference in heights, that's what creates the impact and takes an indoor garden from a collection of houseplants to feel more jungle-like. So take inspiration from this setup and bring together an indoor tree, or larger plant to give that height, and then add in some plants at different levels, with different shapes and textures – ferns always work well for creating an indoor garden as they feel more wild than most houseplants, plus they can be pretty easy to care for too.
Indoor garden essentials to buy now
The Livingetc newsletter is your shortcut to the now and the next in home design. Subscribe today to receive a stunning free 200-page book of the best homes from around the world.
Hebe is the Digital Editor of Livingetc; she has a background in lifestyle and interior journalism and a passion for renovating small spaces. You'll usually find her attempting DIY, whether it's spray painting her whole kitchen, don't try that at home, or ever changing the wallpaper in her hallway. Livingetc has been such a huge inspiration and has influenced Hebe's style since she moved into her first rental and finally had a small amount of control over the decor and now loves being able to help others make decisions when decorating their own homes. Last year she moved from renting to owning her first teeny tiny Edwardian flat in London with her whippet Willow (who yes she chose to match her interiors...) and is already on the lookout for her next project.