'So much neater' - 10 lawn edging ideas to add a professional finish to your backyard
These attractive lawn edging ideas will define and enhance the boundaries, transforming an often forgotten space into a thing of beauty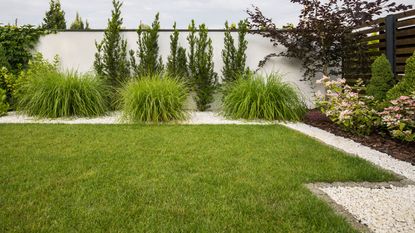 (Image credit: Katarzyna Bialasiewicz/Getty Images)
The Livingetc Newsletter
For style leaders and design lovers.
Thank you for signing up to LivingEtc. You will receive a verification email shortly.
There was a problem. Please refresh the page and try again.
Everyone needs some standout lawn edging ideas in their life to make the best of that neglected weed-filled strip between the lawn and flowerbeds, paths or decks. The best edging ideas make everything seem much smarter and help to finish your landscaping so it looks like it was designed by a pro.
There are many types of lawn edging ideas and materials to choose from, whether you're seeking a modern and contemporary backyard look or something a little more traditional. So it's a good idea to get some expert advice from us to help you refine your choices before you begin.
This is a straightforward update that can be done in hours and will elevate the look of your lawn to a whole new level. We've pulled together some of our favorite looks to give you a headstart.
10 inspirational ways to edge lawns
'Lawn-edging is a crucial aspect of garden design, as it not only delineates boundaries but also adds a touch of order and definition to the overall landscape,' says landscape architect Rituparna Simlai of Studio Arth, which is based in the Coconut Grove area of Miami.
'One of the key functions of lawn-edging is to curb the spread of plant material, ensuring that plants remain within their designated space. Edges are also important when using materials like mulch or gravel if you are creating a retaining wall. It particularly helps contain the soil when creating different levels and elevations in the garden.'
Now take your pick from our inspirational lawn edging ideas to work out a new look.
1. Corten metal
'A favorite edging option for us at Studio Arth is elegant corten metal,' says Rituparna Simlai. 'Its versatility allows it to be bent or curved to accommodate the specific needs of the design, giving us the flexibility to create dynamic and fluid landscapes. We often vary the heights of the edge, introducing playful levels that can double as planters or retaining walls, further elevating the visual appeal of the garden.'
With its weathered finish corten metal blends beautifully with both natural and man-made landscaping materials, and adds a natural warm hue to your landscaping ideas. It works well as a contrasting material if you want to add a water element such as a rill to your lawn edging ideas.
2. Sharply defined borders
'Borders and edging can make a huge impact on the overall look of your lawn,' says Joe Raboine, vice president of design at hardscaping experts Belgard. 'There are several options you can choose from to add the right kind of edging that suits both your yard and personal style.'
Edge restraints are a rigid paver edging system that allows you to create defined borders around an area, including those that are angular or have curves. 'These systems can easily be covered with mulch or sod so everything blends seamlessly to create a nice clean look. Most edge restraints can be adjusted for size and flexibility,' says Joe. Galvanized spikes hold the restraints in place to prevent future movement.
3. Neat metal edging
If you're looking for a fuss-free material, metal edging may be best. A short, sleek, steel edge like this one will instantly add definition to your lawn area and help smarten up your yard overall. With a wide variety of powder-coated designs available, you can also pick a color that complements your existing scheme.
Proper lawn edging keeps your lawn neat and tidy and can prevent grass from encroaching on flower beds and walkways. 'There are a variety of materials for such projects, but I always advise my clients to take into account the general aesthetic appeal, as well as the edging height, maintenance requirements, and specific application needs,' says Alex K Worley, a certified master gardener and landscaping expert at Gardenine, based in Kent, Washington.
When used correctly, metal edging is durable and can last many years, ideal for a low maintenance garden. 'We often use metal strips for defining clean lines between the lawn and adjacent areas,' says Alex.
4. Rustic woven look
If you love naturalistic garden landscaping you may prefer a more organic feel for your lawn edging ideas. Low wicker, willow and hazel woven panels add a charming aesthetic and are so quick and easy to install as they can simply be pushed into the ground. The panels can also be gently coaxed into a slight curve if a more shaped look is required.
This type of edging offers a rustic feeling solution for defining your garden space while merging seamlessly with nature. It works well as a lawn border in cottage style gardens and looks good used to create a boundary between a lawn area and flower beds with relaxed perennial planting.
5. Smart evergreen hedging
Evergreen shrubs are a natural fit for lawn edging ideas. They provide essential, year round structure, and are a useful way of delineating boundaries naturally when shaped into low hedging.
If you're looking for inspiration make classic boxwood your go-to for lawn edging ideas. This evergreen is perfect for creating a low hedge boundary that looks elegant and will add a tidy, manicured appearance that doesn't need much maintenance.
Landscaping with boxwood works for both formal and classic or contemporary and modernist looks. It will soon settle in and seem like it's been there edging your lawn for ever.
6. Stacked rocks
Bordering your lawn with an edging of rocks is an easy landscaping choice that is practical too. It will keep the soil and plants in raised flower beds tidy as well as preventing the lawn encroaching into planted areas and making things look messy.
There is a great choice of landscaping rocks available in a variety of colors, shapes, and sizes. This means you can customize your own lawn edging ideas to fit with the look of the rest of your space.
Try layering large flat stones into a loose 'wall' to create stacked edging. This is an easy build as the weight of the stones will keep everything in place, so you don't need to use mortar. The best rocks for this style of edging include limestone, sandstone, and granite.
7. Terracotta trim
A traditional edging detail in terracotta will enhance your lawn area and indeed the rest of your yard, particularly if you live in an older style property. As well as scalloped designs there are a range of other decorative finishes available including twisted rope, scrolled, hooped and other Victorian-inspired patterns.
With its warm copper tones and natural texture, terracotta is the preferred material for many when it comes to garden landscaping projects. Terracotta edging is porous, allowing water and air to pass through easily. It will age beautifully and soon weather in to your garden design
Find ornately pattern antique terracotta edging at the salvage yard or buy it new. Either way it will provide an instant antique feel to your landscaping.
8. Reclaimed bricks
Use traditional bricks as part of your lawn edging ideas and it will add a beautifully rustic vibe to your garden landscaping. Choose reclaimed bricks from the salvage yard or let natural weathering, moss and crevice creepers naturalize the look of new ones to add that vintage feel.
Bricks are a great choice to keep lawn edges intact, and installation is relatively simple although you will need to prep the space properly and use mortar. You can lay your chosen bricks in a narrow trench on their side, lying flat with the wider side down, or standing upright to create the perfect divide between your hardscaping and the lawn.
There's more good news in that bricks are one of the most versatile choices for lawn edging ideas. You can customize the width of your edging border to your exact specifications, as they come in so many shapes and sizes.
9. Creative lighting
Recessed lights dropped into decking planks are a good idea for lawn edging as well as for lighting your way. Add a colored glow by installing LEDs as part of a contemporary lawn edging idea that will create a stylish effect. The latest LEDs offer designer looks, including lights that change color and systems that can be controlled via your smart phone.
Here's another lawn edging lighting idea. 'Ditch traditional edging and lay a charming path of stepping stones around your lawn's perimeter. Bonus points if they glow in the dark, as they will create a magical garden walkway at night,' suggest Jacky Chou, principal and director at home and design space Archute.com. 'This will make your garden feel like a secret pathway to an enchanted realm.'
10. Decorative double edging
An easy design feature to consider for a more landscaped look is to create a double border using two different materials as part of your lawn edging ideas.
In this design a distinctive edging of gray cobble stones has been laid to create a lawn boundary that's practical as well as looking good. These versatile edging stones are available in many different styles and colors, but we particularly like the look of weathered ones from the salvage yard.
Double up the stone edging idea with a decorative second layer such as a trim of white river rocks. These work well if you're looking for a crisp modern edge for an urban yard design featuring clipped shrubs.
For style leaders and design lovers.
Lifestyle journalist Sarah Wilson has been writing about gardens since 2015. She's written for Gardeningetc.com, Livingetc, Homes & Gardens, Easy Gardens and Modern Gardens magazines. Her first job on glossy magazines was at Elle, during which time a visit to the legendary La Colombe d'Or in St-Paul-de-Vence led to an interest in all things gardening. Later as lifestyle editor at Country Homes & Interiors magazine the real pull was the run of captivating country gardens that were featured. Having studied introductory garden and landscape design as well as a course in floristry she is currently putting the skills learned to good use in her own garden where the dream is establishing a cutting garden.