11 backyard shade ideas for a resort-worthy retreat from the heat
Take cover in style with these designer-approved backyard shade ideas, from pretty pergolas to cool pool houses to help you stay cool in the heat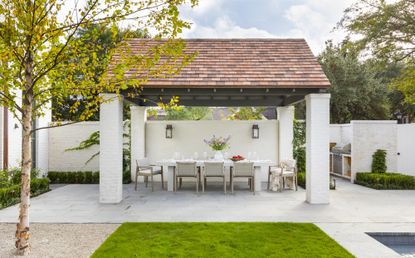 (Image credit: Marie Flanigan Interiors/Julie Soefer)
The Livingetc Newsletter
For style leaders and design lovers.
Thank you for signing up to LivingEtc. You will receive a verification email shortly.
There was a problem. Please refresh the page and try again.
There's nothing like enjoying the outdoors in summer, with beautiful blue skies stretching ahead of you as you enjoy a good book or an al fresco lunch.
What you don't want? A side dish of overheating and sunburn. That's where stylish garden shade ideas come into their own. Not only do they offer a practical function for keeping you cool and protected, they can also serve as an addition design-led feature to elevate your backyard.
From pretty parasols to pool houses and pergolas, these designer-approved ideas will make sure you're going in the right direction when it comes to throwing some shade.
Backyard shade ideas for relaxing in comfort and style
Whether you're working with a small backyard or an expansive space, these shady suggestions have got you covered.
1. Use large trees for natural shade
If you're lucky enough to have mature trees in your garden, try utilizing the natural canopy and set up an outdoor living room or outdoor dining space underneath.
The branches and leaves will offer a beautifully soft, dappled shade that will keep the effects of the strongest rays at bay while also letting some warmth through.
'Whether I'm working on an interior or exterior space, nature is always an inspiration for my designs,' says says Marie Flanigan, Principal, Marie Flanigan Interiors.
'In a backyard setting, I love to highlight and incorporate beautiful trees when possible. The shade, character and sheer magnitude of a gorgeous oak tree should always be a focal point. I love to place dining tables or a seating vignette under a branch and, if possible, incorporate lighting to create a lovely ambiance.'
2. Relax in a cool cabana
Landscape designers love palm trees for channeling a laidback vacation vibe in your own garden, but if you're not blessed with those you can always create a resort-worthy aesthetic with a pool cabana.
Not only will a cabana protect your from the sun, it also offers a luxe way to relax and enjoy your outdoor space in style and comfort.
Marie Flanigan comments: 'Enjoying your outdoor space can be just as important as your interior, especially when beautiful weather beckons.
'When natural shade isn't available, I love the idea of a gorgeous cabana-like structure that offers comfortable seating. These structures are especially practical around pools to remain proximal to the action but out of the sun.'
You can snap up a cabana or canopy daybed at stores like Pottery Barn or Wayfair, but, if you're on a budget, you can always try crafting your own DIY canopy idea.
3. Create a shaded nook that reflects the house
If you're looking for a curated, seamless look, try building a shaded area with the same materials as the house so it blends perfectly with the whole aesthetic.
Anthony Wyer, Founder and Creative Director, Wyer & Co, created the outdoor shade sanctuary above, and, by matching the materials to the home's exterior (below), ensured a synchronized palette for a truly tranquil space.
'The grotto provides shelter from the summer heat and northerly winds that blow along the Pacific Ocean,' says Anthony.
'Stretching 20 feet long and 5 feet deep, it can accommodate up to 10 people, and has a bounty of plants on its rooftop, which help keep temperatures down.'
He continues: 'We dug out to create a cave-like structure, and envisioned a cabana with integrated daybed and raised planter. Draped with cascading rosemary (Rosmarinus officinalis 'Prostratus'), the structure's curved lines and stone detailing contribute to the European aesthetic. The textured render creates joyful movement.
'The space is frequented by visitors to the adjacent pool, and accommodates the family seasonally. Its green roof provides comfort and a spot to cool-off in summer, while the brilliant white exterior reflects light back into the home during winter.'
4. Gather beneath a bamboo pergola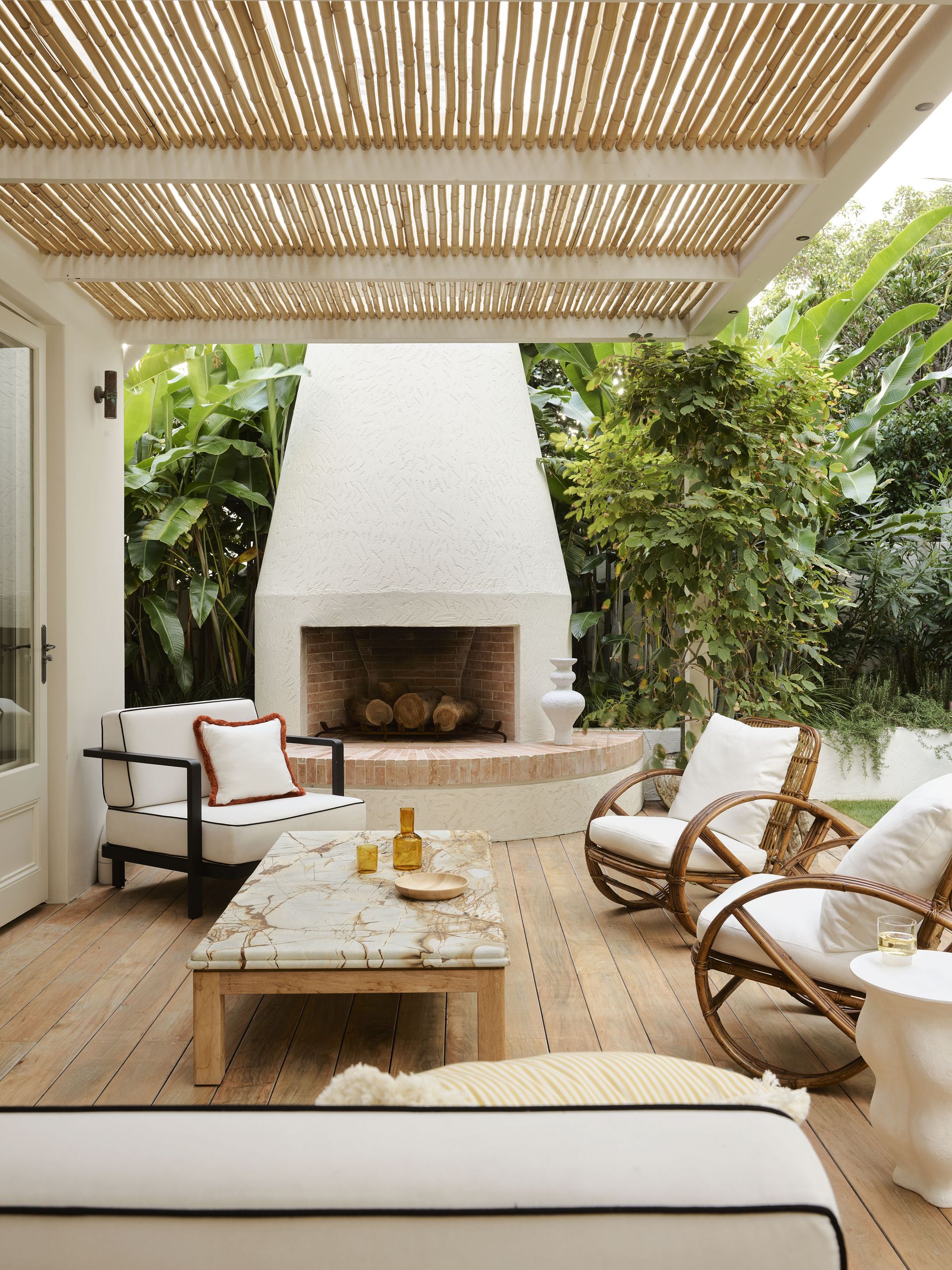 Another space in the home of Anthony Wyer, of Wyer & Co, this bamboo pergola structure sits opposite the cave grotto.
'The goal was to create resort-style living while remaining practical for everyday use,' says Anthony.
'The existing pergola was revitalized with fresh stain for the decking and bamboo lining to camouflage the clear perspex roof. New plantings extend all the way around the properties boundaries, including a thick mass of Heliconia 'Rio Night' to create shade and privacy when relaxing in the backyard.
'Embracing the Mediterranean lifestyle, the resolved design makes the most of the home's breezy indoor/outdoor connection offering a seat to relax in, a table to dine at and the freedom to entertain.'
He continues: 'Functionality, however, is central to the success of this garden with even minor modifications having significant impact. Waterproofing the open pergola structure is an example of this, allowing use of the outdoor entertaining area when raining and, in contrast, the bamboo screening adds warmth while filtering natural sunlight.'
5. Sit pretty under a parasol
A parasol is the easiest, most affordable, and often prettiest way to throw some shade outdoors, whether it's patio shade ideas or garden shade ideas.
'Of course, umbrellas are always a go-to in backyards,' says Marie Flanigan. 'Easy to maneuver and customizable depending on the weather, they are a great option for added shade.
'There are also so many beautiful umbrella designs to be found that you don't have to sacrifice design for function.'
Kate Anne, of Kate Anne Designs, adds: 'Umbrellas are very useful if you want more flexibility in the space and if a structure just isn't working out from a space / proportion point of view.'
6. Build a freestanding shade structure
If you have the budget and the motivation, a freestanding shade structure can be a chic, luxe addition to your garden, creating a true outdoor living room or dining experience.
Marie Flanigan designed the stylish structure above, which features a slate roof and wooden beam frame.
She says: 'When designing the hardscapes of your backyard, it's important to consider how you'll entertain in the space. For some clients, it's imperative to have a true dining area proximal to the grill or pool, but sometimes the area lacks shade. In these instances, I usually suggest building a dedicated structure. These structures provide shade, along with the ability to include electrical lighting and a ceiling fan for nights when guests want to linger a bit longer.'
7. Opt for a contemporary steel pergola
A pergola is always a chic option but, if you're looking for a more modern aesthetic, try switching from wood to steel for a contemporary edge.
Amy Hovis, Principal, Eden Garden Design, created the vine-covered steel pergola above. She says: 'We created this simple shady outdoor room by installing steel posts with a frame up top and then runs of steel cable along the top, with steel cable down each post.
'We then planted fast-growing vines to grow up and along the top. What once was an unused super-sunny space next to the entry is now a shady outdoor room, perfect for an outdoor office, games or outdoor dining.'
If you're not feeling up to the task of making your own DIY canopy, you can always snap up a ready-to-go metal pergola at the likes of Home Depot or Wayfair.
8. Install a pool house
Lucky enough to have a swimming pool in your garden? Try going the extra mile and building a pool house to offer respite from the sun, as well as a dedicated space to hang out, relax and socialize poolside.
Speaking about the upscale project above, Adam Sexton, senior associate of the DC-based firm, Richardson & Associates Landscape Architecture, says: 'This generous parcel is in an established neighborhood in McLean, VA. The land surrounding the house did not serve the owners' needs or desires, but they lived in the house for a decade before transforming the entire landscape in lieu of buying a vacation property. They embarked on creating a resort for themselves, their kids, and their friends, right there at their own home.'
He continues: 'The project was constructed beginning with the rear yard, which includes a large pool terrace with a woodland meadow backdrop. The pool house, painted a deep charcoal grey, serves as the perfect focal point for the garden while offering a fireplace with seating, an open bar, and outdoor shower.
'These amenities, along with the pool, terrace, and spa, can accommodate a lively crowd. Ten to 12 people fit easily in the spa and the stainless steel scuppers are a water feature that continuously provides sound for a tranquil atmosphere.'
9. Put up a wooden pergola
A traditional wooden pergola is a fail-safe garden shade idea that's stylish, timeless and practical.
'South-facing gardens are notorious sun traps, so make sure that your garden has plenty of shady areas,' says Francesca Hadland, Styling Expert, Bridgman.
'Pergolas are a great way to achieve this, offering a luxurious extension of the home and the perfect place to escape the midday heat with a cold drink and spot of lunch.'
She continues: 'Design an attractive focal point by draping fabric over the beams to create an intimate dining area. By framing the space, you can accentuate the beauty of your carefully chosen furniture and meticulous matching accessories, such as glassware, ceramics, cushions and even throws for chilly nights.'
Pergolas are a more budget-friendly option than a pool house or bespoke structure, and can also help provide shade from the elements to keep you cool and comfortable all summer long.
'Pergolas can also help to create a designated entertaining space, and allows you to incorporate additional greenery into your outdoor space,' says Adam Sexton, of Richardson & Associates Landscape Architecture.
'You can hang potted plants from the rafters or incorporate climbing plants such as honeysuckle, ivy or wisteria that will weave into vertical beams to create a beautiful natural setting.'
10. Lounge under a sail shade
A shade sail is an affordable and versatile sun shield that can be attached to a structure (as above) in your area of choice in the garden or be hooked to the exterior of your house for instant shade as soon as you step outdoors.
'Shade sails can be a nice alternative to umbrellas because they can stay outdoors without any worry of being blown over by the wind,' says landscape designer Amber Freda.
'They tend to look a little more built-in, too, and take up less floor space than an umbrella base. They can be attached to posts, metal railings, or masonry work like brick on the exterior of a building, and they often come with adjustable hardware. I recommend installing them as taught as possible, so there's less flapping in a breeze.'
Amber adds: 'Shade sails are also a lot less expensive to install than a more substantial shade structure, like a pergola or a gazebo. It's a good idea to take down shade sails before the winter months and store them out of the elements, as they will last longer and won't have the heavy burden of snow potentially weighing them down.'
11. Make use of a retractable awning
If you're somebody that loves the sun and wants a versatile garden shade idea that can be easily used or removed, a retractable awning attached to the exterior of your house is always a good idea.
Not only does it look smart, it's practical and offers an air of laidback luxe at the same time.
Kate Anne, of Kate Anne Designs says: 'We love slide-on wire shades for their full coverage, versatility and European feel.'
For style leaders and design lovers.
Ruth Doherty is a lifestyle journalist based in London. An experienced freelance digital writer and editor, she is known for covering everything from travel and interiors to fashion and beauty. She regularly contributes to Livingetc, Ideal Home and Homes & Gardens, as well as titles like Prima and Red. Outside of work, her biggest loves are endless cups of tea, almond croissants, shopping for clothes she doesn't need, and booking holidays she does.