Best bedside cribs: our 5 best picks for newborns
We've picked out five of the best bedside cribs that mean you won't have to go far for those 3am feeds...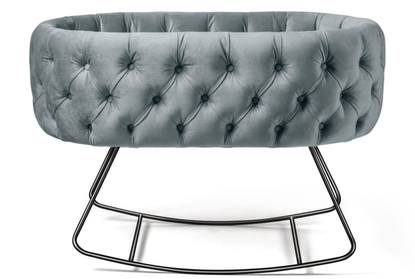 (Image credit: Aristot)
The Livingetc Newsletter
For style leaders and design lovers.
Thank you for signing up to LivingEtc. You will receive a verification email shortly.
There was a problem. Please refresh the page and try again.
We've found five of the best bedside cribs for those first newborn months. While parents will inevitably need to invest in the best cot bed to last their baby until they're two years old (or older), a bedside crib is ideal for those first few months when the baby needs to be close by.
Bedside cribs – also called bassinets – are for babies from birth up until around five months or until the age they can sit up by themselves. They're a popular choice among parents who want to keep their baby close at night during the first few months of their life, as they make it easier to keep a close eye on your newborn while following guidelines to have your baby in a separate crib. Bedside cribs are smaller than cot beds and are therefore better for positioning next to the parent's bed for night time feeds.
Therefore a bedside crib can offer you the benefits of co-sleeping, but with the added safety of them having their own space.
With some that rock, some that sway, some with built-in sounds and some with sides that can drop down for quick and convenient access, these are the best bedside cribs for soothing your baby during the night.
Best bedside cribs and bassinets for newborns
Image 1 of 6
1. SNOO Smart Sleeper Baby Cot
The best bedside crib for parents who value their sleep
Specifications
Dimensions: 90.8 cm L × 48.3 cm W × 81.9 cm H (with legs)
Reasons to buy
+
It's a responsive baby bed that combines gentle rocking with soothing white noise
+
Comes with different speed and motion settings
+
Has built-in soothing sound
+
Automatically responds to fussing
+
Comes with an app that tells you how much sleep the baby has had
+
Has built-in swaddle that keeps baby safe on their back
+
Has breathable mesh sides
+
Ship it when you need it: Schedule your delivery based on your due date.
+
30 day free trial
+
Comes with unlimited access to sleep consultants, 7 days/week
+
Very easy to assemble
+
Great customer service
Reasons to avoid
-
Quite expensive
-
A bit heavy to move around
-
No drop-down side
The Snoo bassinet is a self-rocking, self-shushing, white-noise-making, app-enabled wonder crib. It has five levels of sound and motion built-in, which imitate the calming sensations of the womb.
Inside there's a firm mattress and a swaddling sleep sack which attaches to the mattress, keeping your baby wrapped up securely on their back. What makes Snoo even more unique is that it is reactive to the baby's mood. It listens out for crying and fussing, then moves up through its five separate speeds and noise levels until the baby is calmed. Once the baby has calmed, the Snoo slowly phases out the white noise and movement.
This bedside crib also has an app that allows you to control the movement and sounds. This app also records how long your baby has slept for every night, and includes naps.
It's no wonder it's had 589 five-star reviews (and counting) on Snoo's official website, Happiestbaby, and has even been showcased for its design at the V+A museum and London Design Museum.
Plus, with its mid-century modern legs, wood-effect trim, and ivory breathable mesh sides, it is quite something to look at, even without its super-smart technology.
What we like
Everything.
The SNOO helps prevent non-hungry wakings and it cuts down the time it takes to get your baby back to sleep once feedings are done. Instead of having to get your little one back to sleep yourself, you can let the SNOO do the rocking for you, so you can catch up on your own sleep.
What's more, the Snoo also naturally sleep trains; over time, babies learn to become independent sleepers, making the transfer to a cot easier.
What we don't like
It's pretty expensive – but in fairness the price tag does include the SNOO Smart Sleeper, 3 white SNOO Sacks (S,M,L) made with organic cotton, SNOO sheet made of GOTS certified organic cotton, a mattress and water-resistant cover, unlimited access to sleep consultants 7 days/week, and a 1-year warranty – not to mention more time in bed. And you can't put a price on that.
Anything else?
The SNOO's customer service is unparalleled.
Image 1 of 5
2. Maxi-Cosi Iora Co-Sleeper Crib
Best bedside crib for co-sleeping and for extra storage
Specifications
Dimensions: H74.5cm x W55.5cm x L93cm
Reasons to buy
+
Side comes down easily
+
5 height positions to match your bed height
+
Portable – packs away in a travel bag
+
Has a handy storage tray underneath
+
Suitable from birth to nine months
+
It's a 2-in-1 product: from bedside sleeper to stand-alone crib
+
Easy to assemble
+
Amazing value
Reasons to avoid
-
Mattress cover hand wash only
The Maxi-Cosi Iora Co-Sleeper Crib has an easy-to-slide drop-down side which makes night feeds and night time nappy changes quicker and easier. When the side is down, there is a 7-inch (17.78cm) high barrier to stop your baby from rolling out. So you can rest soundly in the knowledge that baby is close by, but can't fall out and you can't roll onto them either.
Just like the other bedside bassinets, mesh sides make it easier to keep an eye on your baby during the night.
With its choice of muted colours, sleek design and quality materials, the Maxi-Cosi Iora will suit most room schemes. It also has five different height positions so it can align better with your bed.
What we like
Unlike most bedside crib designs, this design is portable – you can easily fold the crib back up and take it with you in its convenient travel bag.
Plus the large storage basket underneath is ideal for supplies during the night – like access to fresh nappies, wet wipes, fresh sheets, a night light and spare clothes.
While the crib is designed for co-sleeping, it's also great as a stand alone crib for when it's time to move them into their own room. The bassinet is roomy and suitable to for babies up to nine-months-old, giving it an extra bit of shelf life.
The basket's inner fabrics can be zipped off, and inner fabrics can be washed in the washing machine.
The bed can also be tilted, so the baby's head is slightly raised, helping to reduce reflux symptoms.
Last but not least, this crib is very straightforward to assemble compared to other bassinets.
What we don't like
We could find very little fault with it. The only slight downside is that while most of the crib is machine washable, the mattress cover (the bit that is most likely to get stained) is hand wash only.
Image 1 of 2
3. SnüzPod4 Bedside Crib
Best bedside crib for modern, Scandi design
Specifications
Dimensions: H95cm (max) x W100cm x D49cm
Reasons to buy
+
Rounded bottom enables rocking
+
Comes with a reflux tilt which means the crib can be positioned at an angle so the baby's head is slightly elevated
+
Also includes 3D breathable mattress, washable mesh liner, dual-view mesh windows, bed straps and rocking stand
+
Side drops down for easy access to soothe baby or lift them out of their bed
+
Mesh sides for breathability
+
A breathable inner bumper which aids air flow as well as cushioning
+
Bassinet lifts off, is lightweight and can be carried around easily, making this portable
+
Nine height settings to fit snug to your bed - Fits more beds than any other traditional bedside crib.
+
Breathable mattress included
+
Comes in a range of 7 different colours
+
Great value
The SnüzPod4 keeps baby nearby for a safe bonding experience. With dual-view mesh windows and a half-height zip-down wall for easy access, the bedside crib enables you to be by their side through every yawn, wiggle, gurgle and nap.
The SnüzPod4 is the latest bedside crib from British brand Snüz, to reflect the latest health and safety regulations (predominantly that the side doesn't zip down all the way to the mattress, thus leaving a slight barrier for baby's safety).
The SnüzPod4 Bedside Crib will fit alongside more styles of bed than most other crib designs, as it has nine height settings. A "comfortair" system helps regulate baby's temperature by maximising airflow with surface-level vents, while a mesh liner gives a padded cocoon feeling, and improved base ventilation.
Other features include a reflux incline, a wider and lighter lift-off bassinet and dual-view breathable mesh sides, making it the perfect sleep solution from newborn to 6 months.
What we like
We love the modern Scandi design (even though the brand is all British), and we love that the side panel is mesh – making it easy to keep an eye on baby (not to mention the better breathability aspect).
We also love the zip-down wall for easy access to soothe baby or lift them out of their bed. The quick and instant access is ideal for soothing the baby or lifting them out of the crib.
The rounded bottom enables rocking, and the crib also comes with a reflux tilt which means the crib can be positioned at an angle so the baby's head is slightly elevated to reduce any reflux symptoms.
Other benefits include the lift-off bassinet, which is lightweight and can be used around the home.
And it's not bad to look at either.
What we don't like
Nothing.
Image 1 of 4
4. HALO® BassiNest® Swivel Sleeper Premiere Series
Best bedside crib for 360 degree access and rotation
Specifications
Dimensions: H114cm x W61cm x L114cm
Reasons to buy
+
Side comes down easily for instant access to baby, for feeding and soothing
+
Relatively easy to put together
+
Includes soothing sounds, two levels of vibration, footlight and nightlight
+
Breathable, see-through mesh walls
+
Comes with waterproof mattress and machine-washable fitted sheet
Reasons to avoid
-
Very clunky and heavy – requires two adults to piece together, and is not portable
-
Floor stand has a big footprint
The Halo BassiNest is the only bassinet that swivels and rotates 360°, making it super easy to access baby at all times, and makes getting out of bed without disturbing your baby easier too. The rotating crib design can also help you pick baby up at a convenient angle.
While it's a very heavy (and sturdy) design, and feels clunky when setting it up, the heavy feet slide under the bed to place the bassinet right up to the bedside. Therefore the footprint in the room is somewhat halved, as half of the stand will be hidden under the bed.
The side of the bed comes down relatively easily, useful for night time feeds or soothing the baby. There's also a panel of buttons on the side, with vibration and sound options, as well as a dim light.
The bassinet been very highly rated on the brand's website, as well as by Amazon and John Lewis customers.
What we like
The patented lowering bedside wall easily lowers and then automatically returns automatically to an upright position. Breathable, see-through mesh walls ensure optimal airflow far safe, comfortable sleep, and lets you keep an eye on the baby at eye-level.
The mattress is waterproof and includes a machine-washable fitted sheet.
The bassinet also comes with built-in soothing sounds, two levels of vibration, a footlight and nightlight. The vibration and sound functions are great – particularly the white noise – eliminating the need to buy extra sleep aid accessories.
While the product is heavy, assembly is more clicking and zipping than anything too laborious, and the instructions are very clear.
What we don't like
Due to its weight, it takes some effort to put together and equal effort to dismantle, plus it's not easy to store and pack away. The weight means that it's not portable and is a rooted in place (for up to five months) once it's all set up.
Image 1 of 5
5. Aristot Tufted Bassinet With Rocking Base
The most stylish newborn crib for those who value beauty and design
Specifications
Dimensions: H37cm x L98cm x W63cm
Reasons to buy
+
Stunning design
+
Curved shape that cocoons baby
+
Very soft crib walls
+
Comes with mattress, mattress sleeve and top sheet
+
The base can be re-used as a stool or ottoman
Reasons to avoid
-
Extortionately expensive
The Aristot collection is perfect for parents who value design and beauty in the nursery.
Founded by Lisa Furuland Kotsianis, the brains behind bestselling baby lounger Sleepyhead, Aristot combines form, beauty, functionality and versatility, using only the finest materials in all its designs.
The tufted bassinets are thick, soft, and upholstered in beautiful fabrics. Colours and patterns include a dusty blue velvet (our personal favourite), a beautiful eco-friendly leather-look material, a range of Morris & Co patterns plus a marble effect pattern. The bassinets works with either the Aristot rocking stand, Aristot's criss-cross base or a very glamorous gold base design.
In other words – plenty of options for personalisation, for a crib that perfectly matches the nursery decor.
The design is suitable for newborns until they begin to push up on hands and knees or roll over.
What we like
The stunning design is bound to become an heirloom piece.
What we don't like
At £550 just for the bassinet base and an additional £1,450 for the bassinet, this baby bed will set you back close to £2,000 – a lot considering it will only get used for 4-5 months but a worthwhile investment if you plan on having more kids.
What is a bedside crib?
A bedside crib is a small bed for babies ages 0–6 months, that can be kept next to the parents bed for quicker access during the night to soothe the baby. They line up next to the parent's bed, and many allow the side panel of the crib to be temporarily put down, making it easier to settle your little one in the middle of the night.
The NHS and the Lullaby Trust recommend that babies sleep in the parents' bedroom for the first six months of life, so many parents choose a crib, Moses basket or bedside crib for the early months. Bedside cribs offer a safer way to sleep than co-sleeping, as you're minimising the risk of suffocation and sudden infant death syndrome (SIDS) that's associated with sharing a bed with your baby.
Should you choose a bedside crib or a cot bed?
Bedside cribs will only last up to six months and then you'll need to move the baby into a cot or cot bed, so it's more cost effective to just opt for the cot bed from the beginning. However, a smaller sleeping place is cosier and your baby is more likely to settle well in this more secure environment, right next to you. Plus a bedside crib takes up far less floor space in your bedroom than a larger cot.
The main advantage of a bedside crib over a Moses basket or standard crib is the lack of a barrier between you and your baby provided by the convenient removable side.
What are the advantages of a bedside crib?
Many bedside cribs and bassinets allow for the side to be put down temporarily, making them ideal for breastfeeding and the soothing benefits of being in close proximity to your baby, while minimising the risks of Sudden Infant Death Syndrome that are associated with bed-sharing.
You can also easily comfort your baby if they are fussing and have a good view of them while they are sleeping.
They are also extremely beneficial for women who have had a caesarean or a difficult birth, as it's otherwise more difficult to get up and out of bed to feed, burp, soothe or nappy change your baby during the night.
What are the disadvantages of bedside cribs?
The downside of bedside cribs is that most of these baby beds only last up to six months and you'll then need to move your baby into a cot or cot bed. Some parents might choose to buy a cheaper alternative like a Moses basket for daytime and use a cot or cotbed at night from birth.
Things to consider when buying a bedside crib
It's important to check the bedside crib is in line with the latest safety guidelines. All new bedside cribs manufactured since November 2020 have to meet a new safety standard, the most significant of which is for a 12cm high barrier to be present around the sides of the crib, to ensure your baby is not able to roll off their own mattress onto yours. This means that new bedside cribs can no longer have complete drop-down sides – many now have 'half-height' walls.
Airflow is also high on the list of priorities as little ones are not able to regulate their temperature in the same way as adults. Choose a bedside crib with breathable sides and a breathable mattress.
Consider the drop-down side function – how easy is it to remove the side? As you'll most likely be doing this in the middle of the night, are there lots of noisy zips and clips?
If you're looking for a bedside crib with drop-down side, you'll want to check that it can work with your bed. For example, if you have a divan bed you may not be able to tuck the legs of the crib underneath the bed and may need to look for a model that has foldable legs or works with your bed style. You should also consider the height of your bed, and whether the crib will be able to sit in the correct position with your mattress. Most bedside cribs have adjustable heights to give you an almost perfect fit. Also check the size of the crib and whether it will fit next to your bed – and allow you to get in and out easily.
Other features to consider include height adjustment, reflux inclines and any soothing mechanisms. Some bedside cribs offer a tilt option, which may help babies with digestive issues, colic or reflux.
Bear in mind that life with a newborn is messy and being able to throw bedding, or even the mattress into the washing machine will make life easier.
Last but not least, it's worth considering the aesthetics. if a crib is living next to your bed, you'll want something easy on the eyes.
What mattress is best for a bedside crib?
The bedside crib's mattress needs to be firm and flat – this is a key safety feature. Don't be tempted by a super soft mattress – your baby will sleep deeply and most importantly safely on a firm mattress.
Do a baby mattress firmness test by pressing your hand on the centre and the sides of the mattress; A firm mattress shouldn't mould to the shape of your hand and you'll feel resistance – it will obviously move beneath the pressure but your hand shouldn't sink in. When you remove your hand, the mattress should snap back and regain its shape.
The mattress will also need to be breathable. You can test this by picking up the mattress, placing it close to your mouth, breathing in and see how easy it is to breathe out with the mattress near your mouth. If it's easy to breathe then this indicates that the mattress offers good ventilation.
Many bedside cribs come with a special mattress, but you can check our guide to the best cot bed mattress for more advice on choosing a suitable sleep surface.
For style leaders and design lovers.
Lotte is the Digital Editor for Livingetc, and has been with the website since its launch. She has a background in online journalism and writing for SEO, with previous editor roles at Good Living, Good Housekeeping, Country & Townhouse, and BBC Good Food among others, as well as her own successful interiors blog. When she's not busy writing or tracking analytics, she's doing up houses, two of which have features in interior design magazines. She's just finished doing up her house in Wimbledon, and is eyeing up Bath for her next project.